Endometriosis awarness for the Gastroenterologists.
By:
Selma Oransay
- Mar 10, 2023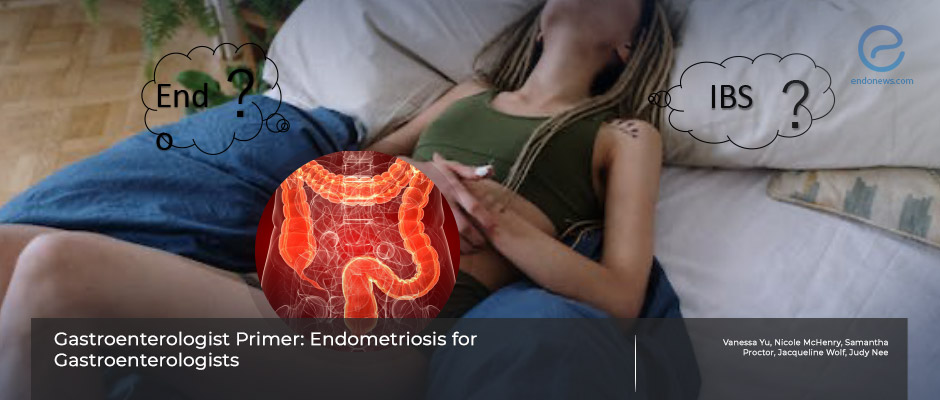 Guidance for gastroenterologists not to overlook endometriosis during diagnosis.
Key Points
Importance:
As many women can make their first visit before being diagnosed with endometriosis, it is extremely important for gastroenterologists to know well about the disease. It is time wasting when misdiagnosed.
Highlights:
When examining a woman with abdominal symptoms, it is useful to evaluate the gastrointestinal, urinary, and gynecologic symptoms together with a careful anamnesis in order not to make a misdiagnose.
What's done here:
This is a literature review about endometriosis-related gastrointestinal conditions aiming to give standard diagnostic and treatment options to gastroenterologists while examining a woman in her reproductive age.
Outlines:
Women presenting with common GI symptoms may be diagnosed with numerous GI disorders, such as irritable bowel syndrome (IBS), celiac disease, and inflammatory bowel disease (IBD).
Since endometriosis is a disease that develops with inflammatory reactions, increased risk of IBD, ulcerative colitis, and Chron's disease can be associated with surgically verified endometriosis.
Recurrent abdominal pain, changes in defecation, and bowel habits like constipation and diarrhea are the features of IBS, the most common diagnosis in endometriotic women.
Although it is plausible that the depth and location of endometriotic lesions may be related to emerging gastrointestinal symptoms, the altered bowel habit cannot be due to infiltration and its stenotic effect alone. Inflammation and irritation of the gastroenteric tract are important as well.
While examining the patient, the gastroenterologist should suspect endometriosis by looking at the most common pains of this disease, such as dysparenuia, dysuria, pelvic pain, and dysmenorrhea. Laboratory tests with CRP levels, TVUS, MRI examinations, and gynecological consultation will help clarify the diagnosis.
Lay Summary
Women with endometriosis can develop chronic abdominal pain and/or abnormal bowel habits more than eight times compared to women without endometriosis. For this reason, an undiagnosed patient with endometriosis may be referred to a gastroenterologist and remain in a situation where the chance of diagnosis is missed. But the prompt diagnosis of endometriosis is crucial to reduce the economic burden and disease complications, including prolonged pain and infertility while preventing the progression.
Dr. Vanessa Yu et al. from the Division of Gastroenterology, Beth Israel Deaconess Medical Center, Boston, MA, USA, prepared a literature-based guideline for gastroenterologists to identify endometriosis patients in their practice life successfully.
After sharing the pathophysiological mechanisms of endometriosis, the authors pointed out the similarity between IBD and endometriosis. They noted that the GI manifestations could occur regardless of the location and invasion of endometriotic lesions. To aid in the diagnosis, gastroenterologists should consider the patient's concurrent gastrointestinal, urinary, and gynecologic symptoms in addition to past medical history.
The authors prepared a guideline and explained all the steps that must be taken to make it easier for gastroenterologists when to refer the patient to a gynecologist. In addition to routine labs and CRP levels, TVUS and MRI examinations will help to distinguish endometriosis during the diagnosis. Laparoscopy and histopathologic confirmation has remained the gold standard for diagnosing endometriosis up until now.
Nevertheless, the presence of persistent abdominal pain and abnormal bowel habit after the surgical treatment of endometriosis indicates further treatment of IBD symptoms. "The unmet needs in diagnosis and management of IBS patients with endometriosis are spurring further research in the future," they concluded in the article which was recently published in the journal named "Digestive Diseases and Sciences".
---
---
gastroenterology
gastointestinal symptoms
abdominal pain
irritable bowel syndrome
misdiagnosis
endometriosis.
DISCLAIMER
EndoNews highlights the latest peer-reviewed scientific research and medical literature that focuses on endometriosis. We are unbiased in our summaries of recently-published endometriosis research. EndoNews does not provide medical advice or opinions on the best form of treatment. We highly stress the importance of not using EndoNews as a substitute for seeking an experienced physician.
<< Previous Article

Next Article >>