Endometriosis as a chronic disease: The benefits for the patients
By:
Selma Oransay
- Sep 6, 2018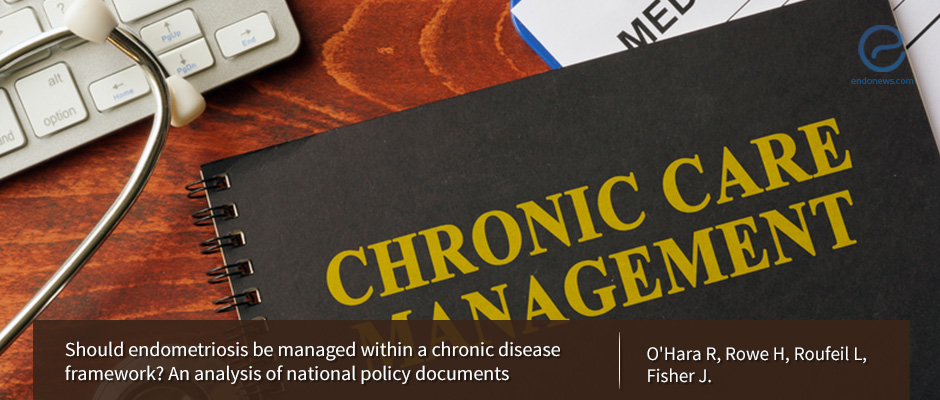 İndividualised management strategies could be set up for endometriosis.
Key Points
Highlights:
Chronic (non-communicable) disease definition by WHO covers the disease that is not transferred from person to person and that has a typically long duration with slow progression.
Endometriosis is a long-term and persistent illness requiring ongoing management, at least until a total cure can be found out; so it could be included in the list of the chronic diseases.
What's done here:
Authors try to put endometriosis in chronic illnesses category in their homeland Australia, in order to benefit from chronic disease management system such as CDMPs.
Key Results:
Endometriosis meets five of the six chronic disease key elements.
When endometriosis is considered a chronic illness, its recognition can be promoted among healthcare professionals, the general public and women's support network.
Importance:
To categorize endometriosis as a chronic disease, can open the way for a better recognition, to promote individualized care, and a multidisciplinary management, as other chronic diseases already have this consensus statements available in Australia.
Limitations:
Due to a lack of information about the pathogenesis of endometriosis, there is a difficulty to determine as a chronic illness.
Further research is necessary to examine the concept of the chronic disease generally and for endometriosis specifically.
Lay Summary
Rebecca O'Hara et al. from Monash University, Melbourne, Australia, recently published their qualitative case study in the Journal "Australian Health Review", to build a National Policy about endometriosis considering as a chronic disease.
In Australia, long-term complex diseases are managed within a chronic disease framework. If endometriosis could be included in the existing chronic disease management plans (CDMPs), a better recognition of the disease will emerge, will result in the better promotion of individualized care and multidisciplinary management, as other chronic diseases already have this consensus statements available in Australia. Furthermore, the "team care arrangement" will also be applied to endometriosis patients, which is already present for patients with chronic diseases.
Authors analyzed twenty published chronic disease documents starting in 2000, like diabetes mellitus, to search for the appropriate definitions of chronic illness, performed a thematical analysis of these definitions to identify key themes of chronic diseases, and then applied them to the description of endometriosis.
When compared with relevant clinical practice guidelines, consensus statements, and peer-reviewed literature, endometriosis met five key themes of six they approved which are causation, duration, treatment, disease course, and impact. However, the authors stated that it was difficult to determine whether endometriosis met the "onset of the disease" criterion due to a lack of information in the literature related to this key theme.
Authors concluded that reframing endometriosis as a chronic disease may support individualized management strategies for women with endometriosis, which will assist the coordination of multidisciplinary care for better health, and recommended further research to evaluate the use of these plans for women with endometriosis, incorporating cost-benefit analyses and intentions to manage this condition for physicians.
---
---
chronic diseases
classification terms
endometriosis treatment
chronic illness management plan
national policy
DISCLAIMER
EndoNews highlights the latest peer-reviewed scientific research and medical literature that focuses on endometriosis. We are unbiased in our summaries of recently-published endometriosis research. EndoNews does not provide medical advice or opinions on the best form of treatment. We highly stress the importance of not using EndoNews as a substitute for seeking an experienced physician.
<< Previous Article