Endocrine-disrupting chemicals – yet another environmental factor associated with endometriosis?
By:
Demet Candaş Green
- Jun 21, 2019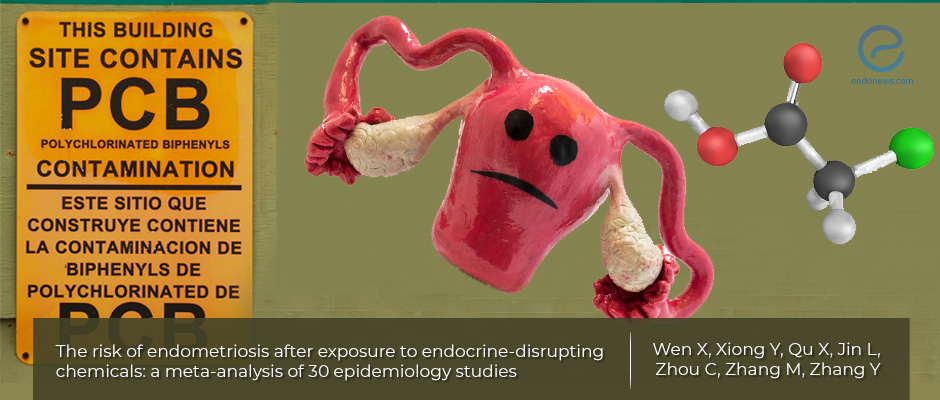 Several of the endocrine-disrupting chemicals increase the risk of endometriosis according to this meta-analysis
Key Points
Highlights:
Exposure to endocrine-disrupting chemicals (EDCs) is a risk factor for endometriosis
Importance:
Several epidemiologic investigations have reported the adverse effect of EDCs on the risk of endometriosis, while others lacked evidence to support this conclusion.
This meta-analysis summarizes the available evidence to provide a better understanding of the impact of EDCs on endometriosis
What's done here?
This is a meta-analysis of previously published studies on the relationship between the risk of endometriosis and 4 classic EDCs exposure, namely (bisphenol A (BPA), polychlorinated biphenyls (PCBs), organochlorine pesticides (OCPs), and phthalate esters (PAEs)
Key results:
The current meta-analysis strengthens the evidence that specific EDCs or their metabolites may promote the occurrence of endometriosis
PCBs, OCPs, and PAEs showed significant linkages to endometriosis risk, while BPA showed no association
Limitations of the study:
A small number of studies were evaluated for each type of EDCs
This meta-analysis failed to take into account several other factors that may influence the results, such as the age of subjects, subtypes of endometriosis, interference of other related diseases, and co-exposure to other EDCs
Lay Summary
This study by Wen et al., published in Gynecological Endocrinology, analyzed evidence connecting endocrine-disrupting chemicals (EDCs) to the incidence of endometriosis in a collection of 30 previously published studies. Results show that exposure to many EDC's are linked to the risk of endometriosis. However, the number of studies (30) is quite small for accurate conclusions. Well-designed epidemiology studies can confirm this suspected linkage.
EDCs are substances in our environment, food or consumer products that induce hormone dysregulation in humans or wildlife, causing a wide range of health concerns, including obesity, diabetes, cancer, and decreased fertility.
Four main types of EDCs are bisphenol A (BPA), polychlorinated biphenyls (PCBs), organochlorine pesticides (OCPs), and phthalate esters (PAEs), all of which are suspected to impair human reproductive system and have been associated with several gynecological diseases including endometriosis.
BPA is the most well-known of all. It is widely used in the surface coating of food cans, food packaging, plastic bottles, and children's toys. PCBs, a class of industrial chemical mixtures, has been banned in the late 1970s, but they can still be detected in polluted air, water, soil, fish or other species. OCPs accumulate to high levels in fatty tissues of human organs via the food chain and cause comprehensive toxic damages.
Lastly, PAEs, a group of synthetic chemicals commonly used in the manufacturing of flexible polyvinyl chloride, are known as widespread environmental contaminants.
---
---
Endometriosis; bisphenol A (BPA); polychlorinated biphenyls (PCBs); organochlorine pesticides (OCPs); phthalate esters (PAEs)
endocrine-disrupting chemicals (EDCs)
DISCLAIMER
EndoNews highlights the latest peer-reviewed scientific research and medical literature that focuses on endometriosis. We are unbiased in our summaries of recently-published endometriosis research. EndoNews does not provide medical advice or opinions on the best form of treatment. We highly stress the importance of not using EndoNews as a substitute for seeking an experienced physician.
<< Previous Article

Next Article >>