Does hysterectomy bring a total relief in patients with endometriosis?
Nov 25, 2020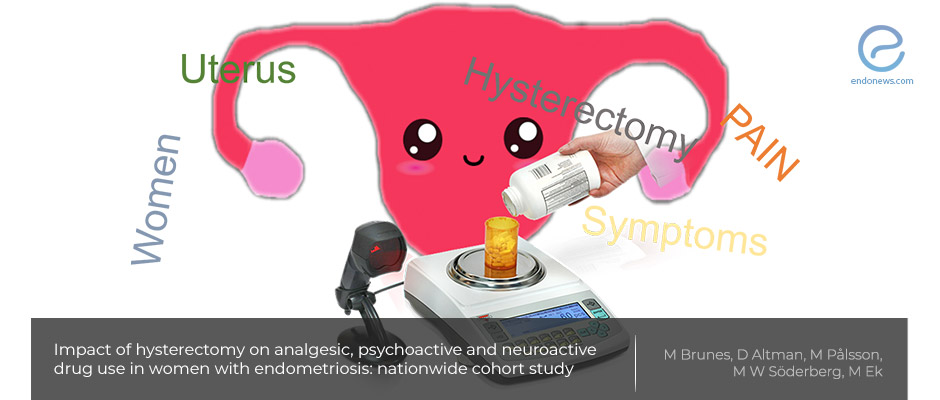 Hysterectomy may not be the solution to beat the pain in endometriosis patients
Key Points
Highlights:
Hysterectomy does not change the use of analgesic, psychoactive, and neuroactive drugs in patients with endometriosis.
Importance:
The research shows the use of analgesics, psychoactive, and neuroactive drugs have not altered after the hysterectomy procedure which is thought to be a final step to stop the pain in women with endometriosis.
What's done here:
The operation data of all patients who had hysterectomy has been collected from the Swedish National Quality Register of Gynecological Surgery, and the preoperative and postoperative drug prescription data was selected from the Swedish National Drug Register.
Women who had a total hysterectomy between 2012 and 2015 were analyzed and women who had a hysterectomy with the indication of endometriosis were identified.
The alterations in drug use three years before and three years after hysterectomy were noted.
Key Results:
The use of analgesics was 2.2 times higher in endometriosis patients.
The prescription of analgesics, neuroactive drugs, and psychoactive drugs have not decreased in patients with endometriosis after the hysterectomy operation.
Limitations:
Being an observational study, the data was collected from a nationwide system the quality of operations for excising all endometriosis lesions might differ in patients and the continuum in drug use might be caused by the residual disease.
Lay Summary
There is a common belief that hysterectomy is the last option to relieve the pain in patients with endometriosis by stopping the production of menstrual material.
The study entitled "Impact of hysterectomy on analgesic, psychoactive and neuroactive drug use in women with endometriosis, national cohort study" conducted in Sweden using a nation-wide surgery and drug use follow up system claimed it otherwise.
The authors led by Dr.Brunes collected the data of patients who had a hysterectomy for benign diseases and selected the patients who have a diagnosis of endometriosis to compare the drug prescription. A search for the prescription encompassed 3 years prior to hysterectomy to 3 years after the procedure.
The results showed no decrease in pain medication use in patients with endometriosis after the operation.
The authors also highlighted that the severity of the disease and the presence of adenomyosis or hormonal treatment have not affected the results.
The researchers commented as the results might state the complex mechanisms of chronic pain as peripheral and central sensitization, and suggested that endometriosis patients should be evaluated with pain management programs even after the operation.
---
---
hysterectomy
pain medication
endometriosis
DISCLAIMER
EndoNews highlights the latest peer-reviewed scientific research and medical literature that focuses on endometriosis. We are unbiased in our summaries of recently-published endometriosis research. EndoNews does not provide medical advice or opinions on the best form of treatment. We highly stress the importance of not using EndoNews as a substitute for seeking an experienced physician.
<< Previous Article