Diaphragmatic Endometriosis: a Call for Awareness
By:
Nasuhi Engin Aydin
- Feb 8, 2023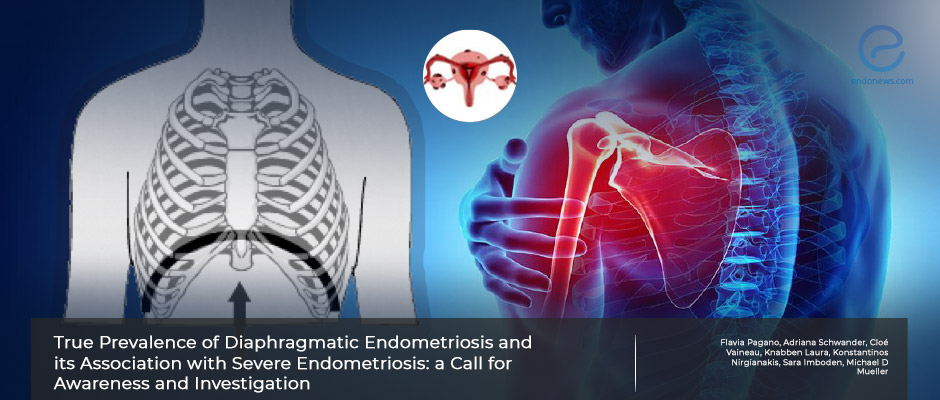 Novel findings related to diaphragmatic endometriosis from a tertiary medical center
Key Points
Highlights:
As a worldwide prevalent gynecological disorder, endometriosis lesions are seen predominantly in the pelvic area, less frequently, in the upper abdomen, and rarely in extra-abdominal organs such as lungs, skin, bladder.
Endometriosis of the diaphragm, first described half a century ago, has an estimated maximal prevalence of 1.5% in all involvements.
Importance:
Diagnosis of diaphragmatic endometriosis is troublesome and may be detected incidentally during operations for pelvic endometriosis.
It is not known why some patients with diaphragmatic involvement remain asymptomatic.
What's done here:
The authors aimed to study the prevalence of diaphragmatic endometriosis in a large prospective cohort study and identify the clinically relevant factors.
The characteristics of patients with diaphragmatic endometriosis were compared with the characteristics of patients with abdominal endometriosis without diaphragmatic involvement.
1372 patients with histologically proven endometriosis in a tertiary referral center were evaluated in their demographic and clinical pathologic characteristics using basic descriptive statistics.
Key Results:
Contrary to the figures published in previous related papers, diaphragmatic endometriosis prevalence was found to be higher, i.e. in 4.7% of the endometriosis patients who were operated on.
Diaphragmatic endometriosis patients have more endometriosis of the left lower pelvis, including ovarian involvement.
In these patients, shoulder pain and a higher incidence of infertility are important and clinically discriminating features.
Potential limitations:
There seems to be a selection bias of the patients since the clinical facility where this study was conducted is a tertiary referral center.
In addition, the symptoms of the patients from this cohort were not collected with a validated questionnaire.
Lay Summary
Dr. Pagano and colleagues from the Department of Gynecology and Obstetrics, University of Bern, Switzerland, have published a prospective cohort study on diaphragmatic involvement in endometriosis patients in a recent issue of "The Journal of Minimally Invasive Gynecology".
Endometriosis is a common gynecological disorder that is seen predominantly in the pelvic area and, less frequently, in the upper abdomen and rarely in extra-abdominal organs. Following the first clinical description of diaphragmatic endometriosis in 1954, the estimated maximal prevalence is about 1.5% in all intraabdominal involvements.
Clinical diagnosis of diaphragmatic endometriosis is problematic and is frequently detected incidentally during operations for pelvic endometriosis. It is not clear why some patients with diaphragmatic endometriosis are symptomatic while the rest remain asymptomatic.
The certified endometriosis and tertiary referral center of the Bern University Hospital, has collected prospective data on all patients with surgically confirmed endometriosis. For this study, information on patients diagnosed with diaphragmatic endometriosis was extracted from the database. All patients who had surgery for pelvic endometriosis underwent a complete bilateral inspection of the diaphragm. Demographic and clinical pathologic characteristics were evaluated using basic descriptive statistics and a logistic regression analysis was performed to evaluate the relationship between symptoms and the presence of diaphragmatic involvement.
Involvement of the diaphragm was diagnosed in 4.7% of the patients (65/1372). Diaphragmatic pain was present significantly more often pre-operatively. Almost 80% of the diaphragm involvement was seen in the advanced-stage endometriosis cases where the left lower pelvis was more commonly affected (73.8%). Also in cases of ovarian endometriosis, patients with diaphragmatic involvement had a significantly higher prevalence of left ovarian preference (left 63% vs right 35.7%, p<.05).
The authors comment that shoulder pain and a higher incidence of infertility seem to be significant findings in this subgroup of endometriosis patients.
---
---
pelvic endometriosis
diaphragmatic endometriosis
shoulder pain
ovarian endometriosis
infertility
DISCLAIMER
EndoNews highlights the latest peer-reviewed scientific research and medical literature that focuses on endometriosis. We are unbiased in our summaries of recently-published endometriosis research. EndoNews does not provide medical advice or opinions on the best form of treatment. We highly stress the importance of not using EndoNews as a substitute for seeking an experienced physician.
<< Previous Article

Next Article >>