Diaphragmatic endometriosis
By:
Selma Oransay
- Mar 23, 2022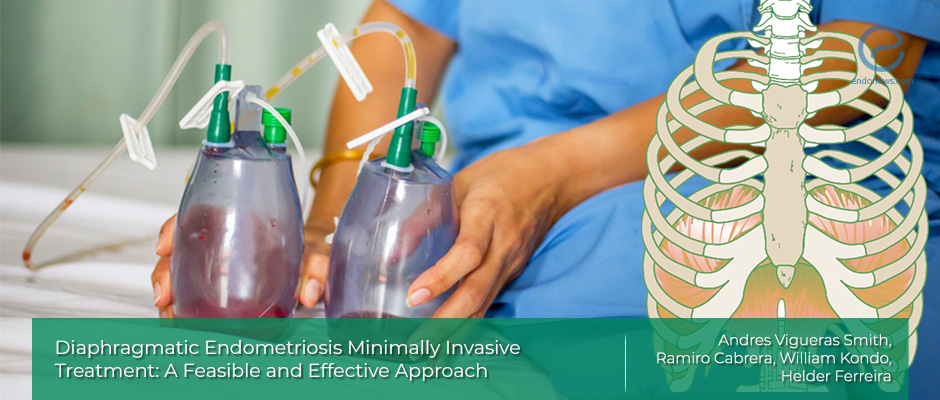 The clinical diagnosis of diaphragmatic endometriosis is difficult due to the low sensitivity of imaging techniques and the lack of symptoms in most of the patients
Key Points
Importance:
During laparoscopic diagnosis and treatment of deeply infiltrated endometriosis patients, the evaluation of diaphragmatic lesions is necessary.
Highlights:
Surgical treatment of diaphragmatic endometriosis should be performed in a tertiary center by a highly experienced team that consists of the gynecologist, the thoracic surgeon, and the anesthetist.
What's done here:
In this literature review, the focus was made on pre and post-operative outcomes of the minimally invasive surgery methods for the treatment of diaphragmatic endometriosis.
Key Results.
When severe pelvic endometriosis is present, it is highly recommended to perform a systematic diaphragmatic examination in spite of the negative results of imaging and exams because coexistence ranges between 50% and 90%.
There are no current clinical guidelines for the treatment of diaphragmatic endometriosis. Up to date, expectant, surgical, medical and combined therapies were in use.
The recommended surgical excision of superficial lesions with a skilled surgical team is performed only if it is far from the left ventricle and phrenic nerve.
Both superficial and full-thickness resection surgeries could be extremely hazardous while working on diaphragm due to the contiguity of the heart, lungs, vena cava, mediastinum, phrenic nerve.
Four types of treatment for these lesions are; bipolar cauterization, laser Co2 vaporization, plasma ablation, and hydro-dissection plus resection.
The radical approach can vary from simple cauterization to complete diaphragmatic peritonectomy.
Video-assisted thoracoscopic surgery approach is another recommended way with many advantages as direct visualization of thoracic implants, identification of phrenic nerve path, mediastinum, pericardium among others and resection of parenchymal and diaphragmatic lesions.
Lay Summary
Diaphragmatic endometriosis is a rare clinical condition that may show signs and symptoms like chest pain, right upper quadrant abdominal pain, shoulder pain, pleuritic pain, hemothorax, pneumothorax, hemoptysis, and thoracic endometriosis syndrome while the major part of the patients is asymptomatic (70%). The clinical diagnosis of this form of endometriosis is difficult due to the low sensitivity of imaging techniques and the lack of symptoms in most of the patients.
To reveal the feasibility, safety, and effectiveness of the minimally invasive surgical treatment of diaphragmatic endometriosis, Smith et al. from the Department of Minimally Invasive Surgery Unit, Porto University, Porto, Portugal access the current data in the literature and recently published them in the Journal of Obstetrics and Gynecology.
Diaphragmatic endometriosis is a disease that could not easily be identified and could affect 0.1% to 1.5% of reproductive-age women.
The diaphragm consists of muscular and tendinous portions while vena cava, aorta and esophagus pass through from three foramina of this linear 1-6 mm thick muscle. Its main innervation comes from phrenic nerve besides some intercostal and subcostal nerves that are in charge of all motor and sensory functions. Comprehensive knowledge of the anatomy and denervation of the diaphragm is very important along with the surgical skills during MIS.
Some symptoms such as chest pain, abdominal pain which can obtain in 30% of patients, theoretically explained by the activation of endometriotic DE implants causing sensitive stimulation of Phrenic nerve branches during menstruation. Thoracic endometriosis syndrome is characteristic by the presence of catamenial pneumothorax, hemothorax, hemoptysis, and intrathoracic endometrial nodules all together and could be visualized with imaging technics such as abdominal ultrasonography, magnetic resonance imaging, computerized tomography.
Sentinel lesions are multiple small superficial endometriotic lesions on the anterior diaphragmatic surface and they are the clue for suspected major undiagnosed posterior implants. Therefore surgeons urged to examine systematically the anterior right diaphragm for these sentinel lesions that are associated with deep invasions.
"The most valuable part of DE evaluation is the progressive use of diagnostic criteria along with the clinical suspicion because this will lead to an increase in the prevalence of this disease and open a gate to cure the undiagnosed chest or abdominal pain of endometriotic women" concluded the authors. That is no doubt the treatment of DE would be in a tertiary center by expert surgeons and anesthesia team.
---
---
sentinel lesions
partial resection
full thickness resection
laparoscopic surgery
hemothorax
hemoptysis
pneumothorax
intrathoracic endometrial nodules
thoracic endometriosis syndrome
diaphragmatic endometriosis
deep endometriosis.
DISCLAIMER
EndoNews highlights the latest peer-reviewed scientific research and medical literature that focuses on endometriosis. We are unbiased in our summaries of recently-published endometriosis research. EndoNews does not provide medical advice or opinions on the best form of treatment. We highly stress the importance of not using EndoNews as a substitute for seeking an experienced physician.