Diaphragmatic defects, liver herniations and catamenial pneumothorax
By:
Nasuhi Engin Aydin
- Mar 23, 2022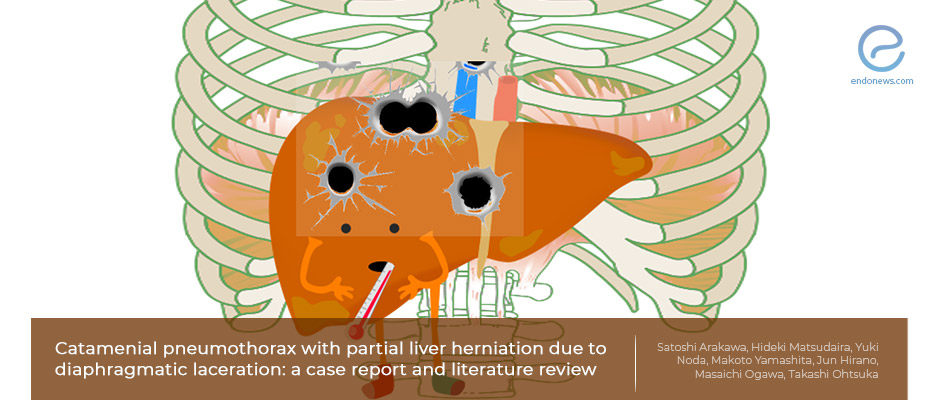 Physicians should be alert on pneumothoraces in endometriosis patients for the possibility of "catamenial" origin
Key Points
Highlights:
Catamenial pneumothorax is an uncommon disorder, albeit an important condition in endometriosis patients.
There are only 14 published cases of catamenial pneumothorax with diaphragmatic defects, and 10 of these also showed liver herniations.
Importance:
This case report and review of the literature on reported cases concerning liver herniation and catamenial pneumothorax highlights the experience gained with emphasis on treatment options.
The patient showed no recurrence with the treatment protocol, with two years and four months of follow-up.
What's done here:
A case of catamenial pneumothorax in a 43-year-old endometriosis patient with a peculiar presentation is reported from The Jikei Katsushika Medical Center, Japan.
The patient was subject to thoracoscopic surgery, had a partial liver herniation to the thoracic cavity besides catamenial pneumothorax.
Key Results:
Thoracoscopic surgery seems mandatory in patients with a catamenial pneumothorax who also have diaphragmatic lesions.
Such cases need hormone therapy after the surgery in order to prevent recurrence and an effective treatment outlook.
Lay Summary
Dr. Arakawa and associates from The Jikei Katsushika Medical Center, Japan, have published their recent case of catamenial pneumothorax with diaphragmatic defect and liver herniation in the "Journal of Cardiothoracic Surgery".
Catamenial pneumothorax is an uncommon condition with a reported incidence of less than 3–6% in women with spontaneous pneumothorax. The main clinical features include the repetitive onset of pneumothorax during pre and postmenstrual periods, right-sided onset, and pelvic endometriosis in reproductive age patients.
The patient presented here was a 43-year-old woman who had suffered from two previous right pneumothoraces and now complaining of right chest pain finally diagnosed as another recurrent pneumothorax. The condition was thought to be a catamenial pneumothorax. Video-assisted thoracic surgery (VATS) revealed scattered blueberry lesions on the diaphragm. The diaphragmatic nodularity in preoperative imaging was liver tissue that herniated into the thoracic cavity via a defect of less than 1 cm. The diaphragmatic defect was sutured and closed.
Biopsies of the lesions showed abundant interstitial tissue, hemorrhage, and glands in contact with the diaphragm led to a diagnosis of endometriosis. Two years and four months postoperatively, she was on luteal hormone therapy and does not have any recurrence of pneumothorax.
A search for "catamenial pneumothorax" AND "diaphragmatic hernia" in PubMed retrieved 14 reports from 1992 to 2019. Ten patients had hernias on the right side, the mean age was 40.6 years. The hernia orifice ranged from 3.3 cm to 10 cm, and the content of the diaphragmatic hernia was the liver in all cases.
This case emphasizes the approach for the treatment of liver hernia in patients with CP and endometriosis. Repairing the hernia and using hormone therapy prevented recurrence, suggestive of a treatment protocol for effective therapy. Thoracoscopic surgery should be considered in patients with CP when a diaphragmatic lesion is suspected.
---
---
pneumothorax
catamenial
endometriosis
thoracic surgery
diaphragmatic defect
DISCLAIMER
EndoNews highlights the latest peer-reviewed scientific research and medical literature that focuses on endometriosis. We are unbiased in our summaries of recently-published endometriosis research. EndoNews does not provide medical advice or opinions on the best form of treatment. We highly stress the importance of not using EndoNews as a substitute for seeking an experienced physician.
<< Previous Article

Next Article >>