Diagnosis and treatment algorithm for endometriosis
Jun 16, 2020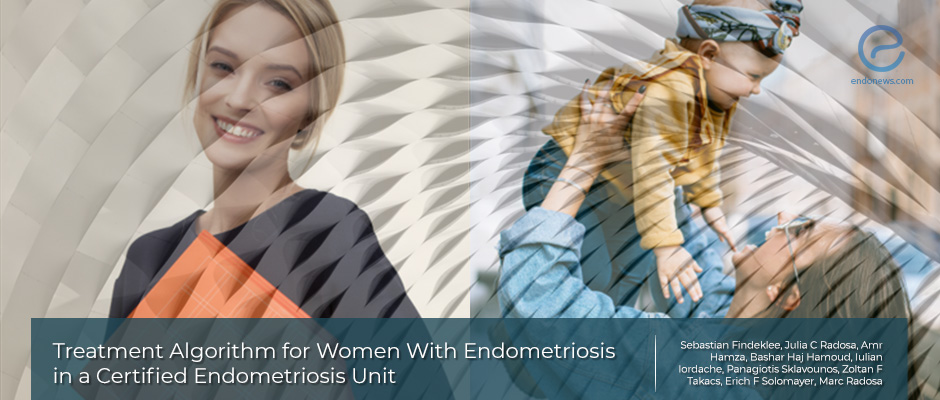 An interdisciplinary and standardized treatment algorithm of endometriosis is essential.
Key Points
Highlights:
Endometriosis should be treated by a multi-professional team with a standardized, reproducible algorithm by specialized and certified centers.
Importance:
Late diagnosis of endometriosis not only results in infertility and chronic pelvic pain but also makes the complications more difficult to treat.
The later the diagnosis in endometriosis patients, the lower the success rate in Assisted Reproductive Techniques.
All these consequences result in loss of productivity, higher treatment costs, and becomes a burden on the health system, being other undesirable impacts.
What's done here:
This is an overview article for presenting a standardized treatment algorithm for endometriosis consultation, considering conservative and surgical approaches, and interdisciplinary treatment.
The authors performed a Medline search about endometriosis, and among 26.702 published abstracts, 143 reviews and 1 guideline were selected to be relevant to discuss the diagnosis and treatment of endometriosis.
They created an algorithm based on these articles and their own clinical experiences, to optimize the diagnosis and the therapy of endometriosis.
Key Results:
The diagnosis: an evidence-based structured medical history, identification of typical endometriosis symptoms, and appropriate gynecological and radiological examination,
The treatment: composed of the phase of diagnosis, the phase of therapy as well as the prevention of recurrence or long-term treatment; and
A multi-professional team of visceral surgery, urology, nutritional medicine, physiotherapy, and psychology are imperative.
Multiprofessional, standardized, and reproducible therapy should be performed by specialized consultations at certified centers.
Lay Summary
Endometriosis is a chronic and progressive disease that affects 25-30% of women between 25-35years, clinicians commonly experience during their gynecologic practice.
However, the diagnosis is still late or sometimes incorrect, and this creates severe health problems and worse outcomes. A precise strategy for early diagnosis is very important for the correct therapeutic approach to the disease.
Findeklee et al., from the Department of Gynecology Obstetrics and Reproductive Medicine, Saarland University Hospital, Hamburg-Germany, noticed the failure of standardization in the current practice of endometriosis and wrote an overview with the aim of presenting a standardized treatment algorithm for endometriosis consultation considering conservative and surgical approach and interdisciplinary treatment.
After selecting 143 overview articles and one guideline from the literature, the authors developed an evidence-based treatment algorithm for women with suspected endometriosis. For the diagnosis, a structured medical history, identification of typical endometriosis symptoms, a gynecological examination composed of appropriate inspection and palpation, rectal examination, and certain additional examinations such as appropriate imaging are required.
When it comes to the treatment algorithm, basically the diagnostic, therapeutic, and prevention of recurrence during long-term treatment, each having paramount importance, are basic phases.
Furthermore, a multi-professional team for visceral surgery, urology, nutrition, physiotherapy, and psychological support is indispensable.
"Due to a lack of clinically validated treatment algorithm for suspected endometriosis patients, we propose our algorithm as a standard operation procedure for these patients", the authors concluded.
---
---
ultrasonography
oral contraceptives
dienogest
consultation
deep infiltrated endometriosis
endometriotic implants
therapeutics
algorithm
endometriosis.
DISCLAIMER
EndoNews highlights the latest peer-reviewed scientific research and medical literature that focuses on endometriosis. We are unbiased in our summaries of recently-published endometriosis research. EndoNews does not provide medical advice or opinions on the best form of treatment. We highly stress the importance of not using EndoNews as a substitute for seeking an experienced physician.
<< Previous Article

Next Article >>