Deep lateral parametrial endometriosis nerve-sparing surgery 
By:
Selma Oransay
- Nov 23, 2022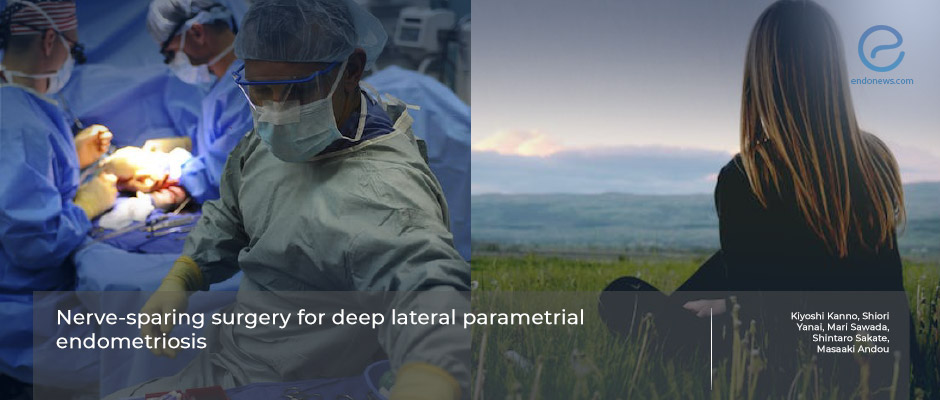 The anatomical and technical aspects of deep lateral parametrectomy are presented.
Key Points
Importance:
Radical parametrectomy can cause bladder dysfunction that greatly affects the quality of life, even if performed unilaterally.
Laparoscopic surgery for deep lateral parametrial endometriosis is highlighted in both anatomical and technical aspects.
Highlights:
The nerve-sparing technique is technically safe and feasible for selected patients with deep lateral parametrial endometriosis.
This surgery aims the relief from severe pain and avoidance of postoperative morbidity.
What's done here:
This article is a case report from Kurashiki medical center in Okayama, Japan.
Dr. Kanno et al. performed a laparoscopic excision with a pelvic autonomic nerve-sparing technique in a 38-year-old woman with deep lateral parametrial endometriosis.
The aim is to demonstrate the anatomical and technical features of the procedure, and the relief of pain as a desired postoperative outcome.
Key Results:
There was no perioperative complication including bladder, rectal, or sexual dysfunction.
Severe pain disappeared postoperatively.
Lay Summary
Dr. Kanno et al. from the Department of Obstetrics and Gynecology of Kurashiki medical center, Okayama, Japan recently published a deep lateral parametrial endometriosis case report in the journal named Fertility and Sterility. The aim is to demonstrate the technical and anatomical features of nerve-sparing laparoscopic surgery for the parametrium via video.
A 38 years old woman with severe chronic pelvic and gluteal pain that persisted for 5 years that was resistant to pharmacotherapies was found to be a right ovarian endometrioma and hydrosalpinx with deep lateral parametrial endometriosis reaching the lateral pelvic wall by MRI. She had no neurologic disorders including bladder dysfunction.
The surgeons performed laparoscopic excision that included pelvic autonomic nerve-sparing technique, decompression of somatic nerves, and preservation of internal iliac vessels. They explained the procedure in 8 steps with the video taken during the operation.
This operation showed that nerve-sparing surgery is a technically feasible and safe method for selected patients. The absence of complications and the disappearance of severe pain were satisfactory outcomes of the surgery.
"Performing deep lateral parametrectomy must be in line with the latest scientific developments and individualized for each patient," the authors concluded.
---
---
indocyanine green
nerve-sparing
laparoscopy
deep lateral parametrial endometriosis
parametrectomy
endometriosis
neuropelveology.
DISCLAIMER
EndoNews highlights the latest peer-reviewed scientific research and medical literature that focuses on endometriosis. We are unbiased in our summaries of recently-published endometriosis research. EndoNews does not provide medical advice or opinions on the best form of treatment. We highly stress the importance of not using EndoNews as a substitute for seeking an experienced physician.
<< Previous Article

Next Article >>