Colorectal Deep Endometriosis Resection and Potential Complications
Sep 14, 2020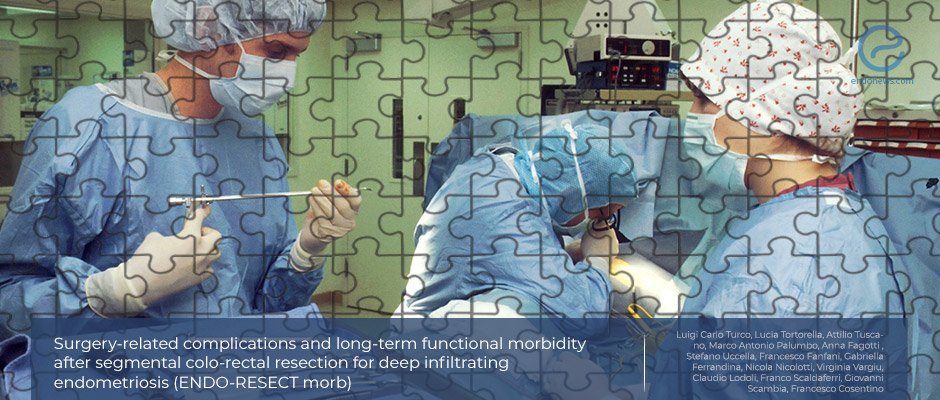 Segmental resection of deeply-infiltrating endometriosis and its risks
Key Points
Importance:
Knowing the potential complications and outcomes of segmental resection will help patients and surgeons plan for effective and appropriate surgical intervention.
Highlights:
Colorectal surgeries for deep infiltrating endometriosis may be associated with both short- and long-term complications.
What's done here:
This study follows the pre- and the post-operative course of 50 women with colorectal DIE who were treated surgically with segmental resection.
Key Results:
Fifty women were included in the study. The Median follow-up was 55.5 months.
Forty-three high colorectal resections (86%), 6 low resections (12%), and 1 ultra-low resection (2%) were performed; in 3 cases (6%) multiple resections were needed.
The overall complication rate was 44%. Nineteen women (38%) experienced early complications and 3 women (6%) late complications.
Long-term functional postoperative complications were composed of intestinal in 30%, urinary in 50%, and sexual in 64% of the study population.
Limitations:
No specifications regarding how the intestinal DIE was diagnosed clinically. Exclusion criteria did not specify incomplete surgery.
The clinical presentation, previous gynecologic surgical history, and surgical characteristics of the women included in this study are highly heterogeneous.
The high rate of laparotomy seen in this study is likely due to the large number of patients who had previous abdominal surgery, thus skewing the incidence of complications upward.
Lay Summary
A severe clinical form of endometriosis, deeply infiltrating endometriosis (DIE) is characterized by more aggressive endometriotic lesions commonly involving deeper pelvic or gastrointestinal organs. It causes significant quality of life impairment and morbidity and is increasingly associated with infertility.
When DIE involves the colon, two surgical approaches are usually employed, depending on the lesions: Radical (segmental resection) and the more conservative or symptom-guided approach which preserves the rectum (shaving, full-thickness, or discoid excision). Segmental resection offers a higher chance of disease eradication but is also known to cause more immediate postoperative complications than the conservative approach.
This observational cohort study "ENDO-RESECT" reports clinical data of 50 women who underwent segmental resection for intestinal DIE between 2005 and 2017, written by Dr. Turco et al., recently published in "Archives of Gynecology Obstetrics". Segmental resection was classified as high, low, and ultra-low according to the distance to the rectal margin. Questionnaires were used to evaluate pain, intestinal function, voiding, and sexual function after the surgery. The indication for surgery included the failure of hormonal treatment in controlling the symptoms after a period of observation of least 6 months, and, when there was a desire for pregnancy, infertility was ascertained. Forty-nine women (98%) had received surgery for endometriosis previously at other hospitals. All women suffered preoperative dysmenorrhea, 38 patients (76%) complained of dyschezia; and dysuria - dyspareunia were present in 12 (24%) and 32 (64%). All women were staged as equal to, or greater than stage III.
In 54% of cases, fertility-sparing surgery was performed, 30% had multiple colorectal nodules. Parametrial and peri-ureteral nodules were present in 34 (68%) and 32 (64%) women, bilateral in 11 (22%), and 14 (28%) women, respectively. Prevesical nodules, defined as peritoneal implants, or infiltration of the bladder wall were present in 14 (28%) and 2 (4%) women. The localization of DIE on the posterior vaginal wall was noticed in 20 (40%) women. Conversion to laparotomy due to severe adhesions was noted in 10% of cases and multiple resections were necessary in 6% of cases. Overall, the complication rate, including minor and major complications, was 44%.
Overall, early and late complications appeared in 19 (38%) and 3 (6%) cases, respectively. The early complications were minor and were fever not requiring antibiotics, postoperative urinary retention, inferior limb paresthesia that resolved spontaneously. On the other hand, all late complications were major, appeared in 3 cases; one uretero-vaginal fistula requiring nephrostomy and 2 cases of anastomotic stenosis, one of which was managed with endoscopic dilatation, and the second required a new surgery for loop ileostomy.
Regarding functional morbidity, patients suffered intestinal 25 (50%), voiding 25 (50%), and sexual 32 (64%) issues. In particular, severe constipation was reported by 17 women (68%), 6 (18%) suffered from diarrhea, urinary retention was noted in 8 (16%), most of them recovered, but 1 patient (4%) had a permanent neurogenic bladder requiring self-catheterization. The lack of urge to urinate represented 40% of all the urinary complications observed; 7 (70%) affected by this disorder recovered sensation over time, while 3 (30%) remained impaired. Weak and/or obstructed urination was noted in 14 (28%) of the whole population. Three women (6%) experienced new-onset urinary urgency syndrome, accounting for 24% of all urinary disorders, and this remained permanent in all cases over time. Stress incontinence appeared in 2 patients, and this also remained permanent in all cases over time. New-onset anorgasmia was reported by 6 women (12.5%), representing 19% of all sexual impairment symptoms, and again remained permanent in 100% of affected cases.
After multivariable correction for possible confounding variables, the authors observed that the presence of bilateral endometriosis nodules and the performance of hysterectomy were associated with higher functional morbidity. It is also important to note that many patients with endometriosis have a background neural dysfunction related to urination, stooling, sexual function, and these may have been worsened by surgery. Needless to say, segmental resection for advanced-stage endometriosis carries significant risk and a multitude of possible complications. However, segmental resection is clinically appropriate in certain cases of DIE affecting the colon and should be considered by both the patient and specialized gynecologic surgeon.
---
---
surgery
endometriosis
DIE
pain
complications
advanced stage
stage 3
sexual
gastrointestinal
voiding
anorgasmia
urgency
stress incontinence
DISCLAIMER
EndoNews highlights the latest peer-reviewed scientific research and medical literature that focuses on endometriosis. We are unbiased in our summaries of recently-published endometriosis research. EndoNews does not provide medical advice or opinions on the best form of treatment. We highly stress the importance of not using EndoNews as a substitute for seeking an experienced physician.
<< Previous Article

Next Article >>