Chronic pelvic pain and endometriosis
By:
Selma Oransay
- Jul 8, 2022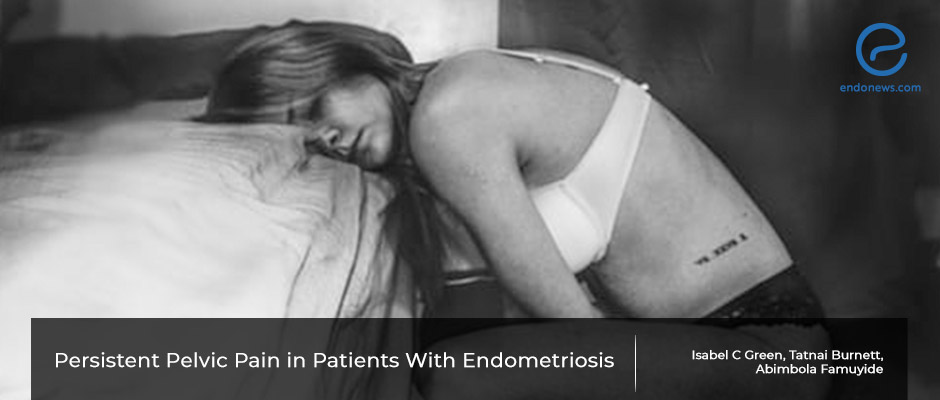 The role of central sensitization, comorbid conditions, and biophysical factors should not be ignored while managing the pain.
Key Points
Importance:
Evaluation of endometriosis patients requires multidisciplinary care teams due to the complexity and variability of symptoms.
Highlights:
The role of central sensitization, comorbid conditions, and biophysical factors should not be ignored while evaluating and managing the pain.
What's done here:
This review paper was penned by Green et al. from Mayo Clinic, Rochester USA, to provide a systemic approach to persistent pain in women with endometriosis.
Important remarks:
Diagnostic laparoscopy was associated with 77.4% of patients with "no pain improvement" and who underwent repeat surgery at a mean follow-up of 18 months.
Excision of endometriotic lesions and deep endometriosis were associated with "no pain improvement" in the range of 3.6-22% and 0-4.4% respectively.
Based on the studies reviewed, patients who underwent endometrial excision experienced recurrent and persistent pain on average of 15.8 % and 25 % respectively.
Even after hysterectomy, patients are at risk of persistent pain, and 20% undergo a repeat surgery within 7 years.
Undiagnosed comorbidities (adenomyosis, fibroids, fibromyalgia, ovarian cysts, irritable bowel syndrome, interstitial cysts, depression) could accompany endometriosis to create persistent pelvic pain.
For the treatment of chronic pelvic pain, additional time for visits is essential while multidisciplinary care teams will address both peripheral and central components of patients' pain.
Treating comorbid conditions such as adenomyosis fibroids, and ovarian cysts is also important.
If chronic overlapping pain conditions exist, it is possible to enlist more intensive treatments with the collaboration of a multidisciplinary team.
An assessment of the abdominal wall as well as the pelvic wall musculature should be performed carefully while taking care of the myofascial pain.
Psychosocial traits and treatment have an important role in assessing patients coping responses and specifically pain catastrophism as part of their endometriosis treatment.
Lay Summary
Patients may have an average of 7 clinical visits before being diagnosed with endometriosis. Understanding chronic pain conditions including endometriosis-associated pain, and developing chronic pelvic pain benefits the management of the patients. The role of central sensitization, comorbid conditions, and biophysical factors become important in the pain experience and treatment outcomes.
In this literature review, Green et al. from the Department of Obstetrics and Gynecology at Mayo Clinic, Rochester, Minnesota, the USA, aimed to identify chronic pain conditions and to draw attention to multidisciplinary teamwork while evaluating the pain of patients with endometriosis before or after the surgery.
Chronic pain is a complex condition characterized by a transition from acute to chronic pain, neuroplasticity, and pain amplification and influenced by bio-physico-social factors. Endometriosis is commonly associated with chronic pain and sometimes does not have a cyclic character.
There are many common chronic overlapping pain conditions that can mimic endometriosis-related pain such as chronic fatigue syndrome, chronic low pain, chronic migraine, chronic tension-type headache, irritable bowel syndrome, interstitial cysts, fibromyalgia, vulvodynia, etc. Diagnosis, when occurs in a patient with endometriosis is difficult by the lack of standardized diagnostic criteria and the target therapies due to the health care system. In this healthcare system, each body system falls under the treatment field of a different specialist. To correct this deficiency, while treatment for endometriosis is optimized, a typically multidisciplinary team can address therapies for irritable bowel syndrome, underlying depression, or sleeping disturbances.
Myofascial pain syndrome is a muscle condition that has local and referred pain typically generated from a myofascial trigger point. These are palpable nodules commonly founding taut muscle fibers or bands and refer to pain beyond the tissue. Patients with endometriosis can describe exacerbation of pain with movement or contraction of especially levator ani and internal obturator muscles.
The authors concluded that "Expanding the evaluation and treatment of endometriosis-related pain by all healthcare providers could limit delays, unnecessary interventions and best meet our patient's needs." This article was recently published in the scientific journal named "Clinical Obstetrics and Gynecology".
---
---
Persistent pelvic pain
chronic pain
comorbid conditions
central sensitization
biophysical factors
outcomes
chronic overlapping pain conditions
endometriosis.
DISCLAIMER
EndoNews highlights the latest peer-reviewed scientific research and medical literature that focuses on endometriosis. We are unbiased in our summaries of recently-published endometriosis research. EndoNews does not provide medical advice or opinions on the best form of treatment. We highly stress the importance of not using EndoNews as a substitute for seeking an experienced physician.
<< Previous Article

Next Article >>