Cancer-associated mutations and endometriosis
By:
Ellen Tumimbang
- Jul 13, 2020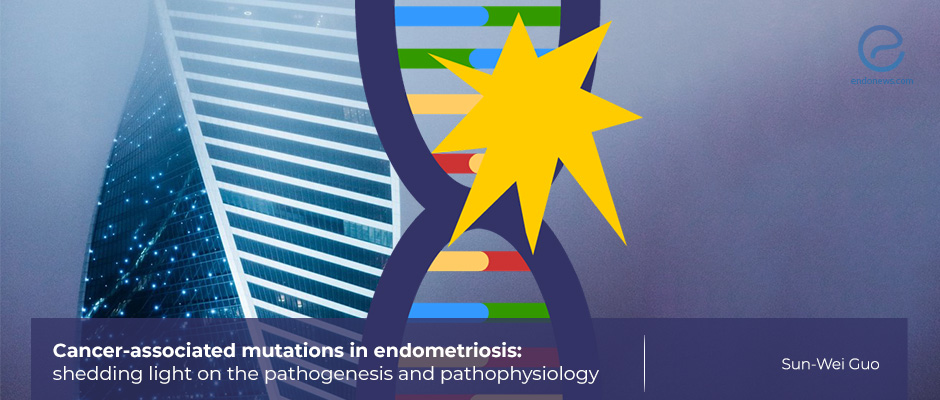 CAMs become a concern when several of them gather to cause malignant transformation.
Key Points
Highlight
Next-generation sequencing identified low-frequency mutations in the endometrial lesions of normal healthy endometrium
Importance
The identification of cancer-associated mutations (CAMs) in endometriotic lesions leads to a new avenue in the understanding of the pathogenesis and pathophysiology of the disease.
New strategies in the intervention and management of endometriosis will be developed.
What is done here?
The search engine of the National Center of Biotechnology Information in the PubMed database was used to compile relevant papers on cancer-associated mutations in endometriosis.
All relevant papers were incorporated into the current review.
Key results
Next-generation sequencing technology and microdissection methods increase the accuracy of detection of low-frequency somatic mutations in normal healthy tissues and benign conditions.
Somatic mutations and CAMs at low-frequency rates identified in healthy tissue and accumulate through aging, oxidative stress, hyperestrogenism, and exposure to cancer-causing agents.
CAMs are present in all major subtypes of endometriosis.
Hyperestrogenism and oxidative stress are key players in the generation of CAMs and fibrogenesis.
CAMs carrying lesions need to acquire and accumulate relevant and enough more CAMs to cause malignant transformation.
Endometrioma is more likely linked to ovarian cancer, as the ovarian tissue has higher estrogen exposure resulting in increased CPYPIBI and ER β gene expressions to make vulnerable to mutagenesis.
Limitation of the study
Mutational profiling of healthy women at different ages and reproductive history is necessary to have a profound understanding of the pathogenesis of endometriosis.
Research should give attention to epigenetic studies as well.
The relationship between CAM frequency and the extent of fibrosis may also be important.
Lay Summary
Endometriosis is thought to benign gynecological disease.
However, recent studies compiled in this review paper suggest that spontaneous somatic mutations are driven to occur during the cyclic bleeding resulting in endometriosis tissue undergoing repeated tissue injury and repair.
Mutations are permanent and irreversible changes in the nucleotide sequences, generally caused by replication error, aging, exposure to cancer-causing agents, overproduction of estrogen, oxidative stress, etc. Cancer driver mutations called CAMs can arise from a replicative error on genes important in pathways associated with proliferation and metastatic predisposition on tumor cells.
In previous studies, CAMs were detected in all subtypes of endometriosis that include the endometrioma, deeply infiltrating endometriosis, and peritoneal endometriosis. The presence of CAMs in endometriotic lesions may cause an increase in risk to develop into cancer if not treated by surgical means or kept dormant.
The compiled publication on CAMs in endometriosis showed conflicting evaluations on reported mutation frequencies. However, the conflict is overruled due to the availability of error-correcting sequencing techniques and the use of microdissection procedures. These new methods started to detect low-frequency somatic mutation not only in benign conditions but also in normal "healthy" endometrium.
Moreover, recent reports on the availability of deep sequencing on ectopic and eutopic endometrium pave the avenue to the understanding of the pathogenesis and pathophysiology of endometriosis. Ectopic endometrium has a higher mutation rate than in eutopic endometrium. Ectopic endometrium has a higher mutation rate because it is exposed to higher local estrogens, oxidative stress, and DNA damaging agents.
This paper of Guo et al., recently published in "Human Reproduction Update", showed that eutopic and ectopic endometrium have different gene expression profiles. The difference in gene expression is due to differences in their microenvironment. Additionally, the reports indicated that CAMs are found mostly in the epithelial component of endometriotic lesions but not in the stromal component of the endometriosis lesions. Furthermore, the findings also confirm that the epithelium and stroma component of the endometriotic lesion have different developmental processes, but the direction is dependent and co-exist in the development of endometriosis. The gathered data through error-correcting NGS and microdissection procedures will allow future research to target specific molecular processes in the development of endometriosis for interventional measures and management of endometriosis-containing CAMs.
Future sequencing studies may pave the way to understand the pathogenesis of endometriosis. Moreover, the identification of CAMs in endometrial lesions that may lead to malignant transformation must be taken into consideration in the management and intervention measures for endometriosis.
---
---
Cancer associated mutations
somatic mutations
next-generation sequencing
ectopic endomterium
eutopic endometrium
epigenetic
tumor
malignant
DISCLAIMER
EndoNews highlights the latest peer-reviewed scientific research and medical literature that focuses on endometriosis. We are unbiased in our summaries of recently-published endometriosis research. EndoNews does not provide medical advice or opinions on the best form of treatment. We highly stress the importance of not using EndoNews as a substitute for seeking an experienced physician.
<< Previous Article

Next Article >>