Antimullerian Hormone, endometrioma and ovarian reserve
Apr 19, 2019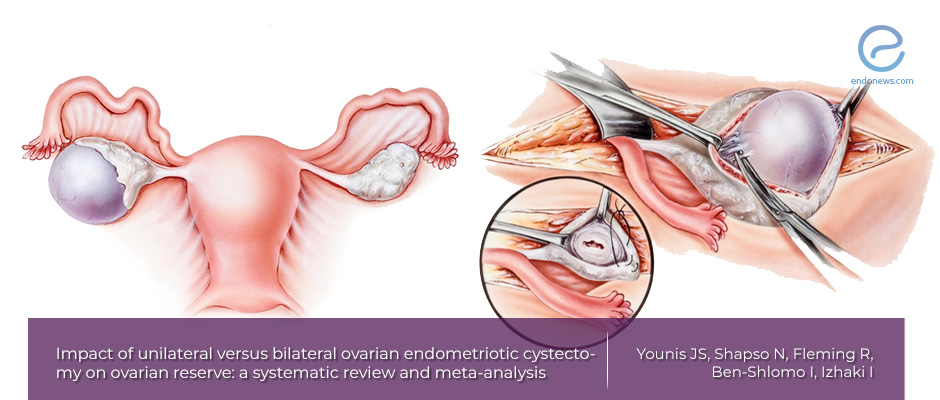 Infertility concerns may rise after ovarian cystectomy in endometriotic patients.
Key Points
Highlight:
This systematic review and meta-analysis explore the impact of unilateral versus bilateral ovarian endometrioma on ovarian reserve biomarkers before and after ovarian endometrioma resection, by evaluating the prospective studies which examined serum anti-Müllerian hormone (AMH) and antral follicle count (AFC).
Importance:
Anti-Müllerian hormone (AMH) rather than antral follicle count (ACF) reflects the ovarian reserve better, after the third decade AMH is naturally declining 5% per year, and the patients with endometriomas in single or both ovaries have lesser values in their blood samples.
What's done here:
A highly meticulous selection of the last 18 years literature was performed to execute the importance of ovarian reserve in women with endometriomas.
Authors only evaluated the papers AMH and ACF measurements before and after unilateral versus bilateral endometrioma resection.
Outcomes:
A significant AMH drop recorded in early (1 week), intermediate (1 month) and late (2-6 months) periods following both unilateral and bilateral endometrioma excision.
The drop of AMH reported was higher after bilateral operations when compared to unilateral ones.
AFC of unilateral and bilateral ovarian cystectomy groups did not show any statistical difference, as compared to baseline levels, and was similar in all 3 time periods.
Ovarian endometriotic cystectomy may not improve IVF/ET outcome and live birth rate.
Limitations
The heterogeneity among eligible studies evaluating serum AMH level was high.
The high heterogeneity among studies employing the DSL assay in the sub-group analysis pre- and post-operatively may suggest different kit calibrations.
The high heterogeneity among all AFC analyses supports a cautious interpretation of these findings.
Lay Summary
Younis et al. from Baruch-Padeh Medical Center, Poriya, Israel, designed a review study on ovarian reserve alterations before and after endometrioma surgery that recently documented in "Human Reproduction Update".
The authors examined the electronic databases of articles published between January 2000 and October 2018 by focusing on the papers measuring anti-Müllerian hormone (AMH) and antral follicle count (AFC) as markers of ovarian reserve, and compare unilateral or bilateral ovarian endometrioma resection operations to prove it. Out of 28 prospective full-text articles assessed for eligibility, 12 included for statistical meta-analyses and New Castle Ottowa scale was used to assess the quality of researches. In this pathway of knowledge first accessed result is the significant suppression of circulating AMH levels in women with endometriomas.
Seven studies give an intermediate phase (6 weeks to 6 months) calculation of AMH levels after uni (460 patients) and bilateral (273 patients) ovarian cystectomies and their findings indicate lower values of AMH when bilateral ovaries operated. Authors found out that only three studies have long term inspection (9 to 12 months) of AMH serum levels after resection of endometriomas. The results revealed a long-term reduction of ovarian reserve after unilateral (194 patients) and bilateral (121 Patients) ovarian cystectomies.
On the other hand, all studies measuring ACF after unilateral and bilateral ovarian cystectomy groups showed no statistically important change, although the levels were lower in women with endometriomas when compared normal healthy women.
After the review of the literature, the authors concluded that measuring AMH levels will be the best indicator for ovarian reserve comprehension. Their meta-analyses results pointed out more damaged ovarian reserve when bilateral ovarian cystectomies performed.
İn conclusion, the surgical approach for endometriomas of women in their reproductive periods should be conducted attentively.
---
---
bilateral ovarian cystectomy
unilateral ovarian resection
ovarian reserve
anti-Müllerian Hormon (AMH)
antral follicle count (AFC)
optimal ovarian reserve test (ORT)
endometrioma
DISCLAIMER
EndoNews highlights the latest peer-reviewed scientific research and medical literature that focuses on endometriosis. We are unbiased in our summaries of recently-published endometriosis research. EndoNews does not provide medical advice or opinions on the best form of treatment. We highly stress the importance of not using EndoNews as a substitute for seeking an experienced physician.