Anti-inflammatory cytokines: a new horizon in endometriosis with possible clinical relevance
Apr 9, 2019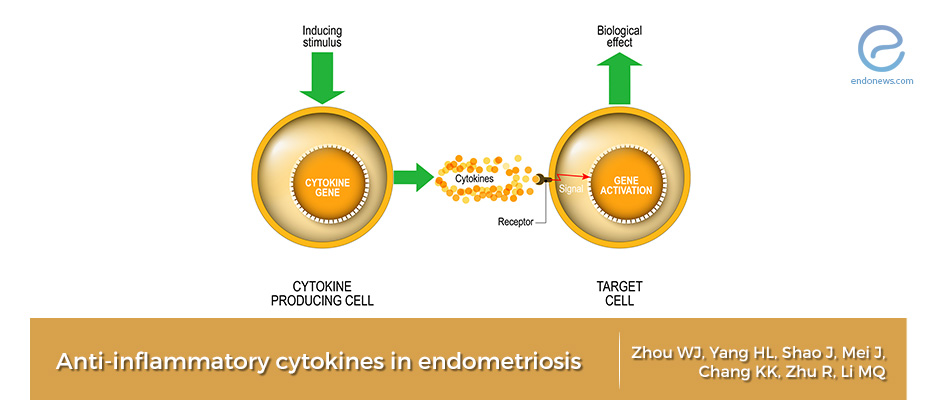 Endometriosis patients may benefit from research on anti-inflammatory cytokines
Key Points
Highlights:
Endometriosis is considered as an inflammatory disease, however, recent research suggests that anti-inflammatory cytokines (e.g., interleukin-4 and -10, and transforming growth factor-β1) also play a role, they are present in serum, peritoneal fluid, and ectopic endometriotic tissues and seem to have an important role in the progression of endometriosis.
Importance:
Current research should focus to enlighten our perception of both inflammatory and anti-inflammatory molecules which have potential clinical implications.
What's done here:
An overview of the expression, origin, function, and regulation of inflammatory and anti-inflammatory cytokines in endometriosis is made along with a brief discussion on their future clinical implications.
Key Results:
Lay Summary
Scientists led by Dr. Li from Shangai PRC, have made a comprehensive review of anti-inflammatory cytokines related to the pathogenesis of endometriosis in a recent issue of Cellular and Molecular Life Sciences.
Inflammation is important in the pathogenesis of endometriosis, particularly at the early stages thus it is stated that endometriosis is an inflammatory disease. It is well known that increased levels of pro-inflammatory cytokines, such as tumor necrosis factor-α (TNF-α), interleukin (IL)-1β, IL-6 and IL-17A, are present in the serum, peritoneal fluid (PF) and ectopic lesions of patients with endometriosis.
Besides, various recent scientific work revealed that "anti-inflammatory" cytokines produced by various cell types accumulate in the microenvironment of ectopic endometriotic lesions. Pioneering early studies found anti-inflammatory cytokines (such as IL-10 and IL-4) to be elevated in the peripheral blood and peritoneal fluid of patients with endometriosis. Anti-inflammatory cytokines control the pro-inflammatory cytokine response and limit the potentially damaging effects of inflammatory reactions.
A complex and interactive regulatory imbalance between pro-inflammatory cytokines/anti-inflammatory cytokines exists, which is under regulation by sex hormones, especially estrogen, local metabolism, and the pro-inflammatory cytokines and anti-inflammatory cytokines themselves during endometriosis progression. Akin to tumors, anti-inflammatory factors may contribute to the new adaptive growth of ectopic endometrium by forming a tolerant endometriotic environment and have an important role in immune escape by ectopic lesions.
Future research potential topics may include immune-associated interventions to treat endometriosis, which would need systematic immunization assessment before treatment. The co-existence of pro-inflammatory and anti-inflammatory cytokines in endometriosis offers many possibilities for the establishment of novel diagnostics, models and therapeutic approaches.
---
---
Anti-inflammatory cytokines
inflammation
immune system
DISCLAIMER
EndoNews highlights the latest peer-reviewed scientific research and medical literature that focuses on endometriosis. We are unbiased in our summaries of recently-published endometriosis research. EndoNews does not provide medical advice or opinions on the best form of treatment. We highly stress the importance of not using EndoNews as a substitute for seeking an experienced physician.