Another New Approach Could Help Diagnose deep Infiltrating endometriosis
By:
Özge Özkaya
- May 26, 2023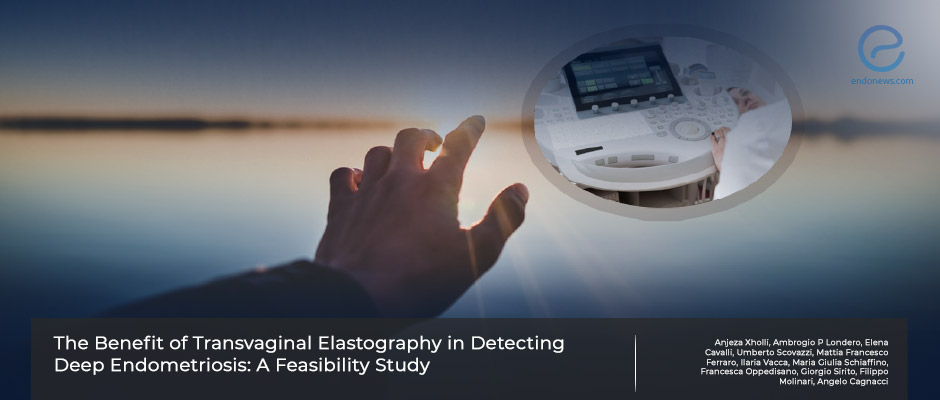 A technique called elastography could improve the diagnosis of DIE.
Key Points
Highlights:
Elastography can help distinguish deep infiltrating (DIE) endometriosis nodules.
Importance:
Applications of elastography in improving the diagnosis of deep infiltrating endometriosis in different locations will be helpful for preoperative diagnosis.
What's done here:
This is an exploratory observational study on 46 deep infiltrating endometriosis nodules [uterosacral ligaments (n=21), parametrium (n=7), rectum (n=14), recto-vaginal septum (n =4)].
Strain elastography was conducted via a transvaginal probe, and the percent tissue deformation or subjective color score was expressed.
Key results:
Irrespective of location, strain ratio, and color score ratio were significantly higher than that of normal tissue.
Color score ratio was a better discriminator than strain ratio, with high sensitivity and specificity.
Limitations:
This was a small, single-center study and more research is needed to confirm the potential of the technique in accurately diagnosing DIE.
Lay Summary
Elastography could help distinguish deep infiltrating endometriosis (DIE) nodules from non-endometriotic tissue at different locations, according to a new study published in Ultraschall in der Medizin - European Journal of Ultrasound.
The potential of the technique in improving the diagnosis of DIE, distinguishing different DIE lesions, and monitoring the evolution of DIE, should be further tested according to the authors of the study.
In order to assess the features of DIE elastography and test whether the technique could identify endometrial lesions, a team of researchers from Italy led by Dr. Angelo Cagnacci conducted an exploratory observational study in patients with DIE who were treated between 2020 and 2021.
The team evaluated a total of 46 DIE nodules and the tissue surrounding them. Of these, 21 were located in the uterosacral ligaments, seven in the parametrium, 14 in the rectum, and four in the recto-vaginal septum.
Regardless of location, the ratio of DIE strain and the color score was significantly higher compared to healthy tissue. The color score was a more reliable marker than the strain ratio.
"Both strain and [color score] ratios accurately distinguish DIE nodules at various locations," the authors concluded.
Elastrography is a non-invasive technique that uses low-frequency vibrations to measure the elasticity of different tissues, which is most commonly used to assess the liver.
DIE is a highly invasive form of endometriosis that is characterized by the presence of rectovaginal nodules and disease of the uterosacral ligaments, rectum, rectovaginal septum, vagina, and bladder.
---
---
deep infiltrating endometriosis
DIE
diagnosis
elastography
DISCLAIMER
EndoNews highlights the latest peer-reviewed scientific research and medical literature that focuses on endometriosis. We are unbiased in our summaries of recently-published endometriosis research. EndoNews does not provide medical advice or opinions on the best form of treatment. We highly stress the importance of not using EndoNews as a substitute for seeking an experienced physician.
<< Previous Article

Next Article >>