Another Genetic Polymorphism That May Increase Risk of Endo
By:
Özge Özkaya
- Jun 13, 2019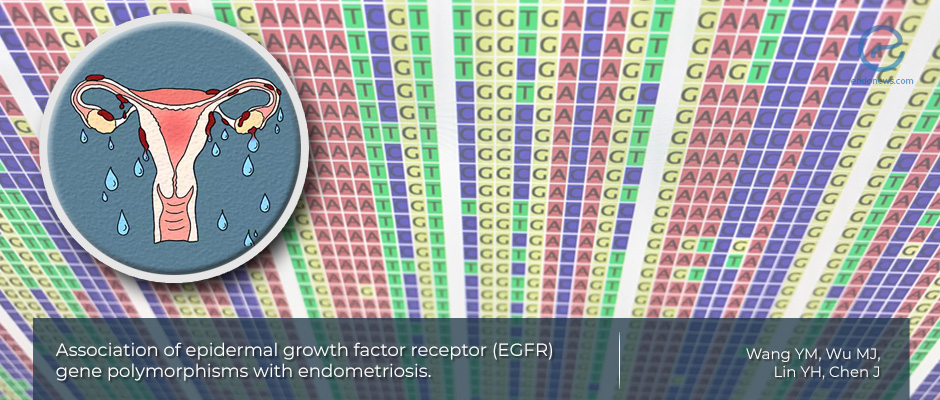 A single letter change in the gene encoding a protein that controls cell proliferation can significantly increase endometriosis risk, at least in Chinese women.
Key Points
Highlights:
Single nucleotide polymorphisms (SNPs) in the Epidermal Growth Factor Receptor (EGFR) gene seem to be associated with an increased risk of endometriosis.
Importance:
The identification of genetic risk factors of endometriosis could help to understand the pathogenesis of the disease thus may assist in finding more effective ways of treating the disease.
What's done here:
Researchers analyzed known SNPs in the EGFR gene of women with and without endometriosis to see whether there was an association with the SNPs and endometriosis.
Key results:
T/T+C/T genotypes were associated with a significantly higher risk of developing endometriosis than the C/C genotype.
Limitations:
This study suggests that there is an association between certain SNPs and endometriosis. It does not offer any explanation for the developmental mechanism of the disease.
Lay Summary
A single letter change in the Epidermal Growth Factor Receptor (EGFR) gene may significantly increase the risk of endometriosis.
This is according to a study conducted among women in Southwest China and published in the journal Medicine.
Identifying genetic risk factors that may increase the risk of endometriosis could help better understand the biology of the disease, reduce its recurrence and the damage it causes, and help researchers find more effective ways to treat it in the future.
For this case-controlled study, a team led by Dr. Jie Chen at West China Second Hospital of Sichuan University in China recruited 201 women with endometriosis and 237 women without the disease between June 2016 and December 2017. The researchers analyzed two known single nucleotide polymorphisms (SNPs) in the women's EGFR gene, the so-called rs11977660, and rs2072454 loci and found that a "T" nucleotide letter at the rs11977660 locus was significantly associated with endometriosis.
"T/T+C/T genotypes were associated with a significantly higher risk of developing endometriosis than the C/C genotype", the researchers wrote. They added that there was no significant association between SNP rs2072454 and endometriosis.
The researchers mentioned that future work should examine integrating several other SNPs into a combined model, to be more effective than the single-SNP approach used in the present study, for proving the power and illuminating the range of genetic polymorphisms related to endometriosis pathogenesis.
SNPs are genetic variations, single letter changes, which occur in a person's DNA. They can either be unique to a single person or be a feature that is more commonly seen in a certain population, such as a group of people living in the same area, or a group of people who all have the same disease.
EGFR is involved in cell division and proliferation. For example, it plays an important role in angiogenesis or the formation of new blood vessels or angiogenesis. Angiogenesis is known to be an important factor in the development and spread of endometriosis.
---
---
single nucleotide polymorphism
SNP
risk factor
epidermal growth factor receptor (EGFR) gene
DISCLAIMER
EndoNews highlights the latest peer-reviewed scientific research and medical literature that focuses on endometriosis. We are unbiased in our summaries of recently-published endometriosis research. EndoNews does not provide medical advice or opinions on the best form of treatment. We highly stress the importance of not using EndoNews as a substitute for seeking an experienced physician.
<< Previous Article

Next Article >>