Adenomyosis in adolescents
Oct 19, 2021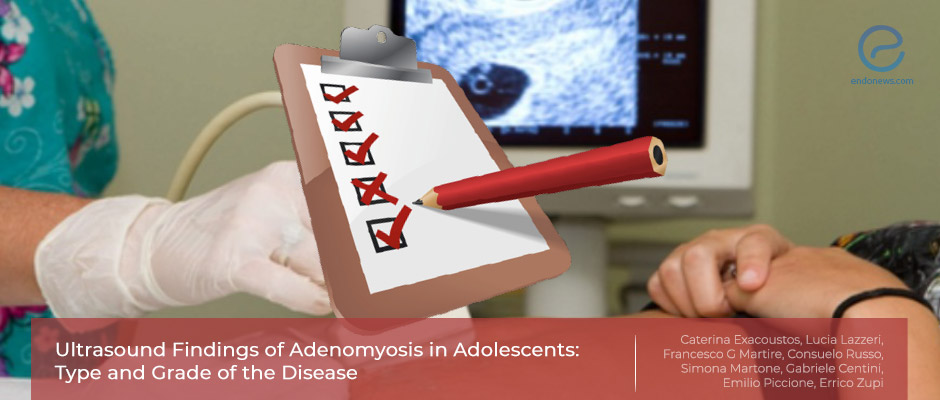 Non-invasive medical imaging "ultrasound" reliably diagnoses adenomyosis in adolescents
Key Points
Highlights:
Importance:
What's done here:
Key results:
Limitations of the study
Lay Summary
Dr. Exacoustos and colleagues from two tertiary referral university hospitals in Italy published their results on adenomyosis in adolescent patients in a recent issue of "The Journal of Minimally Invasive Gynecology".
Adenomyosis is the presence of endometrial glands and stroma in the myometrium that could present as a diffuse or focal manner. It is a well known fact that the prevalence studies yield wide variatons which could be due to different diagnostic classifications, patients' populations, tissue sample sizes and possible pathological definition bias. It is clear that adenomyosis, like endometriosis, may well affect young patients, and could have negative impact on their quality of life. With the advent of medical ultrasound as a diagnostic tool, there seem to be no need for histologic diagnosis in adenomyosis so that an earlier diagnosis and a more proper clinical management is avaliable.
In this retrospective observational study, 43 adolescent girls, aged 12-20 years, with ultrasonographic findings of adenomyosis were evaluated; while patients on hormonal treatment were excluded to avoid the bias of medical treatment. Patients' characteristics, symptoms severity, and uterine menstrual bleeding were compared to the type of adenomyosis and the severity of the disease. The extent of adenomyosis classified as mild, moderate, or severe, correlations to the symptom severity and uterine menstrual bleeding were examined.
Posterior uterine wall (58%) and the outer myometrial layer (93%) were mostly affected. In 44% of adolescents with adenomyosis, at least one location of pelvic endometriosis was documented. The patients were significantly older and showed a high percentage of heavy menstrual bleeding in diffuse adenomyosis when compared to those with the focal involvement of the inner myometrium.
This retrospective study revealed that adenomyosis is also a pathology of young people mostly in a mild to moderate form that is associated with typical painful symptoms. Ultrasound examination is a non-invasive easy method for diagnosis of adolescent adenomyosis yielding a proper clinical management.
The final word of this research paper is a suggestion for longitudinal studies to assess the progression of adenomyosis.
---
---
adenomyosis
ultrasound
adolescents
retrospective analysis
DISCLAIMER
EndoNews highlights the latest peer-reviewed scientific research and medical literature that focuses on endometriosis. We are unbiased in our summaries of recently-published endometriosis research. EndoNews does not provide medical advice or opinions on the best form of treatment. We highly stress the importance of not using EndoNews as a substitute for seeking an experienced physician.