A trial of exogenous melatonin on dysmenorrhea in women "without endometriosis"
By:
Nasuhi Engin Aydin
- Jan 26, 2022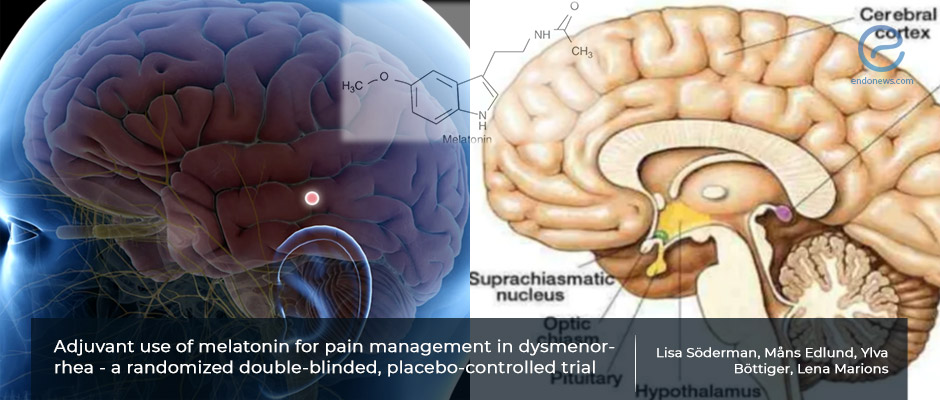 Could exogenous oral melatonin be effective in dysmenorrhea?
Key Points
Highlights:
Melatonin is a hormone of the pineal gland located in the brain, with analgesic effects in acute and chronic pain when given exogenously.
It may be effective in reducing pelvic pain in women with endometriosis.
Importance:
The pain-relieving effect of melatonin in women with "dysmenorrhea without endometriosis" is a matter of debate that has not been investigated clinically.
What's done here:
This is a phase II, randomized, double-blind, placebo-controlled trial from Sweden.
Forty women without endometriosis were examined to see the effects of melatonin as a pain-reliever for dysmenorrhea.
Key results:
Melatonin administered 10 mg orally, at bedtime during the menstrual week was not effective in pain-relieving on dysmenorrhea unrelated to endometriosis as compared with placebo.
Limitations of the study:
The study population is small. A participant population without diversity could result in low external validity.
Lay Summary
In their recent article published in "European Journal of Clinical Pharmacology", Dr. Söderman and associates from Stockholm report the results of their randomized, double-blind, placebo-controlled trial on the effects of oral melatonin in women with dysmenorrhea -unrelated to endometriosis-.
Melatonin is a hormone synthesized, and secreted mainly from the pineal gland in the brain and has pain-relieving effects when administered exogenously. Dysmenorrhea related to endometriosis is treated by non-steroid anti-inflammatory drugs and/or hormonal suppression, both having important complications.
In 2013, Schwertner and associates showed that melatonin at 10 mg/day reduced endometriosis-associated chronic pelvic pain, including a reduction in pelvic pain, pelvic pain during menses, pain during vaginal penetration, pain during urination, and pain during defecation that is statistically and clinically significant.
A randomized, double-blind, placebo-controlled trial at one of the largest hospitals in Stockholm, Sweden was conducted on 40 participant women without endometriosis, to reveal the effects of melatonin as an analgesic during dysmenorrhea. Forty participants were randomized, 20 in each group, to either melatonin or placebo, clinical and demographic data of the two groups were similar without any statistically significant difference.
Ten-milligram melatonin given during the menstrual week did not yield any clinically significant difference in the level of dysmenorrhea compared with placebo. The mean level of dysmenorrhea reflected by numeric rating scale for days 2–7 of the two study groups during the two treatment cycles did not reveal any statistically significant difference.
This clinical trial albeit having some limitations, could not show that 10 mg of melatonin given orally at bedtime during the menstrual week had a better analgesic effect on dysmenorrhea as compared with placebo. The participant women were self-selected in good health and non-smokers with regular periods i.e., a population without diversity. This in effect could yield low external validity. The standard deviations and confidence intervals are suggestive of a large variance that could mean that the study population is really small.
---
---
pineal
melatonin
dysmenorrhea
endometriosis
clinical trial
DISCLAIMER
EndoNews highlights the latest peer-reviewed scientific research and medical literature that focuses on endometriosis. We are unbiased in our summaries of recently-published endometriosis research. EndoNews does not provide medical advice or opinions on the best form of treatment. We highly stress the importance of not using EndoNews as a substitute for seeking an experienced physician.
<< Previous Article