A review of multimodal imaging modalities for endometriosis.
Mar 30, 2023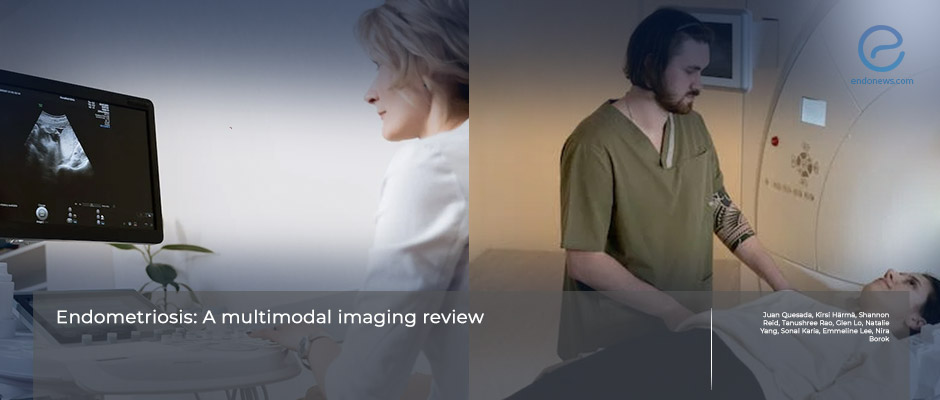 Imaging methods serve the need to define the location and borders of endometriotic lesions preoperatively.
Key Points
Importance:
Transvaginal ultrasonography is the first-line imaging tool, while MRI is considered a second-line imaging technique.
Highlights:
Detecting and mapping deep-infiltrated endometriosis is critical in patients who suffer from this disease and will be a perfect guide for optimal surgical planning.
This will preoperatively help to prepare the multidisciplinary surgical team for the surgical approach to DIE.
What's done here:
Detailed imaging features of endometriosis were reviewed by Dr.Quesada et al. from Australia, primarily from the last two decades.
Outlines:
Uterine sliding signs, soft markers, site-specific tenderness, and vascular hypoechoic regions with irregular borders are important to suspect from superficial endometriosis during TV-US.
Sonovaginoraphy provides a different way to TV-US search by filling the vagina with saline solution to create an acoustic window between the probe and surrounding tissues.
ultrasound-based endometriosis staging system (UBESS) is developed to predict the complexity of laparoscopic procedures in patients with endometriosis.
MRI is recommended as a second-line technique in the preoperative work-up of endometriosis.
The cloverleaf sign is detectable in TW2 of MRI sequences in sagittal, coronal, and axial planes of MRI, indicating adhesions of at least three pelvic organs.
Lay Summary
Since there is a lack of non-invasive biomarkers to diagnose endometriosis clinically, imaging techniques such as transvaginal ultrasonography and MRI have significant importance in preoperative endometriosis diagnosis. These imaging techniques allow appropriate surgical planning before laparoscopic excision, especially in deeply infiltrated endometriosis. The most preferred imaging modalities are trans-rectal ultrasound and enhanced TV-US techniques, besides TV-US and MRI. Detecting DIE is critical in patients with endometriosis, so subspecialized gynecologists or radiologists should apply to enhance TV-US techniques for this.
Dr. Quesada et al. from the Department of Obstet and Gynecology of Campbelltown Hospital Network, Australia, aimed to review recent developments in imaging techniques of endometriosis.
The authors explained those four imaging modalities for diagnosing three types of endometriosis, such as superficial, ovarian, and deeply invaded endometriosis. Every step was described in detail with underlining important signs on evaluating the cases.
Typically endometriotic lesions appear hypoechoic on ultrasonography. On MRI, classical features include T2 hypointensity in DIE, T2 hypointensity, and T1 hyperintensity in endometrioma. Superficial endometriosis is described as a small focus of T1 hyperintensity.
This important review was recently published in the European Journal of Radiology.
---
---
imaging features
transvaginal ultrasound
MRI
superficial peritoneal endometriosis
endmetrioma
deep infiltrating endometriosis
rectosigmoid endometriosis.
DISCLAIMER
EndoNews highlights the latest peer-reviewed scientific research and medical literature that focuses on endometriosis. We are unbiased in our summaries of recently-published endometriosis research. EndoNews does not provide medical advice or opinions on the best form of treatment. We highly stress the importance of not using EndoNews as a substitute for seeking an experienced physician.
<< Previous Article

Next Article >>