A review for genetics of endometriosis.
By:
Selma Oransay
- Sep 12, 2023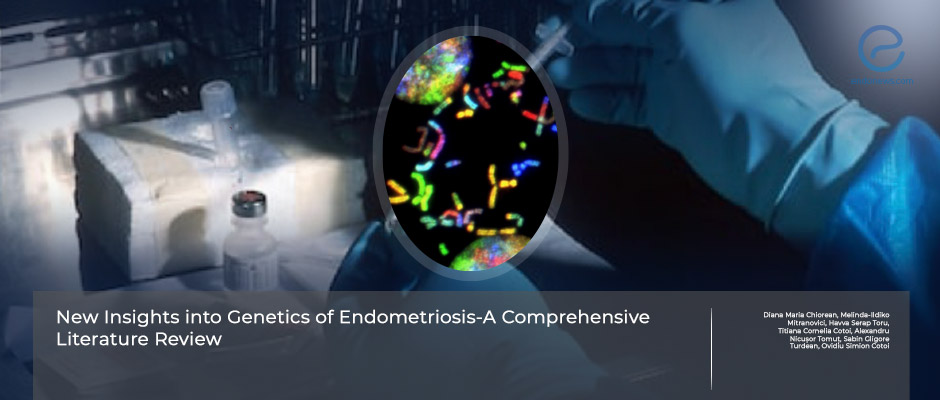 A literature search was made to resume the genetic complexity underlying endometriosis.
Key Points
Highlights:
New genomic technologies have an impact on improving diagnostic accuracy of endometriosis, and genetic stratification of the patient can lead to individualized and targeted therapies that improve the outcomes and the quality of life.
Importance:
Identification of challenges and future directions in translating genetic findings into diagnostic tools will be able to emphasize their transformative potential.
What's done here:
This is a comprehensive literature review to highlight the impact of new genomic techniques in improving the diagnostic accuracy of endometriosis by using the PubMed database between 2013 and 2023.
Key Results:
A total of 182 articles were collected during these ten years.
Although serum Ca125 levels have limitations, it still maintain its importance in the clinical diagnosis of endometriosis.
The genetic variants identified by Genome-wide association studies could potentially serve as biomarkers for endometriosis.
A list of challenges and opportunities was given in applying genetic findings to the diagnosis of endometriosis.
Lay Summary
There is an increased risk of developing endometriosis among first-degree relatives, which can raise suspicions of the role of genetic factors in endometriosis. Genome-wide association studies and next-generation sequencing have identified numerous genetic loci and variants relating to the disease.
Dr. Chiorean et al. from the Department of Pathology of the County Clinical Hospital of Targu Mures, Romania, reviewed the genetic studies to date about endometriosis by 10 years of Pubmed research. This article was recently published in the journal named Diagnostics.
Genome-wide association studies showed multiple genetic loci related to endometriosis, such as genes involved in sex steroid regulation and function. These genes can play critical roles in biological pathways, and genetic variants could potentially serve as biomarkers. Epigenetic changes have been implicated in endometriosis development and progression, making them potential biomarkers, but all of these findings need further validation in independent cohorts to confirm their association with endometriosis.
With the help of liquid biopsies, circulating cell-free DNA and RNA analyses can be used to detect the genetic and epigenetic alterations related to endometriosis. On the other hand, this disease is complex and multifactorial with a polyenic inheritance pattern and is influenced by multiple genetic variants as well as environmental factors. Genetic heterogeneity in different populations and racial groups is another difficulty. The heterogeneity complicates the development of universal genetic markers or tests in diagnosing endometriosis.
By understanding the genetic basis of the disease, clinicians can use targeted therapeutic approaches for their endometriotic patients. Anti-angiogenic therapy, immunotherapy, and hormonal therapies give hope in this field.
After a comprehensive review of genetic markers, risk prediction models, and multi-dimensional approaches, the authors concluded that future research should focus on validation, replication, and integration of genetic findings into routine clinical practice.
---
---
diagnostic techniques
genetics
genetic markers
molecular pathways
multi-omics
genetic heterogeneity
individualized management
endometriosis.
DISCLAIMER
EndoNews highlights the latest peer-reviewed scientific research and medical literature that focuses on endometriosis. We are unbiased in our summaries of recently-published endometriosis research. EndoNews does not provide medical advice or opinions on the best form of treatment. We highly stress the importance of not using EndoNews as a substitute for seeking an experienced physician.