A pilot study for Endometriosis Potential biomarkers
Nov 9, 2020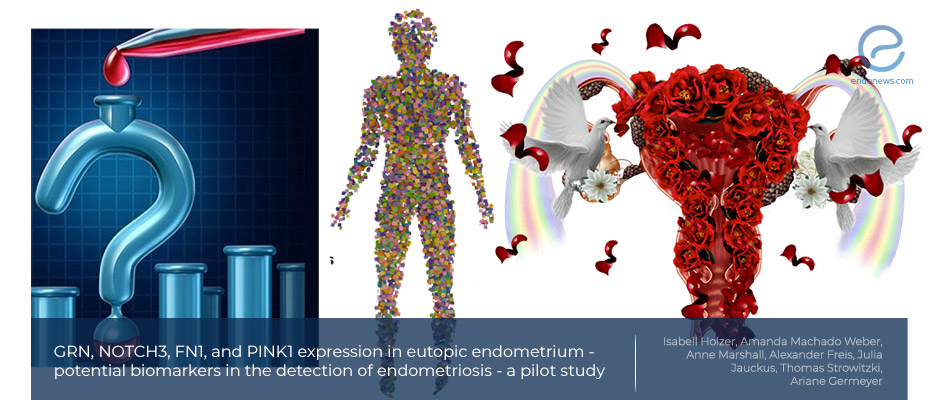 Progranulin, neurogenic locus notch homolog protein, fibronectin, and PTEN-induced kinase-1 alterations in endometriosis
Key Points
Highlights:
Some proteins like Progranulin (GRN), neurogenic locus notch homolog protein (NOTCH3), fibronectin (FNI), and PTEN-induced kinase 1 (PINK1) may have the potential to use as clinical biomarkers to detect endometriosis.
Importance:
Since endometriosis has a great impact on a patient's quality of life, it is important and necessary to identify biomarkers for diagnosis and regulatory factors underlying the disease.
What is done here?
Endometrial biopsies were taken from reproductive-age women who underwent laparoscopic surgery for benign reasons due to pelvic pain or sterility, both for endometriosis and other reasons (control group).
Endometriosis was graded according to the revised American Society for Reproductive Medicine staging system.
All biopsies were taken in the mid-to-late proliferative phase, mRNA, and protein analyses were performed by PCR, ELISA and immunohistochemistry.
Key results
A significant increase in gene expression of GRN, NOTCH3, FN1, and PINK1 in women with minimal endometriosis than in the controls.
in the higher stages of the disease, a significant reduction in gene expression of the above molecules compared with minimal disease.
Immunohistochemistry demonstrated a significant level of all proteins in every eutopic endometrial tissue samples.
Progranulin was strong in epithelial cells of women with ASRM II than with other stages of the disease or controls.
NOTCH3 was dominantly present in epithelial and endothelial cells and is more pronounced in women with ASRM II.
There are no significant differences in Fibronectin expression between controls and endometriosis.
The expression of PTEN-induced kinase-1 is dominantly detected in endometrial tissue with ASRM II and the lowest in ASRM III
Progranulin and Fibronectin protein expressions are significantly downregulated in women with endometriosis than in healthy controls.
Limitation of the study
The study consist of a small population therefore further validation is required for the actual function of the investigated proteins and genes in endometriosis and their use as clinical biomarkers in a larger population.
Lay Summary
Endometriosis is one of the most common female health disorders typically causing dysmenorrhea, dyspareunia, and pelvic pain, and may contribute to infertility. It is necessary to identify potential molecular biomarkers for diagnosis and regulatory factors behind the disease.
The study aimed to investigate gene-protein expression proteins like progranulin (GRN), neurogenic locus notch homolog protein (NOTCH3), fibronectin (FNI), and PTEN-induced kinase 1 (PINK1) that are known to be involved in inflammatory diseases, cell adhesion, and migration, implantation, cell development, or blastocyst maturation. Moreover, the study aimed to investigate the molecular differences in protein and gene expression of selected genes among the different stages of EM according to ASRM classification.
Progranulin (GRN), is a glycoprotein and growth factor with proliferative, invasive, and anti-inflammatory properties. The up-regulation of mRNA in women with endometriosis compared with healthy controls suggests that it may contribute to its inflammatory and cell proliferation effects. Moreover, the reduction of GRN expression in the eutopic endometrium of women with endometriosis may have a negative effect on blastocyst development resulting in a reduction in implantation rate, depending on the severity of the disease.
The Notch signaling pathway is important for cell-cell communication, gene regulation, and differentiation during embryonic and adult life, and NOTCH protein is increased in human endometrial carcinoma cells compared with healthy endometrial cells. The elevated mRNA expression of its receptor NOTCH3 in patients with endometriosis shows its significant role in angiogenesis, and this overexpression in endometriosis patients may open a new perspective for NOTCH3 as a therapeutic target.
Fibronectin (FN1) plays role in cell adhesion, growth, migration, and differentiation, and is important for embryonic development and wound healing. In the current study, the stage-dependent reduction of FN1 expression suggested that both FN1 and its receptors play a role in endometriosis.
Little is known of the function of PTEN-induced kinase 1 (PINK1) in humans. A previous study suggests that PINKI deficiency results in increased mitochondrial autophagy leading to the accumulation of reactive oxygen radicals. Oxidative stress is an important factor in the pathophysiology of endometriosis. The excess of reactive oxygen species resulted in an inflammatory response within the peritoneal cavity. The results of the study indicated a dysregulation of PINK1 with a particular high gene expression in a minimal disease that vanishes over the progression of the disease.
The authors of the study "GRN, NOTCH3, FN1, and PINK1 expression in eutopic endometrium – potential biomarkers in the detection of endometriosis – a pilot study" published in the "Journal of Assisted Reproduction and Genetics" concluded that these genes and proteins are potential clinical biomarkers to detect endometriosis and useful to differentiate between different stages of EM and healthy endometrium.
---
---
progranulin (GRN)
neurogenic locus notch homolog protein (NOTCH3)
fibronectin (FNI)
and PTEN-induced kinase 1 (PINK1)
biomarkers
signaling pathway
DISCLAIMER
EndoNews highlights the latest peer-reviewed scientific research and medical literature that focuses on endometriosis. We are unbiased in our summaries of recently-published endometriosis research. EndoNews does not provide medical advice or opinions on the best form of treatment. We highly stress the importance of not using EndoNews as a substitute for seeking an experienced physician.
<< Previous Article

Next Article >>