A novel in-vitro endometriosis model with KRAS and PIK3CA mutations
By:
Eylül GÜN
- Jan 3, 2022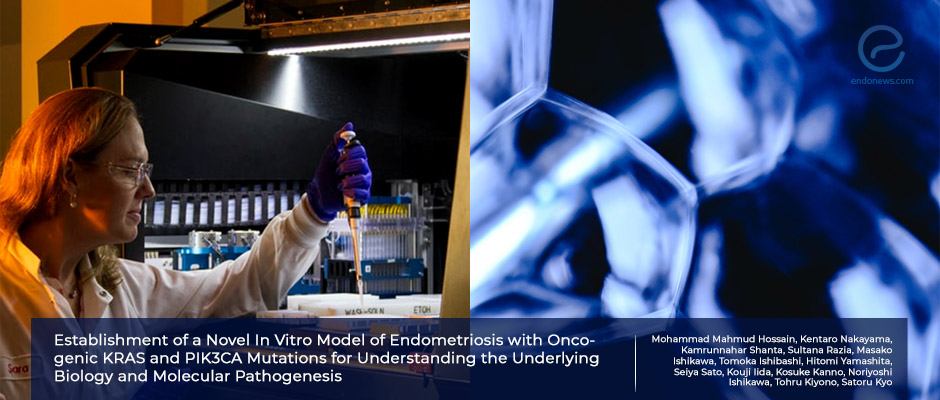 The analysis of the in-vitro model reveals certain genes that are associated with aggressive behavior
Key Points
Highlight
Lysyl Oxidase (LOX) and Pentraxin3 (PTX3) are shown to be the most frequently seen mutated genes that are responsible for aggressive behavior in endometriosis.
Their inhibition may be an alternative treatment method for patients with aggressive endometriosis.
Importance
KRAS and PIK3CA mutations play an important role in the activation of pathways that lead to the progression of endometriosis.
The cancer-like behaviors such as migration, invasion, and cell proliferation are all increased with these mutations.
Key Results
The cells with mutant KRAS and PIK3CA genes had a significantly higher migration, invasion, and proliferation capability compared to the wild-type cell line.
Microarray analysis revealed LOX and PTX3 to be responsible for these aggressive behaviors.
siRNA transfection of LOX and PTX3 resulted in inhibition of migration and invasion properties and a decrease in cell proliferation.
These mutations were not enough to create a malignant transformation in the established in-vitro models.
What's done here
Researchers from Japan developed an in-vitro immortalized endometriosis cell line from the ovarian tissue of an endometriosis patient.
Three groups were formed as KRAS-mutated, PIK3CA-mutated, and wild-type, and functional and behavioral characteristics were compared and analyzed.
In-vitro migration assay, microarray analysis, whole-exome sequencing analysis, and RT-PCR analysis were performed in the evaluation of the cell lines.
Lay Summary
A plethora of research has been ongoing to illuminate the pathogenesis of endometriosis which is a multifactorial disease. These studies have proven the association between some mutated cancer driver genes and endometriosis, and links between certain cancers such as ovarian endometrioid carcinoma and clear cell carcinoma.
The oncogenes KRAS and PIK3CA are among the most commonly mutated genes in normal endometrium and endometriosis and are thought to initiate the pathogenetic mechanisms that result in endometriosis. With the aim of a behavioral and functional analysis of these genes, researchers from Japan performed a study in which they developed an in-vitro immortalized cell line model which harbored these mutations from the ovarian endometriotic epithelium.
The study was published in the June 2021 issue of the journal Cancers. The epithelium was derived from the ovarian tissue of a patient who was undergoing endometriosis cystectomy surgery. The epithelial cells were immortalized and genetic integrity was assessed. The in-vitro migration assay revealed that the cells with mutant KRAS and PIK3CA genes had a significantly higher migration, invasion, and proliferation capability compared to the wild-type cells. No tumor growth was seen in mice that were injected with mutant cells. There were no other genetic mutations or cancer-specific alterations in these cells by whole-exome sequencing.
For further evaluation of the genes that exhibit cancer-like behavior such as migration, invasion, and proliferation, a microarray analysis was performed. A long list of genes was identified and the most common upregulated ones were found to be Lysyl Oxidase (LOX) and Pentraxin3 (PTX3) after a thorough literature search. The analysis also showed upregulation of RhoA, TNF-α, and serum response factor expression in KRAS and PIK3CA mutant cell lines which all contribute to cell proliferation, migration, and invasion.
To prove the effect of KRAS and PIK3CA mutant cells, they were transfected with siRNA against LOX and PTX3 which resulted in an inhibition of the migration and invasion abilities and a decrease in cell proliferation rates. These changes were not enough to induce the development of cancer from these cells which supports the theory that at least three consecutive mutations are needed for a malignant transformation.
The authors discuss the different properties of LOX and PTX3 mutated cells which are proven to be associated with aggressive behaviors and predict that these may be used as therapeutic targets in the future in patients with aggressive, deep-infiltrating endometriosis with KRAS and PIK3CA mutations.
---
---
endometriosis
in-vitro model
KRAS
PIK3CA
LOX
PTX3
DISCLAIMER
EndoNews highlights the latest peer-reviewed scientific research and medical literature that focuses on endometriosis. We are unbiased in our summaries of recently-published endometriosis research. EndoNews does not provide medical advice or opinions on the best form of treatment. We highly stress the importance of not using EndoNews as a substitute for seeking an experienced physician.