"Transumblical single-port laparoscopy" for deep infiltrating endometriosis.
By:
Selma Oransay
- Aug 16, 2023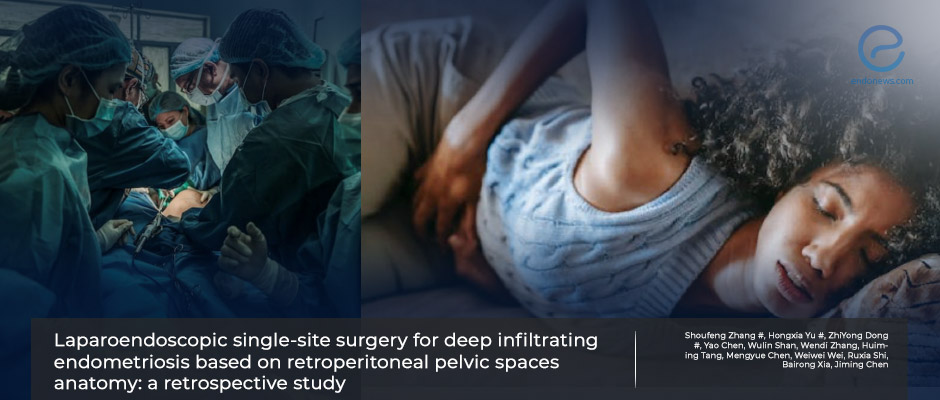 Single-port laparoscopic surgery seems to be a safe and promising approach for deep infiltrating endometriosis.
Key Points
Highlights:
The single-port retroperitoneal space laparoscopic technique for treating DIE patients is a safe and promising method.
The method seems to be advantageous when compared to the multi-port laparoscopic approach.
Importance:
With the development of minimally invasive techniques, laparoscopic single-site surgery appeared with its own advantages including fewer surgery scars and better therapeutic effects.
What's done here:
A single-center retrospective study was conducted at the Medical University of Changzhou, China, to share the surgical experience of a single-port laparoscopic approach on DIE patients.
A single port laparoscopic surgical approach was applied to 63 patients with signed informed consent who were free to select the type of surgery.
All the operations were performed by minimally invasive gynecologists who are experts in the field.
The authors also explained the improved surgical techniques and the facility of the method for treating DIE using this technique through retroperitoneal pelvic spaces.
Key Results:
Among 63 women, 45 underwent endometrioma cystectomy, 22 had an adenomyosis-sparing hysterectomy, and 3 had a hysterectomy due to adenomyosis.
The mean operation time was 120 minutes, and the estimated blood loss was around 70-90 ml.
Postoperatively, Clavion-Dingo classification, one Grade II and 2 Grade III complications were detected.
During the two-year follow-up, three patients had pain recurrence, two had ovarian cyst recurrence, and one had endometriosis recurrence with pain.
Lay Summary
Deep infiltrating endometriosis patients have multi-system involvements, severe pelvic adhesions, and pelvic pain. Dyspareunia, dysmenorrhea, infertility, gastrointestinal symptoms, and lower urinary tract symptoms seriously affect their quality of life. Although hormonal therapy may be the first choice for treating endometriosis, surgical treatment should be recommended to remove the lesions, restore anatomy, and promote fertility in cases without response, intolerant, or who have severe intestinal and urinary tract stenosis.
Compared to open surgery, laparoscopy has apparent advantages, such as less trauma, less postoperative pain, and shorter hospitalization. The primary surgical method is the multiport laparoscopic approach, which may leave about 3-4 scars on the abdominal wall, bringing esthetic concern.
The retroperitoneal pelvic spaces concept benefits DIE surgery by allowing both a nerve-sparing approach and safe resection. As deep endometriosis causes dense adhesions and fibrosis around the lesion, resulting in the disappearance of anatomical markers, safe resection of adhesions is essential to free important vessels, nerves, and organs.
In their retrospective single-center study, the researchers from Dalian Medical University, China, under the leadership of Dr. Chen, aimed to demonstrate the advantages and feasibility of a transumbilical single-port laparoscopic approach for deep infiltrating endometriosis patients. Their method was based on retroperitoneal pelvic space anatomy. Statistical analyses were made on the outcomes of this particular surgical procedure. The article described the anatomic spaces in which they worked and explained their surgical techniques step-by-step. After discussing the feasibility and outcomes of their single-port retroperitoneal laparoscopic surgery, the authors concluded, "This method is safe, reduces blood loss, shortens the operation time, and reduces the difficulty of surgery.
This promising study was recently published in the "Journal of Scientific Reports".
---
---
laparoendoscopy single-site surgery
retroperitoneal space
minimally invasive surgery
pararectal space
rectovaginal space
deeply invaded endometriosis.
DISCLAIMER
EndoNews highlights the latest peer-reviewed scientific research and medical literature that focuses on endometriosis. We are unbiased in our summaries of recently-published endometriosis research. EndoNews does not provide medical advice or opinions on the best form of treatment. We highly stress the importance of not using EndoNews as a substitute for seeking an experienced physician.
<< Previous Article