The role of neurogenic inflammation in endometriosis
May 4, 2023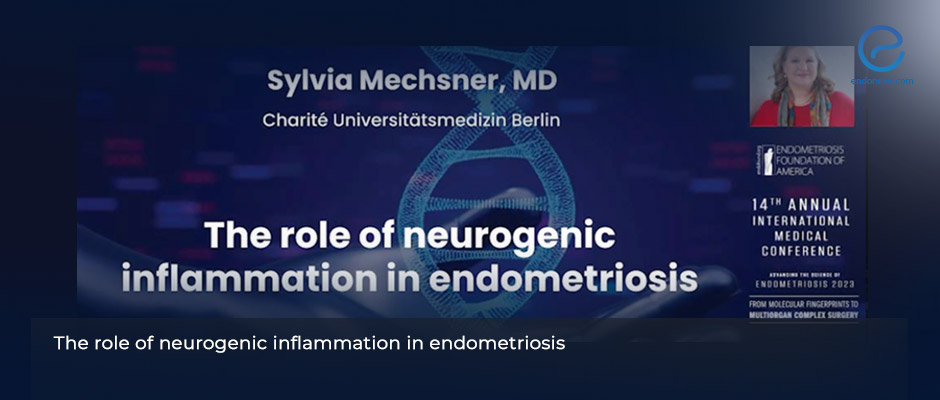 Prof. Mechsner from Charité—Universitätsmedizin Berlin, Germany presented on neuroimmunomodulation and its clinical impact on endometriosis at the Annual International Medical Conference of the Endometriosis Foundation of America. Endometriosis is a complex disease and the main symptoms are all pain-related. The pain mechanisms are…
Key Points
Highlight
Importance
Understanding the pathogenesis of endometriosis-related pain is crucial for the development of effective treatment strategies.
Dr. Mechsner's research sheds light on the involvement of neuroimmunomodulation in endometriosis, highlighting the complex interplay between nerve fibers, immune cells, and pro-inflammatory cytokines in the pathophysiology of the disease.
The findings from this research have important implications for the management of endometriosis, particularly the importance of considering the presence of chronic inflammation in the histological report and the potential benefits of complete peritonectomy for managing the peritoneal disease.
Key results
Endometriotic lesions have a high concentration of immune cells and nerve fibers.
The release of neuropeptides like substance P and CGRP from nerve fibers leads to neurogenic inflammation and pain.
There is an inverse correlation between the number of sensory and sympathetic nerve fibers in endometriotic tissue compared to healthy tissue.
Substance P and CGRP-positive nerve fibers are more abundant in endometriotic tissue.
The NK1R receptor, present on immune cells, is upregulated in endometriotic lesions.
Semaphorin 3C and 3F proteins are highly expressed in endometriotic lesions and play a role in the dysregulation of sympathetic nerve fibers.
Endometriotic fluid induces the outgrowth of sensory nerve fibers but not sympathetic nerve fibers.
Lay Summary
Prof. Mechsner from Charité—Universitätsmedizin Berlin, Germany presented on neuroimmunomodulation and its clinical impact on endometriosis at the Annual International Medical Conference of the Endometriosis Foundation of America. Endometriosis is a complex disease and the main symptoms are all pain-related. The pain mechanisms are also very complex and involve visceral-somatic pain and peripheral and central sensitization. Dr. Mechsner stated, "That is why I focused my research also on the pathogenesis of endometriosis-related pain. All the patients tell us that they suffer from really severe pain and sometimes laparoscopy reveals only peritoneal lesions. What is the reason that such small peritoneal lesions are able to reduce such severe pain whereas, on the other hand, such a severe situation of peritoneal metastasis of ovarian cancer is completely asymptomatic, which is a tricky situation?
She began by explaining the latest literature findings, and histopathologically appearance of epithelial and stromal cells that release pain mediators, inflammatory mediators, and growth factors. When the inflammation was evaluated, a lot of clusters of immune cells were found. Endometriosis-associated nerve fibers in direct contact with the lesions, together with immature blood vessels, and smooth muscle metaplasia. Myofibroblasts are able to release collagen I, which is the main factor for the development of fibrosis that is often present in the lesions. She reported that the symptoms in patients are often present in a cyclical manner at the beginning of the disease and that there is a switch from the cyclical presentation of the symptoms to an acyclical presentation of the pain, especially chronic pelvic pain.
Neurogenic inflammation is triggered by nerve activation and results in neuropeptide release and rapid plasma extravasation and edema. It is a complex process of peripheral and central sensitization. This is a major component in other pain diseases. The pro-inflammatory sensory neurotransmitter substance P was found to be a key player in this process.
Dr. Mechsner and colleagues looked for the innervation in the endometriotic tissue. They found nearly the same number of nerve fibers in both endometriotic tissue and healthy tissue, then they differentiated to characterize these nerve fibers with the substance P antibody and tyrosine hydroxylase. When the number of sensory and sympathetic nerve fibers was calculated, In the healthy control tissue, they found a big amount of sympathetic nerve fibers and a lower amount of sensory nerve fibers, whereas inversely, the sensory nerve fibers were much higher in the endometriotic tissue. In another study, they found that endometriotic tissue has a high amount of Substance P and CGRP-positive nerve fibers, and the NK1R receptor is upregulated in endometriotic lesions. An in vitro model showed that the peritoneal fluid of endometriosis patients induces out sprouting on sensory nerve fibers. Semaphorins, particularly Semaphorin 3C and 3F, were found to be dysregulated in endometriotic lesions and work with neuropilin and plexin A3 and A4 receptors on sympathetic nerve fibers. The study also found a significantly higher population of immune cell infiltrates in endometriotic tissue than in normal tissue. Interleukins such as IL-1B, IL-1RA, IL-2, IL-4, IL-8, IL-10, FGF-B, GCSF, MCP-1, TNF-a were upregulated in the peritoneal fluid of endometriosis patients.
Dr. Mechsner concluded that the management of the peritoneal disease in endometriosis requires multi-modal management. She stated that complete peritonectomy can lead to good outcomes, and the histological report should not only have the diagnosis of endometriosis but also the presence of chronic inflammation.
---
visceral pain
somatic pain
peripheral sensitization
central sensitization
Semaphorins
Substance P
CGRP
NK1R
DISCLAIMER
EndoNews highlights the latest peer-reviewed scientific research and medical literature that focuses on endometriosis. We are unbiased in our summaries of recently-published endometriosis research. EndoNews does not provide medical advice or opinions on the best form of treatment. We highly stress the importance of not using EndoNews as a substitute for seeking an experienced physician.
<< Previous Article

Next Article >>