The peculiarity of adolescent endometriosis
By:
Selma Oransay
- Oct 7, 2020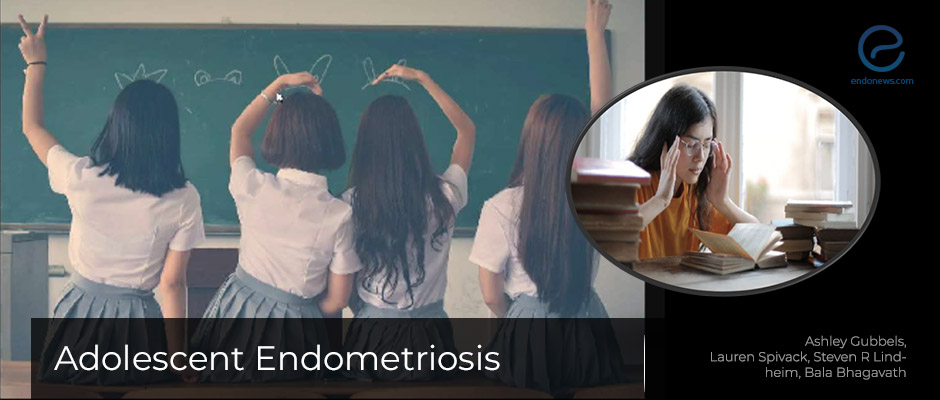 A frequent cause of secondary dysmenorrhea is adolescent endometriosis.
Key Points
Importance:
Characteristics of adolescent endometriosis differ from those of adults and all stages of endometriosis could be seen in adolescents.
Highlights:
The diagnosis of adolescent endometriosis often involves long delay and needs more visits to specialists due to misunderstanding the complexity of symptoms in the adolescent period.
This, in turn, adversely impacts the adolescent's social life, emotional, physical, and psychological functions.
What's done here:
A patient of age 24, with a diagnosis of adolescent endometriosis who had early menarche and had migraines, hypothyroidism, and pelvic pain is presented.
While evaluating this case, the authors made a literature review to assess epidemiology, risk factors, restrictions to daily life, clinical appearance, diagnostic tests, management methods of adolescent endometriosis.
Key Results:
Recent studies showed that advanced stages of the disease are not uncommon in the adolescent period.
The risk factors associated with adolescent endometriosis are early onset of menarche, Mullerian anomalies, family history, migraines, and asthma.
The initial medical therapy includes nonsteroidal anti-inflammatory drugs and combined hormonal contraceptives.
An earlier laparoscopic evaluation may help to identify adolescent endometriosis in cases who failed initial medical therapy.
The benefits of medical and surgical therapy must appropriately be tailored for the adolescent patient.
Laparoscopic evaluation in diagnosis and management is necessary while the evidence-based medication options are available.
Lay Summary
Recent studies showed the prevalence of endometriosis in adolescents with chronic cyclic or acyclic pelvic pain is about 60-70%. Moreover, all stages of endometriosis, including deeply infiltrating endometriosis can be found in this population.
Gubbels et al. from the Department of Obstetrics and Gynecology, University of Rochester Medical Center, NY, USA, penned a literature review of adolescent endometriosis to indicate the importance of early diagnosis. This paper recently published in the "Obstetrical and Gynecological Survey".
In this comprehensive review, the authors described the nature of adolescent endometriosis as an entity along with risk factors and clinical manifestations, the effect on patient life, appropriate diagnosis, and management. Although dysmenorrhea, heavy and irregular bleeding are common, other symptoms usually lead the patient to other disciplines than obstetrician-gynecologist, patients are usually seen by a median of 3 physicians, including gastroenterologists (36%), and urologists (12%) before having the diagnosis of endometriosis.
Similar to those seen in adults, endometriosis has significant negative effects on daily activities and even maybe more profound in adolescents, resulting in absenteeism from school and work, mostly related to their severe dysmenorrhea, affecting their psychosocial life, may even result in anxiety and depression.
To obtain a comprehensive history is necessary and should be taken in the presence of a parent or a caregiver. The initial therapy for adolescent endometriosis is nonsteroidal anti-inflammatory drugs and combined hormonal therapy while laparoscopy still remains the criterion standard for diagnosis of endometriosis, similar to adults. The expert opinion supports earlier laparoscopic evaluation when unresponsive to medications or for those who have endometrioma or deeply invasive disease. In most cases, white, fibrotic, and/or clear lesions are seen as peritoneal defects that are different from those in adults and could be missed if the surgeon is not familiar with these laparoscopic appearances.
This paper summarises all current medical treatment options as first-line empiric treatment for symptom resolution, treatment of postoperative disease and pain, and suppression of the disease against the risk of becoming a chronic endometriosis illness.
---
---
secondary dysmenorrhea
migrains
acyclic pelvic pain
early menarche
nonsteroid anti-inflamatuar drugs
combined oral contraceptives
adolescent endometriosis.
DISCLAIMER
EndoNews highlights the latest peer-reviewed scientific research and medical literature that focuses on endometriosis. We are unbiased in our summaries of recently-published endometriosis research. EndoNews does not provide medical advice or opinions on the best form of treatment. We highly stress the importance of not using EndoNews as a substitute for seeking an experienced physician.
<< Previous Article

Next Article >>