The "Painful Periods Screening Tool" Could Speed Endometriosis Diagnosis
Jan 13, 2023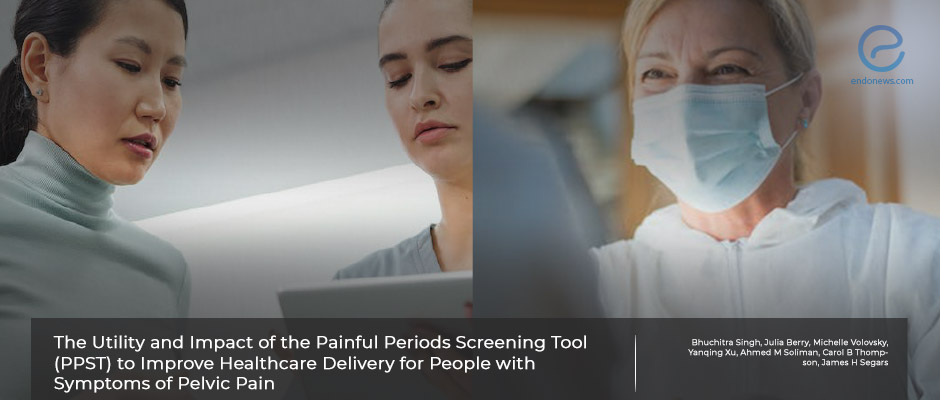 The majority of women who used the PPST said it facilitated communication with their doctor.
Key Points
Highlights:
The PPST is helpful in screening pelvic pain and facilitates communication between patients and doctors.
Importance:
PPST could speed up the diagnosis of endometriosis.
What's done here:
Researchers from Johns Hopkins University used assessed the utility of the PPST in 1000 women with period pain.
Key results:
The vast majority of women said that PPST could help women discuss their symptoms of pain with their healthcare provider if given regularly.
Limitations:
Some women were recruited from outpatient gynecology clinics and may use healthcare services more often due to other gynecologic problems.
There may be a response bias due to the nature of the survey, which offers set answer choices.
Lay Summary
The Painful Periods Screening Tool (PPST) is a useful tool for women with endometriosis, according to a new study published in the scientific journal Reproductive Sciences. The study's authors said that the tool " facilitated communication between patients and providers about pain symptoms".
In order to assess the utility and impact of the PPST in improving the delivery of healthcare for patients with pelvic pain, a team of researchers led by Dr. James H. Segars from the Department of Gynecology and Obstetrics, at Johns Hopkins University School of Medicine, in Baltimore, MD conducted a survey among women, ages 18 to 55 with self-reported pelvic, abdominal, or lower back pain before, during, or after their periods.
The team asked the participants to fill out the PPST questionnaire on the day of their hospital visit and a follow-up questionnaire 1 to 14 days later.
A total of 1000 women completed both questionnaires. Most of them (82.9%) said that they had severe pelvic and/or abdominal pain or lower back pain during their periods and 915 of them (91.5%) said that the PPST could help women discuss their symptoms with their doctors if used regularly.
In addition, 678 women (67.8%) said that the PPST helped them start a conversation about their symptoms of pain and 707 women (70.7%) said they were more comfortable discussing their symptoms with their doctors after filling out the PPST.
"These findings support the utility of PPST as an endometriosis screening tool and suggest that this tool facilitated communication between patients and providers about pain symptoms," the study's authors wrote.
Pelvic pain is one of the cardinal symptoms of endometriosis. However, there are still long delays between the onset of the symptoms of pain and the diagnosis of the disease.
The PPST is a 5-item screening questionnaire that was designed to reduce the delay in endometriosis diagnosis.
---
---
questionnaire
pelvic pain
endometriosis symptom
endometriosis diagnosis
DISCLAIMER
EndoNews highlights the latest peer-reviewed scientific research and medical literature that focuses on endometriosis. We are unbiased in our summaries of recently-published endometriosis research. EndoNews does not provide medical advice or opinions on the best form of treatment. We highly stress the importance of not using EndoNews as a substitute for seeking an experienced physician.
<< Previous Article