Surgical approach to rectovaginal endometriosis.
Apr 28, 2020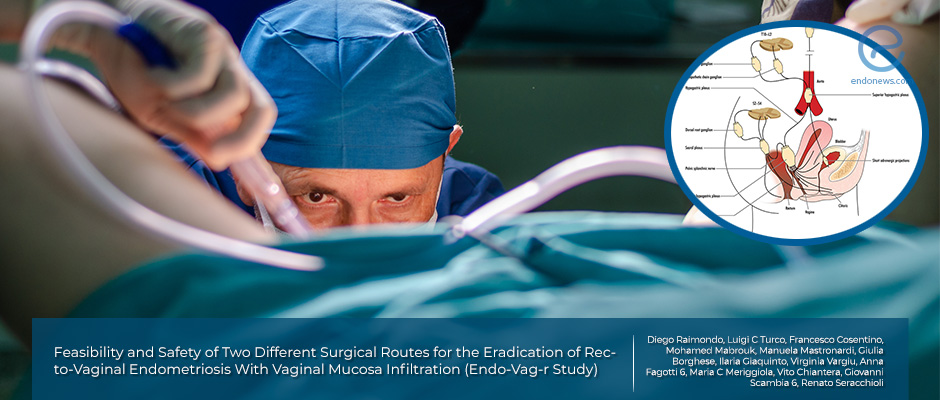 The feasibility and safety comparison of total laparoscopy to the vaginal assisted surgery in RVE patients showed no significant difference.
Key Points
Highlights:
Surgical management of rectovaginal endometriosis necessitates partial colpectomy that has major postoperative complications.
Two different approaches to rectovaginal endometriosis which are total laparoscopy and vaginal assisted surgery do not have a significant difference comparing their pre-, postoperative data, and surgical outcomes.
Importance:
The rectovaginal space invasion of endometriosis is a component of deeply infiltrated endometriosis, palpable on the upper third of the vagina with visible red, blue, and hemorrhagic nodules.
Hormonal therapy can improve pain complaints in about two-third of rectovaginal endometriosis patients but those women who have developing bowel and urinary obstruction, or no pain relief should undergo surgical approach.
What's done here:
A multicentric, retrospective cohort study was performed to measure the feasibility and safety of two different surgical approaches for recto-vaginal endometriosis.
84 women with complete macroscopic eradication of symptomatic recto-vaginal endometriosis with vaginal mucosal infiltration were included in the study.
All cases between March 2013 and November 2017 were recorded and their preoperative data, surgical outcomes, and postoperative findings compared.
Key results:
There is no significant difference between total laparoscopy and vaginal assisted groups in terms of major complication rate.
Perioperative, surgical, and postoperative outcomes were not affected by the surgical route.
Complications that occurred in the total laparoscopy group were bowel anastomosis dehiscence and pelvic abscess (3 of 57 cases) whereas in the vaginal assisted group there were small bowel perforation and rectal sub-occlusion after segmental resections (5 of 47 cases).
Limitations:
The criteria for the decision of the surgical route (whether total laparoscopy and vaginal assisted) to treat the patients with recto-vaginal endometriosis is not clear.
The feasibility and safety of the type of operations are strictly related to the skills and experiences of surgeons.
Limited follow-up time could cause to miss delayed major complications.
Lay Summary
Recto-vaginal endometriosis incidence is estimated at 3.8%-37% among women with endometriosis and when it exists it's a part of deeply infiltrated endometriosis, thus advance stage endometriosis.
Raimondo et al. from the Department of Obstetrics and Gynecology of the University of Bologna, Italy, aimed to compare the feasibility and safety of total laparoscopy to vaginal assisted surgery in recto-vaginal endometriosis patients and their article is recently published in Acta Obstetricia et Gynecologica Scandinavica.
84 women with recto-vaginal endometriosis were included in this multicentric, retrospective cohort study whose disease confirmed by transvaginal and abdominal ultrasonography beside clinical examinations. Preoperatively demographic features and pain symptoms were assessed, and additional imaging methods were implemented whenever necessary.
Follow-up visits of the postoperative women were made on the 30th day after surgery to evaluate general health, pain scores, and postsurgical complications.
Among 84 recto-vaginal endometriosis patients, 29 had lateral vaginal infiltration but selection for total laparoscopy or vaginal assisted technique wasn't related to this finding and remain unclear in this study. The endometriotic women who underwent two different types of surgery had almost similar data concerning age, parity, BMI, endometriosis stage, preoperative symptom, treatment protocols, and, previous operations for endometriosis.
Researchers found that the postoperative major complications are almost the same in two types of surgical approaches and the severity of pain significantly decreased during postoperative follow-up.
When the outcomes of surgery taken into consideration including the impact of the operation time, association with other endometriotic lesions, estimated blood loss, hospital stay, laparotomic conversion rate, and type of the associated surgical procedures, there was no statistically significant difference between the total laparoscopy and vaginal approach groups, both approaches being feasible and safe.
---
---
vaginal mucosa infiltration
surgical treatment of endometriosis
laparoscopy
minimally invasive surgery
surgery with vaginal assisted route
feasibility and safety
rectovaginal endometriosis.
DISCLAIMER
EndoNews highlights the latest peer-reviewed scientific research and medical literature that focuses on endometriosis. We are unbiased in our summaries of recently-published endometriosis research. EndoNews does not provide medical advice or opinions on the best form of treatment. We highly stress the importance of not using EndoNews as a substitute for seeking an experienced physician.
<< Previous Article