Superoxide Dismutase and Glutathione Peroxidase as biomarkers for endometriosis
Oct 25, 2017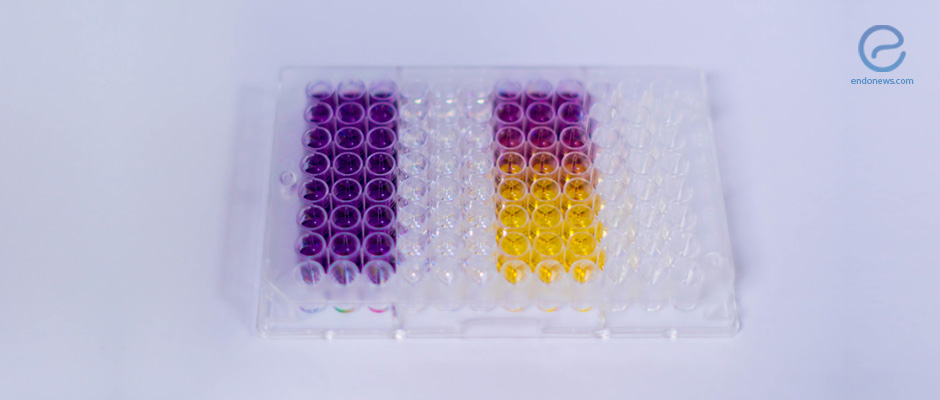 A combination of superoxide dismutase (SOD) and glutathione peroxidase (GPx) may be used as preoperative biomarker for endometriosis
Key Points
Highlights:
SOD and GPx combined testing is suggested as a noninvasive biomarker for endometriosis detection.
Although the study has low power due to the limited number of participants involved, it opens the door for further research and development of biomarkers for endometriosis.
Importance:
Currently, endometriosis diagnosis is made by laparoscopic examination and histology report. If biomarkers with high sensitivity and specificity were established, these biomarkers would provide a less invasive and very cost-effective diagnostic test for endometriosis detection.
Noninvasive markers could also convince more women to get tested for early detection of endometriosis and, in turn, would shorten the long-term effects of the disease.
What's done here?
A total of 36 subjects, 16 in the study group and 20 in the control group, were tested for plasma SOD and GPx levels to assess whether these enzymes can be used as preoperative biomarkers for endometriosis.
Key results:
Individually, SOD activity showed a significant elevation in the study group compared to the control group; but GPx activity did not change.
Combined activities of SOD and GPx had a higher predictive power, i.e., higher sensitivity, specificity and accuracy for endometriosis detection.
Limitations of the study:
The sample size is low.
Laparoscopic techniques may be seen invasive for diagnosis; they are also crucial for the therapeutic purposes; on the other hand, any non-invasive procedure, later on, would necessitate a laparoscopic management.
SOD contains Mg, and its activity depends on the presence of the Cu and Zinc, many factors are involved should also be investigated.
This activity alters with aging, decrease with BMI, differs in diabetes, cardiovascular events, even lifestyle, which should be considered in this kind of research.
Lay Summary
When it comes to the diagnosis of endometriosis, the gold standard is a visual inspection by laparoscopy followed by histological confirmation. Laparoscopy is an invasive surgery. A noninvasive diagnostic tool for endometriosis is highly desirable; however, there are no validated biomarkers to date that can detect endometriosis with sufficient sensitivity and specificity. This current study by Ekarattanawong et al. aimed to investigate whether the plasma activities of two antioxidant enzymes, superoxide dismutase (SOD) and glutathione peroxidase (GPx), can be used as diagnostic biomarkers for endometriosis.
The study enrolled 16 participants, who presented symptoms predictive of endometriosis, and 20 healthy control subjects. Blood samples were taken from the patients before their laparoscopic surgery and the activity levels of SOD and GPx were compared to that of healthy controls. The results showed a significant elevation in SOD activity in the study population versus the control group, while GPx levels were not altered. The authors also evaluated the combined action of these two antioxidant enzymes in the diagnosis of endometriosis and found that the combined test had better sensitivity, specificity, accuracy and overall predictive power. Although further studies are warranted to evaluate the diagnostic ability of these biomarkers fully, this study provides the initial investigation into such noninvasive diagnostic tool for the detection of endometriosis.
---
---
superoxide dismutase
SOD
glutathione peroxidase
GPx
biomarker
DISCLAIMER
EndoNews highlights the latest peer-reviewed scientific research and medical literature that focuses on endometriosis. We are unbiased in our summaries of recently-published endometriosis research. EndoNews does not provide medical advice or opinions on the best form of treatment. We highly stress the importance of not using EndoNews as a substitute for seeking an experienced physician.