Somatic mutations in iatrogenic endometriosis.
Feb 6, 2019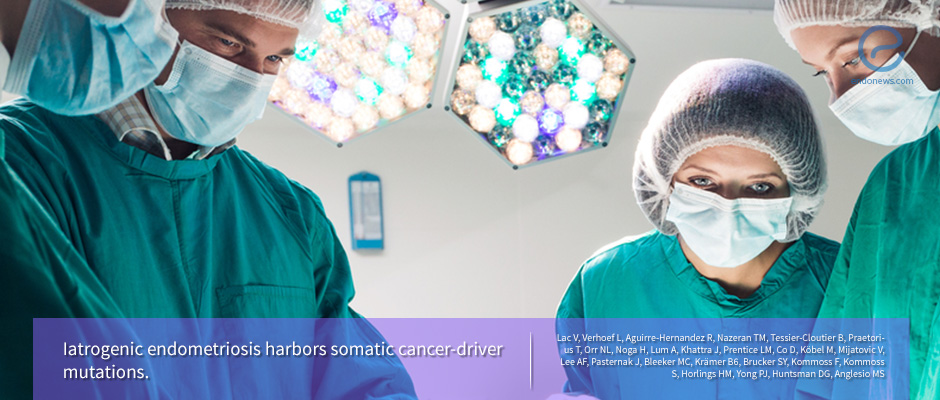 Why not iatrogenic endometriosis?
Key Points
Importance:
Despite endometriosis is a benign gynecologic disease, it shares key features with cancers as resistance to apoptosis, stimulation of angiogenesis and having driver mutations.
Highlights:
Mutation studies demonstrate a clonal relationship between endometriosis-associated ovarian carcinomas and endometriosis.
Deep infiltrated endometriosis (DIE) harbors recurrent somatic mutations.
What's done here:
Endometriosis specimens from 40 women with incision endometriosis and 36 women with DIE to find an answer to "Does incisional endometriosis harbor somatic cancer mutations?".
Key results:
Endometriosis specimens revealed somatic cancer-driver events in 11 of 40 (27.5 %) IE patients and 13 of 36 DIE cases.
These mutations include hotpot mutations in KRAS, ERBB2, PIK3CA, and CTNNB1 genes.
Rates of detectable somatic cancer-driver events between IE and DE were not statistically significant (p>0.05) although KRAS activating mutations were more prevalent in DIE.
Limitations:
The detection of somatic cancer-driver events was limited to some particular hotspots.
The functional roles of identified mutations within the context of endometriosis is not clear and the causality could not be established.
Lay Summary
Lac and al., from the Department of Molecular Oncology in BC Cancer Research Center, Vancouver, Canada, planned a retrospective and multinational research to investigate the prevalence of somatic cancer-driver mutations in incisional endometriosis and recently published in the "Journal of Human Reproduction".
Their aim was to investigate if incisional endometriosis harbor somatic cancer-driver mutations like deeply infiltrated endometriosis (DIE), as was previously reported.
Endometriosis specimens of 40 women with incisional endometriosis and 36 women with DIE without a known history of malignancy were collected from clinics of Canada, Netherland, and Germany between 2004 to 2017. Hypersensitive cancer hotspot sequencing panel was used to assess the presence of somatic mutations in these endometriotic specimens operating ARIDIA and PTEN immunohistochemistry. Hotpot KRAS mutations remained the most common somatic cancer-driver mutation detected both in incisional endometriosis and DIE.
The authors mentioned the unclarity for the mutations in these infiltrative form of endometriosis, whether they are arising independently or already present in the endometrium prior to implantation or seeding.
---
---
somatic cancer-driver mutations
targeted sequencing
iatrogenic disease
cesarean section
incisional endometriosis
deep infiltrating endometriosis.
DISCLAIMER
EndoNews highlights the latest peer-reviewed scientific research and medical literature that focuses on endometriosis. We are unbiased in our summaries of recently-published endometriosis research. EndoNews does not provide medical advice or opinions on the best form of treatment. We highly stress the importance of not using EndoNews as a substitute for seeking an experienced physician.
<< Previous Article

Next Article >>