Role of Prophylactic Oophorectomy in Endometriosis Patients with Ovarian Cancer History in the family - Farr Nezhat, MD
Dec 23, 2020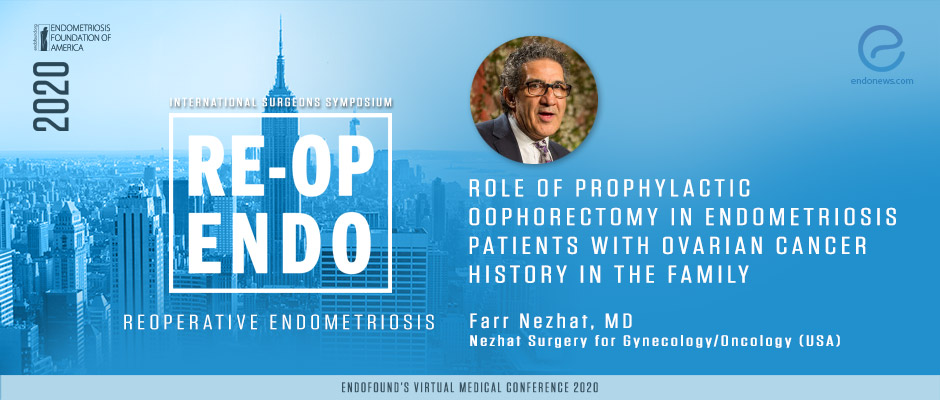 Women with endometriosis who are at high risk of ovarian cancer should be treated hormonally and followed up with imaging in case of endometrioma. Fertility preservation should be considered.
Key Points
Information about the presenter: This presentation is by Dr. Farr Nezhat, M.D., MD, FACOG, FACS, an adjunct professor of Obstetrics, Gynecology, and Reproductive Medicine at the School of Medicine at Stony Brook University, and the Director of the Division and Fellowship in Minimally Invasive Gynecologic Surgery and Robotics in the Department of Obstetrics and Gynecology at Winthrop University Hospital. His presentations is entitled: "Role of Prophylactic Oophorectomy in Endometriosis Patients with Ovarian Cancer History in the family"
Highlights:
Women with endometriosis who are at high risk of ovarian cancer should be treated hormonally and followed up with imaging in case of endometrioma. Fertility preservation should be considered.
When operating women at high risk of ovarian cancer, all endometriotic foci should be removed and the tissue should be histopathologically evaluated to rule out malignancy. Oophorectomy and the removal of the fallopian tubes, should be considered.
Importance:
Gynecologists should investigate whether their patients with endometriosis have a history of germline mutations as many of these could increase cancer risk in a different organ.
This information is also important to tailor treatment to individual patients.
Hysterectomy should not be conducted in each case of endometriosis.
Hormonal therapy that suppresses ovulation decrease the rate of ovarian endometrioma formation while induction of ovulation for IVF increases it in patients with endometriosis.
Remarks:
The majority of cancers (70-80%) are sporadic, 5-10% are hereditary, and 10 to 20% are familial.
Environmental factors such as tobacco, radiation, asbestos, sunlight, and diet, immunodeficiency, hormonal factors, infectious agents, and genetic predisposition all have role in progression in progression into cancer.
There is a difference between germline and somatic mutations and this can impact cancer risk and treatment.
Endometriosis is a chronic, inflammatory, estrogen-dependent, recurrent, and progressive disease.
There are common characteristics between endometriosis and epithelial ovarian cancer, but endometriosis does not cause metabolic disturbances like cancer.
There may be a link between endometriosis and invasive epithelial ovarian cancer because they frequently occur together.
There are common mutations in several genes in cancer and endometriosis.
Endometriosis-associated ovarian cancer is characterized by somatic genetic mutations, inflammation, and hormonal changes.
Malignant transformation of endometriosis mostly occurs in the ovaries.
The lifetime risk of epithelial ovarian cancer in the general population is 1.4%. In patients who have inherited mutations in the BRCA1 and BRCA2 gene, this risk is 60% and 30% respectively.
In patients with endometriosis, the risk of epithelial ovarian cancer is 2-3%.
Epithelial ovarian cancer is the second most common gynecological malignancy in developed countries with 22,000 new cases in the U.S. every year and an average age of diagnosis of 63.
More than 60% of epithelial ovarian cancer cases are diagnosed in advanced stages and have a poor prognosis.
Non-serous ovarian carcinoma comprises two-thirds of stage 1 ovarian carcinomas.
Most patients with serous ovarian carcinoma have asymptomatic pelvic masses.
Patients with non-serous ovarian carcinoma have pelvic pain, abnormal vaginal bleeding, and may or may not have a pelvic mass.
Like endometrial cancer, epithelial ovarian carcinoma can be classified as type I including low-grade serous, clear cell, and endometrioid or type II having high-grade serous carcinoma.
The molecular alterations of both types are very different from each other and this explains why there have not been any reliable screening tests for the diagnosis of ovarian cancer.
People with multiple cancers, those who have breast, colon, or uterine cancer at a young age (around 40), have a rare tumor, or is of Ashkenazi Jewish descent should undergo multi-panel genetic testing.
Tubal ligation decreases the risk of ovarian cancer by 24%, while hysterectomy and unilateral oophorectomy decrease this risk by 20% and 30% respectively.
The development of neural nodules within the ovary and the rapid growth of the endometrioma are red flags for malignant transformation.
MRI is useful to both visualize endometriomas and possibly detect malignant transformations.
Surgical resection is the most effective treatment for endometriosis and endometriomas.
Lay Summary
Dr. Nezhat starts his presentation by outlining his objectives, which are to review the basics of cancer genetics, give an overview about endometriosis and ovarian cancer, discuss the pathogenesis of malignant transformation of endometriosis, and talk about the clinical implications of endometriosis.
He first talks about the factors that can lead to cancer and germline and somatic mutations that can lead to cancer. He then moves onto the characteristics of endometriosis and talks about the common characteristics between endometriosis and epithelial ovarian cancer including metastasis, uncontrolled cell proliferation, and invasiveness. However, he says, that endometriosis does not cause catabolic and metabolic disturbances, while cancer does.
Dr. Nezhat then describes the pathogenesis of endometriosis-associated ovarian cancer in detail and talks about the clinical implications of these changes. He explains that epithelial ovarian carcinoma can be classified as type 1 and type2 and that the molecular changes that occur in these two types are very different. These differences can explain why no screening tests to diagnose ovarian cancer so far could be developed, he says.
"Gynecologists should find out if their patient has a background of germline mutations," Dr. Nezhat says as this can increase the risk of cancer. According to Nezhat, this information is important when it comes to treating the patients. He then presents a table with details of some of the genes that can be associated with gynecological cancers.
He then describes which patients should undergo multi-panel genetic testing and touches on steps that can be taken to decrease the risk of ovarian endometrioma including the use of hormonal contraceptives, tubal ligation, hysterectomy, and surgical removal of the ovaries.
Dr. Nezhat then talks about the diagnostic opportunities that are available to practitioners for women with endometriosis including pelvic ultrasounds and MRI. He then covers the preventative measures that can be offered to women with endometriosis to avoid malignancy such as surgical resection.
Dr. Nezhat concludes his presentation by stressing that there is now an unprecedented opportunity to develop a comprehensive plan for the early detection and prevention of specific types of ovarian cancer both for women with and without endometriosis.
---
---
endometriosis surgery
hysterectomy
oophorectomy
ovarian cancer
mc2020
DISCLAIMER
EndoNews highlights the latest peer-reviewed scientific research and medical literature that focuses on endometriosis. We are unbiased in our summaries of recently-published endometriosis research. EndoNews does not provide medical advice or opinions on the best form of treatment. We highly stress the importance of not using EndoNews as a substitute for seeking an experienced physician.
<< Previous Article

Next Article >>