Problems in the treatment of deep infiltrating endometriosis
By:
Bahar Yuksel
- May 6, 2021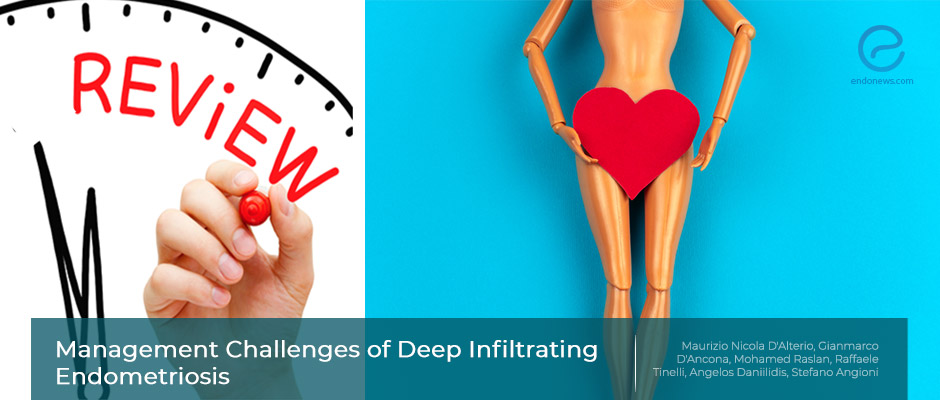 Endometriosis: Deeper it gets harder to manage, or not?
Key Points
Highlights:
What's done here:
Key Results:
Limitations:
Lay Summary
The Deep Infiltrating Endometriosis (DIE) is very aggressive in nature with infiltrating the whole pelvic, colon, rectum, bladder, ureter, and pelvic wall.
D'Alterio and colleagues analyzed the advantages and disadvantages of both medical and surgical therapies for DIE.
The authors concluded that medical therapies have potential benefits in the relief of pain and DIE related symptoms, but each therapy has side effects such as abnormal uterine hemorrhage, breast pain, psychological lability and risk of deep vein thrombosis for progestogens and combined oral contraceptives; menopausal symptoms, loss of bone mineral density, and hypoestrogenism for GnRH analogs; and hyperandrogenism symptoms for Danazol.
On the surgical side, shaving technique, transanal stapler application, and laparoscopic segmental resection of the endometrial lesions are analyzed and suggested in the treatment of rectovaginal and bowel endometriosis. Also, the authors highlighted that protection of inferior hypogastric nerve spearing surgeries are associated with better urinary, sexual, and bowel functions. For ureteral endometriosis, ureterolysis, ureteroureterostomy, ureteroneocystostomy, and nephrectomy are advised to be performed according to the depth and width of the endometriosis and surgeon preference.
Also, stenting of the ureter has been suggested for having a protective effect against ureteral injury. For bladder endometriosis, partial cystectomy or transurethral resection of the lesion is supported to be done in regards to lesion location and relation between the lesion and the ureter.
"To clarify the optimal treatment modality for DIE, prospective randomized studies should be performed for comparing medical and surgical treatment alternatives", the authors added.
---
---
deep infiltrative endometriosis
medical therapy
surgical therapy
review
DISCLAIMER
EndoNews highlights the latest peer-reviewed scientific research and medical literature that focuses on endometriosis. We are unbiased in our summaries of recently-published endometriosis research. EndoNews does not provide medical advice or opinions on the best form of treatment. We highly stress the importance of not using EndoNews as a substitute for seeking an experienced physician.
<< Previous Article

Next Article >>