Oxidative stress, reactive products, detoxification, endometriosis and pain
By:
Ellen Tumimbang
- Feb 3, 2021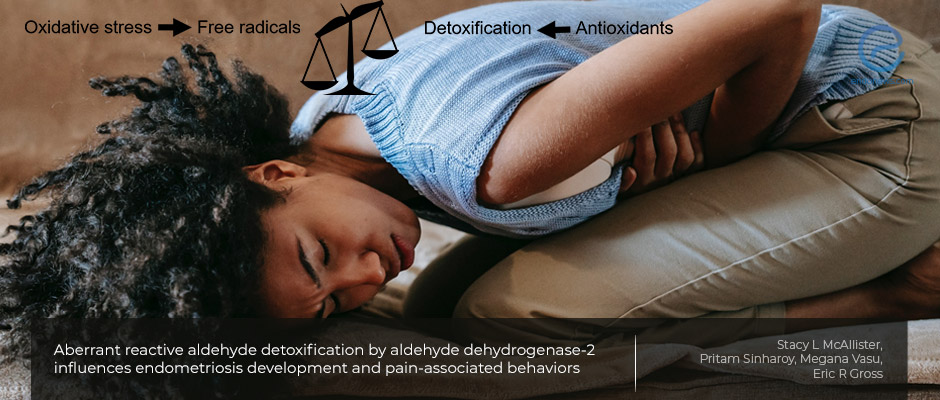 The study tested the hypothesis that aberrant reactive aldehyde detoxification by ALDH2 underlies the painful condition of endometriosis.
Key Points
Highlights:
Excessive reactive oxygen species and lipid peroxidation derivatives produced under oxidative stress may serve as a less invasive diagnostic biomarker and may be a target to reduce the pain associated with endometriosis.
Importance:
Background:
Oxidative stress is involved in the pathogenesis, progression, and establishment of endometriosis.
Under oxidative stress, reactive aldehydes including 4-hydroxynonenal (4-HNE) are formed from oxygen species and secondary byproducts of lipid peroxidation.
Reactive aldehyde levels and their derivatives levels are high in the peritoneal fluid of women with endometriosis and may generate pain.
What has been done here?
The hypothesis of "aberrant reactive aldehyde detoxification by ALDH2 underlies the endometriosis pain" was tested.
Eutopic endometrial tissue samples of women with histologically confirmed severe (Stage IV) endometriosis (n=5) and their matched ectopic endometriosis tissues (n=5) compared to those from women free of endometriosis (n=5).
Animal subjects used in the experiment were virgin female ALDH2*2 knock-in (n=107) and C57BL/6 wild-type (n= 107) littermate mice, aged 6 to 8 weeks.
Mutant mice used were homozygous ALDH2*2(ALDH2*2/*20 knock-in mice on a C57BL/6 background regenerated by replacing the mouse wild-type ADLH2 allele with a mouse E487K mutant ALDH2 allele by homozygous recombination.
To determine how ALDH2 is regulated, ALDH2 activity, Aldh2 expression, and 4-HNE adduct formation were assessed in the endometrium of women with endometriosis (lesion and eutopic) and women without endometriosis.
To determine whether ALDH2 activity influences disease development, a preclinical endometriosis model was used and the ALDH2 Knock-in mouse model was biochemically characterized.
To determine whether increasing ALDH2 activity could prevent endometriosis development and or alleviate the pain-associated behaviors, and ALDH2 activator Alda-1 and behavioral assessment were incorporated.
Key results:
In the eutopic and ectopic endometrium of women with severe peritoneal endometriosis, the ALDH2 enzyme expression and activity were decreased and this was associated with an increased 4HNE adduct formation, compared to eutopic endometrium of controls in the proliferative phase.
Using a rodent model of endometriosis with decreased ALDH2 activity, increasing the ALDH levels and activity by Alda-1, a small molecule, endometriosis development and endometriosis-related pain can be prevented.
Limitation of the study:
The applicability of the study is limited because all endometriosis biopsies in this study were from women with peritoneal endometriosis and all biopsies were from the proliferative phase of the menstrual cycle to control for differences within the menstrual cycle
The biopsy sample size is small, and lack patient scores.
The animal study limitation includes the Inability to distinguish between the contribution of the reduced uterus and liver ALDH-2 activity to endometriosis pathology.
Lay Summary
Oxidative stress is one factor known to be involved in the pathogenesis, progression, and establishment of endometriosis in women.
During oxidative stress, excess reactive oxygen species as a secondary by-product of lipid peroxidation and reactive aldehyde including 4- hydroxynonenal (4-HNE) are produced. In the peritoneal fluid of women with endometriosis, elevated reactive aldehyde levels and its accumulation can form protein adducts that can generate pain.
One critical enzyme in detoxifying reactive aldehydes like 4-HNE is the mitochondrial enzyme ALDH2. The study recently published by McAllister et al. from Emory University, Atlanta, USA, in the journal "Pain" entitled "Aberrant reactive aldehyde detoxification by aldehyde dehydrogenase-2 influences endometriosis development and pain associated behaviors" investigated the role of ADH-2 reactive aldehyde detoxification in endometriosis and endometriosis-related pain.
The findings of the study suggest that decreased ALDH2 expression and activity may underlie endometriosis and pain pathophysiology and that increased 4-HNE adduct formation in the ectopic endometrium may occur as a result of decreased reactive aldehyde detoxification by ALDH2, supporting the hypothesis.
By using mice with experimentally decreased ALDH2 expression and activity, endometriosis development was accelerated and there was an exacerbation of pain-associated behavior. Furthermore, increasing the activity of ALDH2 by a small molecule, Alda-1, not only early lesion development was prevented, but also endometriosis pain-associated behavior was diminished.
The authors concluded that the overall findings of their study suggest that the ALDH2 enzyme may be a novel target for endometriosis-associated pain, and Alda-1 may be a potential therapeutic. Additionally, increased 4-HNE protein-adduct formation in the endometrium may be a biomarker for endometriosis, to reduce the diagnostic delay in these patients.
---
---
Aldehyde Dehydrogenase
Alda-1
enzyme activator
oxidative stress
Reactive Oxygen species
Rodent model
peritoneal endometriosis
DISCLAIMER
EndoNews highlights the latest peer-reviewed scientific research and medical literature that focuses on endometriosis. We are unbiased in our summaries of recently-published endometriosis research. EndoNews does not provide medical advice or opinions on the best form of treatment. We highly stress the importance of not using EndoNews as a substitute for seeking an experienced physician.
<< Previous Article

Next Article >>