Optimal Management of Endometriosis and the associated pain
Oct 24, 2019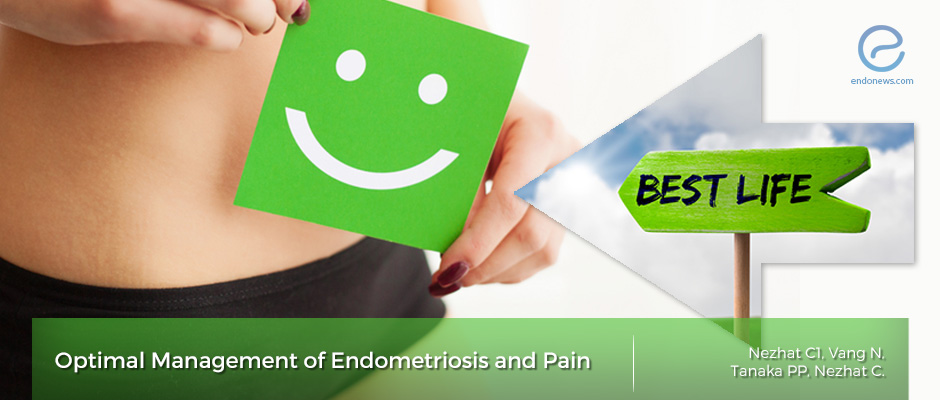 Best way to manage endometriosis to improve the quality of life
Key Points
Highlight:
It is still confusing what constitutes optimum management of endometriosis and the associated pain.
This article points to some crucial aspects of managing endometriosis.
Importance:
Optimal management is required to improve the quality of life in women with endometriosis.
What's done here:
There is still debate about the best management for endometriosis pain.
The authors discuss endometriosis care should include considerations about egg preservation, preoperative, as well as post-operative interventions.
Data:
The authors believe that optimal management of endometriosis requires:
Fertility preservation in young women with or without endometriomas
Preoperative intervention to inhibit ovulation, and thus avoid the removal of functional cysts that look like endometriomas
Postoperative hormonal suppression to decrease endometriosis recurrence
Postoperative intervention should take into account disease severity, symptoms, and fertility goals.
Lay Summary
Around 5–10 million reproductive-aged women suffer from endometriosis in the United States. The condition is hard to diagnose due to large variation in symptoms, though most women experience pain that can either be cyclical pelvic pain with menses or noncyclic pelvic pain, such as dyspareunia, dyschezia, and dysuria. In addition, many women present with unexplained infertility. Because of these factors that markedly affect a woman's quality of life, optimal management of endometriosis is crucial.
The current article published in Obstetrics & Gynecology by Nezhat et al. from Center for Special Minimally Invasive and Robotic Surgery, Palo Alto, the Stanford University Medical Center, Stanford, provides a commentary to describe optimal management of endometriosis and the associated pain, where there is still an ongoing debate.
The authors eluted that pain management should be individualized. Medical treatment options for endometriosis pain include combined oral contraceptive pills, progestins, gonadotropin-releasing hormone (GnRH) agonists, aromatase inhibitors and GnRH antagonists. Other options include tetrahydrocannabinol and cannabidiol (though highly discouraged), acupuncture and pelvic physical therapy. Medical treatments are aimed at reducing pain by limiting inflammation, as well as hormone production. Bearing in mind that the complete estrogen suppression may not be required to relieve pain and that the pain can recur after discontinuation of these treatments. Endometriosis recurrence is variable between 4–74%.
Surgery, laparoscopy, is often required for diagnosis. Surgery options depend on menopausal status, childbearing needs, and patient preferences. Perimenopausal women completed childbearing but wishing for conservative treatment should consider endometrial ablation with salpingectomy to prevent future pregnancy and reduce ovarian and fallopian tube cancer risk.
Women with debilitating symptoms and do not desire fertility should discuss the risk and benefit of a hysterectomy with bilateral. The conservation of the ovaries may not be effective because of the potential hormonal stimulation of microscopic endometriotic lesions. However, in a young patient, bilateral salpingo-oophorectomy and hysterectomy without hormone therapy may lead to early-onset cardiovascular disease, osteoporosis, and urogenital atrophy. Postoperative medical therapy is generally recommended together with longterm follow-up to monitor for recurrence.
Endometriosis surgery can be challenging because of the high vascularisation and deep invasion. Therefore, the authors recommend temporary hormonal suppression before surgery in advanced endometriosis because hormonal suppression clearly decreases inflammation, and allows for less bloody surgery and optimum lesion excision.
In summary, optimal endometriosis management requires an individualized approach and should include perioperative treatment. The complex nature of endometriosis likely needs a diverse of care from the medical, surgical, psychotherapeutic, and alternative treatment arms.
---
---
treatment
management
DISCLAIMER
EndoNews highlights the latest peer-reviewed scientific research and medical literature that focuses on endometriosis. We are unbiased in our summaries of recently-published endometriosis research. EndoNews does not provide medical advice or opinions on the best form of treatment. We highly stress the importance of not using EndoNews as a substitute for seeking an experienced physician.
<< Previous Article

Next Article >>