Normal endometrium and cancer-associated mutations
By:
Yu Yu
- Jul 25, 2019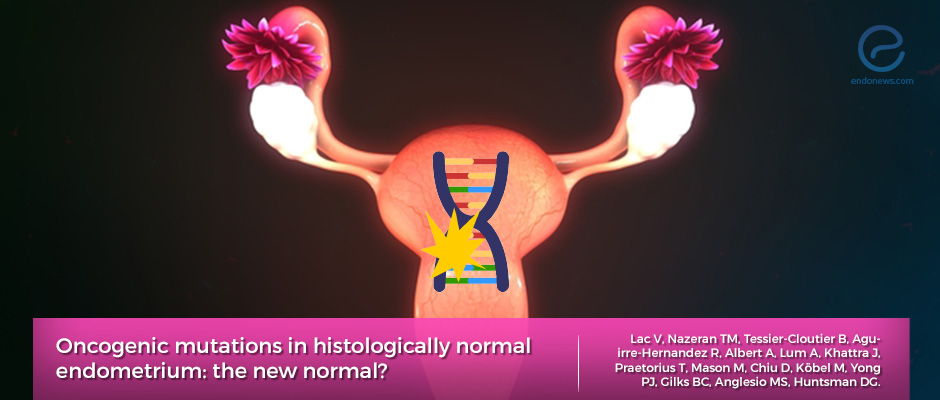 The new normal
Key Points
Highlight:
This study showed that normal endometrium may have some gene mutations that are typically associated with cancer.
Importance:
The findings highlighted the complexity of the endometrium and challenge our understanding of gene mutations in normal tissues.
What's done here:
The study included women who underwent hysterectomies (n=25) and women who underwent endometrial biopsies (n=85).
Somatic mutations by targeted sequencing of DNA extracted from histologically normal, non-tumoral endometrium.
Data were validated using droplet digital PCR.
Data:
Over 50% of normal endometrium have somatic hotspot mutations in cancer-associated genes such as KRAS, PIK3CA, and FGFR2, as well as PTEN-loss determined by immunohistochemistry.
These somatic driver mutations occur within clonal pockets spread throughout the uterus.
Such oncogenic mutations increased with age.
Limitation:
Targeted sequencing technique restricts the study to only a panel of genes, not providing wide-exome or genomic scale analysis.
No follow-up data to determine if these mutations have a subsequent pathologic role in the participants.
Lay Summary
Next-generation sequencing technology has enabled the detection of genetic mutation with high efficiency. It is believed that tumor progression is a result of accumulating mutations, so-called "driver mutations", which confer growth advantages to the cell. Although such a process is well established in cancer, normal cells can also acquire somatic mutations over time. Intriguingly, recent studies showed that normal skin, blood, peritoneal washings, and esophageal epithelium contain somatic driver mutations that are usually associated with cancer.
In the current study, Lac et al. from the Department of Obstetrics and Gynaecology, University of British Columbia, Vancouver, Canada, Huntsman lab, investigated somatic driver mutations in normal endometrium without gynecologic malignancy or endometrial hyperplasia. The results are published in the June 12 issue of Journal of Pathology.
Formalin-fixed, paraffin-embedded tissue specimens from 25 women who underwent hysterectomies and 85 women who underwent endometrial biopsies were studied using targeted sequencing. These data were then validated using droplet digital PCR technique. Inactivating mutations on PTEN and ARID1A genes were studied using immunohistochemistry.
The results showed that the prevalence of somatic driver mutations in normal endometrium actually increased with age. The risk of a mutation increases by approximately 5% per year. These somatic driver-like events include the mutations in KRAS, PIK3CA, and FGFR2 genes and PTEN-loss in over 50% of normal non-neoplastic endometrial samples. The presence of somatic driver mutations located within clonal pockets that are spread throughout the uterus. Although the comparison with endometrial cancer dataset from The Cancer Genome Atlas still show a higher prevalence of these driver mutations in endometrial cancer, the presence of these oncogenic mutations in normal tissue remains thought-provoking.
Therefore, this study challenges our understanding of somatic driver mutations in cancer and the normal tissue, in particular, highlighted the complexity of the endometrium.
As a direct implication, future development of mutation detection assays should not assume that non-cancerous cells are free from somatic driver mutations. Furthermore, the screening methods for a pre-cancerous disease will require appropriate control including age-appropriate comparison and thorough understanding of age-related somatic mutations.
---
---
genetic
DNA mutation
DISCLAIMER
Endonews is designed to strictly highlight the most recently published scientific research that focuses on endometriosis. It is not designed to provide medical advice or an opinion on the best form of treatment. We highly stress the importance of not using this site as a substitute for seeking an experienced physician, which is highly recommended if you have any questions or concerns regarding your endometriosis needs. We believe in the consciousness of our reader to discriminate that research is different than "standard of care," and trust that they can keep in mind that here at Endonews, we summarize the newest peer-reviewed scientific medical literature, without bias.