New Endometriosis Clinical Trial Now Recruiting Participants
Jan 24, 2022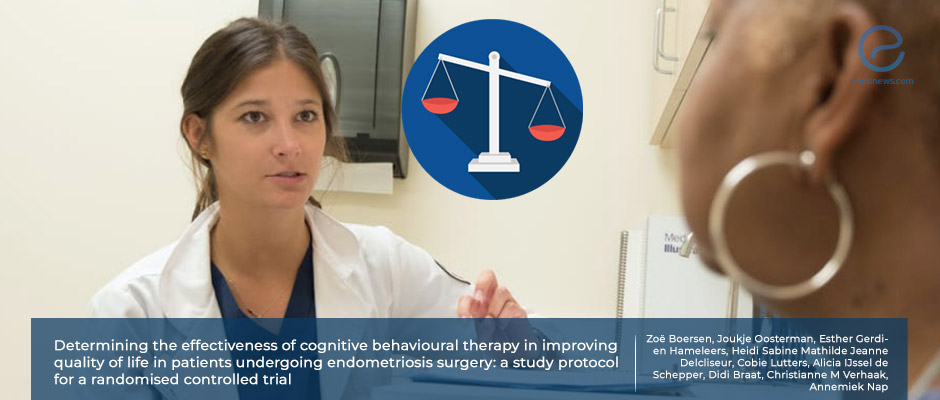 The trial will assess the effect of cognitive-behavioral therapy following endometriosis surgery on women's quality of life.
Key Points
Highlights:
A new clinical trial assessing the effect of cognitive-behavioral therapy following endometriosis surgery on patients' quality of life is open for recruitment.
Importance:
The results of this trial could help design new clinical trials and other studies on the use of cognitive-behavioral therapy in endometriosis patients.
What's done here:
The trial is a randomized, controlled study that aims to recruit 100 patients with endometriosis, ages 18 to 50 in the Netherlands.
Key results:
The trial started on November 24, 2020, and is still recruiting participants. It is estimated to be completed on April 1, 2024.
Limitations:
There is a difference in contact time between therapists and patients in patients receiving cognitive behavioral therapy and those not receiving it.
Participants are not blinded for group allocation so this could lead to bias.
Lay Summary
A new clinical trial investigating the effect of cognitive-behavioral therapy on quality of life in patients undergoing surgery for endometriosis is now recruiting participants.
The randomized, controlled trial aims to recruit 100 participants, ages 18 to 50 with proven endometriosis and an indication for endometriosis debulking surgery. The participants will be divided into two groups. Those in the first group will receive usual care after the surgery while those in the second group will receive usual care plus cognitive-behavioral therapy. This will include seven sessions focusing on expectancy management, cognitions regarding pain, and the emotional and behavioral impact of pain.
Health-related quality of life will be assessed using the Endometriosis Health Profile 30 that measures the impact of the disease on physical, mental, and social aspects of life and general quality of life will be measured using Short Form 36, which measure the quality of life on nine domains. These are physical and social functioning, role limitations due to physical health and emotional problems, emotional well-being, vitality, pain, general health, and health change.
The secondary outcome measures of the study include pain intensity, pain cognitions, fatigue, and perceived stress. Finally, cortisol levels extracted from a hair sample will be measured as a marker of stress at baseline, after surgery, two weeks after the completion of all cognitive behavioral therapy, and 14 weeks thereafter.
"Depending on the outcome of our study, advice will be provided whether [cognitive behavioral therapy] should be added to the treatment of patients undergoing endometriosis reduction surgery," the researchers wrote in an article they published in BMJ Open. "If this study shows a positive result, patients may have an additional treatment option to improve the quality of their daily lives".
Results from the study could also provide the necessary information for the design of new clinical trials as well as cost-effectiveness and implementation studies on the use of cognitive-behavioral therapy in patients with endometriosis and other chronic pain conditions.
It is known that the surgical removal of endometrial lesions improves health-related quality of life but not to the level of healthy people.
Cognitive-behavioral therapy is a psychological treatment that is known to be effective in improving quality of life.
---
---
health-related quality of life
endometriosis surgery
cognitive
behavioral therapy
clinical trial
therapy
DISCLAIMER
EndoNews highlights the latest peer-reviewed scientific research and medical literature that focuses on endometriosis. We are unbiased in our summaries of recently-published endometriosis research. EndoNews does not provide medical advice or opinions on the best form of treatment. We highly stress the importance of not using EndoNews as a substitute for seeking an experienced physician.
<< Previous Article