Nerve-sparing technique for deep infiltrating endometriosis and its impacts on pelvic organ and sexual functions.
Mar 18, 2022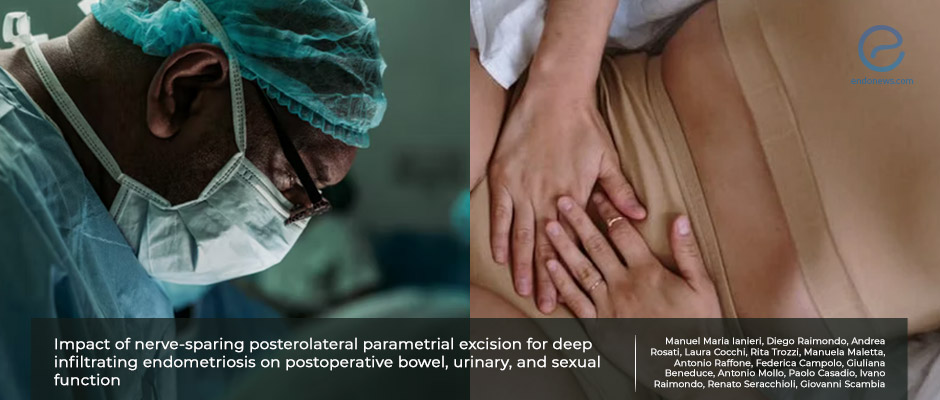 Involvement of posterior parametrium in endometriosis necessitates nerve-sparing excision technique to the laparoscopic approach
Key Points
Importance:
In order to minimize the iatrogenic damage and to reduce the risk of functional complications, the principles of nerve-sparing surgery should be added to the surgical treatment of DIE.
Highlights:
Even after a nerve-sparing approach, posterolateral parametrectomy for DIE appears to be associated with a higher incidence of dyspareunia.
This may be caused by the damage of autonomic nerves resulting in blood flow to the vagina for lubrification.
What's done here:
A multicenter, observational, retrospective cohort study on about 100 clinically diagnosed with deeply infiltrated endometriosis (DIE) women who underwent laparoscopic surgery in Italy.
The study group was postoperatively divided into two groups based on posterolateral parametrium involvement.
The functional outcomes of nerve-sparing surgery were compared between them through validated questionnaires.
Bowel, urinary, sexual functions; pain symptoms including dyschezia, dysmenorrhea, dyspareunia, chronic pelvic pain; and urinary voiding dysfunction at 3-month follow-up were assessed.
Key results:
Among 100 histologically confirmed DIE patients, posterior parametrectomy was performed on 69 patients due to posterolateral parametrial involvement (Group P).
Additionally, lateral parametrial excision was performed 40 of them during the surgery.
31 patients did not receive a posterior parametrectomy (Group NP).
Clinical and demographic features were similar between the two groups except for BMI (higher in the NP group).
Operative complications (blood loss, hospital stay were homogenous in both groups, but operating time was somehow longer in the P group.
The rate of postoperative complications was similar, and although the <10%, urinary tract infection and voiding dysfunction were slightly more common in the P group.
Nerve-sparing posterolateral parametrectomy caused more postoperative female sexual dysfunction although surgery was associated with an improvement of dyspareunia in both groups.
Lay Summary
Deep infiltrating endometriosis and involvement of parametrium cause severe pelvic pain and dysfunction of some pelvic organs resulting in a reduction in women's quality of life. Although surgery for DIE aims to relieve pelvic pain, entering into the posterior parametrial spaces may also result in accidental pelvic nerve injury. Particularly for cases with posterior parametrial involvement, nerve-sparing excision surgery has recently been added to laparoscopic surgery in tertiary clinics, however, only a few cohort studies investigated the functional outcomes.
Ianieri et al. from the University of Catolica del Sacro Cuore, Rome, Italy, aimed to evaluate functional outcomes of nerve-sparing surgery in patients diagnosed with DIE in order to compare the cases with or without posterolateral parametrium involvement in their tertiary clinic.
Among the pelvic organs where functional outcomes were studied, the areas of interest were bowels, urinary tract, and female sexual functions. To achieve a resolution they compare the DIE patients with parametrial involvement (P group) to those without parametrial involvement (NP group) and evaluated the questionnaires such concerning Gastrointestinal Quality of Life Index (GIQLI), Bristol-Female-Lower- Urinary-Tract-Symptoms (BFLUTS) the Female-Sexual-Function-Index (FSFI), and Knowless-Eccersley-Scott-Symptom (KESS) before, and 3 months after surgery.
Even after the application of the nerve-sparing approach for posterior parametrial endometriosis, this study revealed a higher risk of postoperative dyspareunia and sexual dysfunction in women with parametrial involvement. Comparing other data with analyzing questionnaires before and after surgery did not show any significant difference between the study groups.
"Nerve-sparing parametrectomy for DIE patients is a complex surgery that needs careful counseling about these associated risks and should provide an informed choice to the patient" added authors in their recently published paper in the International Journal of Obstetrics and Gynecology.
---
---
posterior parametrium
nerve sparing laparoscopy
bowels
urinary tract
sexual functions
deeply infiltrated endometriosis.
DISCLAIMER
EndoNews highlights the latest peer-reviewed scientific research and medical literature that focuses on endometriosis. We are unbiased in our summaries of recently-published endometriosis research. EndoNews does not provide medical advice or opinions on the best form of treatment. We highly stress the importance of not using EndoNews as a substitute for seeking an experienced physician.
<< Previous Article

Next Article >>