Key to Understanding Ovarian Endometriosis may lay in the Peptides
By:
Kasthuri Nair
- Jul 6, 2018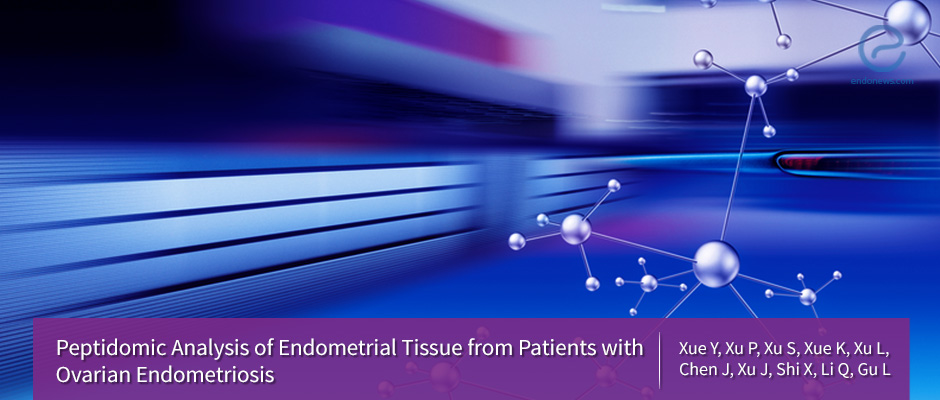 The peptides and their precursor proteins that play role in the pathogenesis of ovarian endometriosis.
Key Points
Highlights:
The study identifies peptides with abnormal expression in Ovarian endometriosis (OvE), thus that researchers can better understand the pathogenesis of the disease.
In order to achieve the goal stated above, researchers utilized peptidomics, a type of proteonomics.
Importance:
Researchers have yet to elucidate the pathogenesis of endometriosis. The "blood reflux planting theory" of Sampson does not sufficiently answer all the questions concerning the development of the disease.
Identifying peptides involved in endometriosis disease progression will allow for more targeted treatment of the disease.
What's done here?
Three women who have OvE; ectopic and eutopic endometrium tissue samples were taken from each participant during laparoscopy

The samples underwent peptide extraction, peptide purification, peptide desalting and TMT labeling
Analyses were done by Liquid chromatography (LC)-tandem mass spectrometry techniques
Bioinformatics was used to determine the peptide-protein precursor functions

Highly differentiated endometrial stromal cells (ESC) obtained and cultured, then subject to wound healing assays, to illuminate migration patterns in the presence of the above peptides
Transwell assays were used to determine the invasive properties of some cells
The data was subject to statistical analysis.
Key results:
42 of the aforementioned 491 are located in their protein precursor's conserved structural domains and they could be characterized by the presence of a secondary structure.
Of the 42 peptides mentioned previously, 2 had precursor proteins that had a role in cell proliferation.
5 peptide precursor proteins were found to be linked with endometriosis.
PDFV was found to:

Promote migration and invasion of ESCs
Reduce the expression of E-cadherins

Overall, PDFV along with its precursor protein, namely VCAM-1, could very possibly be involved in the disease progression of OvE, and this goal is achieved through the reduction of E-cadherin expression.
Limitations of the study:
The authors say that their use of the p-value within the study may limit the findings of the experimental process.
The small sample size is also listed as another potential limitation of the study.
Lay Summary
Xue et al. recently published a paper titled "Peptidomic Analysis of Endometrial Tissue from Patients with Ovarian Endometriosis" in Cellular Physiology and Biochemistry. The research group from various departments of Nanjing Medical University wished to better understand the pathogenesis of Ovarian endometriosis (OvE).
The researchers collected ectopic and eutopic endometria tissue samples from 3 women with OvE, identified and quantified the peptides, and then they investigated the functions of various peptide protein precursors using bioinformatics assays.
They also obtained, cultured, and treated highly differentiated endometrial stromal cells (ESC) and then treated these cells with peptides derived from VCAM1 (PDFV) or a control peptide.
The researchers identified 491 peptides that were differentially expressed in the ectopic and eutopic endometria. 42 of those peptides were located in their protein precursor's conserved structural domains and they also had secondary structures. 2 of the 42 peptides had precursor proteins that were involved in cell proliferation and 5 precursor proteins were found to be linked to endometriosis.
The experiments with the ESCs also illuminated the fact that PDFV increases migration and invasion of ESCs. Conversely, PDFV was found to decrease the expression of E-cadherins.
In conclusion, this paper study highlights the role of PDFV and VCAM-1, the precursor protein of PDFV, in OvE disease progression. It seems that PDFV and its precursor protein are able to modulate migration and invasion through reduced E-cadherin expression.
---
---
Ovarian Endometriosis
peptidomics
proteonomics
ESC
PDFV
E-cadherins
DISCLAIMER
Endonews is designed to strictly highlight the most recently published scientific research that focuses on endometriosis. It is not designed to provide medical advice or an opinion on the best form of treatment. We highly stress the importance of not using this site as a substitute for seeking an experienced physician, which is highly recommended if you have any questions or concerns regarding your endometriosis needs. We believe in the consciousness of our reader to discriminate that research is different than "standard of care," and trust that they can keep in mind that here at Endonews, we summarize the newest peer-reviewed scientific medical literature, without bias.