Iron overload in follicular fluid in Endometriosis
By:
Yu Yu
- Jul 22, 2020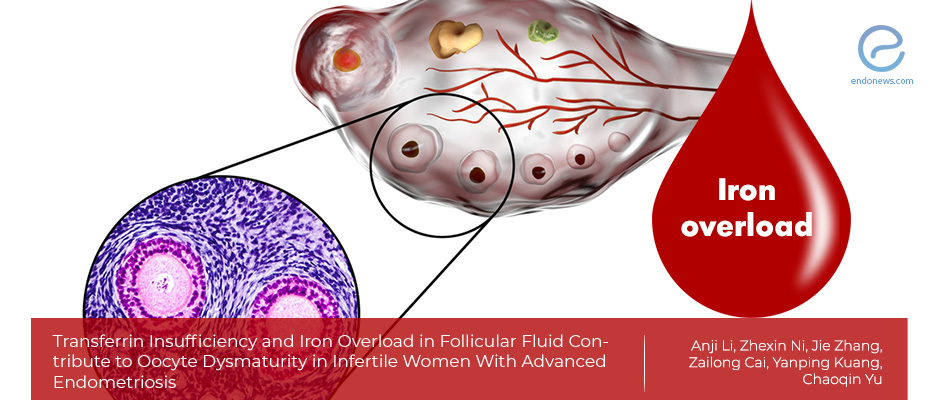 Magnetic oocytes
Key Points
Highlight:
This study determined the components of the follicular fluid in women with advanced endometriosis and their effects on mouse oocytes' maturity in vitro.
Importance:
The study identified that in the follicular fluid collected from women with endometriosis, transferrin, a protein that binds and transports iron in the blood, was reduced and that iron was overloaded.
These and related factors may be the cause of endometriosis-related infertility.
What has been done:
Follicular fluid was collected from 25 patients, with 15 endometriosis and 10 control women.
The differential proteins were assessed using the iTRAQ Labeling mass spectrometry approach.
Ferric ion content was detected using the ELISA technique.
The effects of follicular fluid on germinal vesicle oocytes from mice were tested in vitro.
Results:
The transferrin concentrations were reduced in the endometriosis-related follicular fluid as compared to control.
An increased concentration of ferric iron in the follicular fluid of the endometriosis group as compared to control.
Follicular fluid collected from women with endometriosis reduced the maturation of mouse oocytes.
The reduced oocytes maturation can be improved with supplementation of transferrin.
Limitation:
It is unclear whether the level of transferrin in follicular fluid affects oocytes' competence.
Types and stages of endometriosis were not specified.
Lay Summary
Around 20-50% of women with endometriosis have an infertility issue. Assisted reproductive technology (ART) is a common procedure to assist women with endometriosis to become pregnant. However, one major problem remains that women with endometriosis tend to have fewer oocytes retrieval than women without endometriosis. The less number of oocytes in endometriosis indicates that inadequate ovarian response and dysmaturity of oocytes with endometriosis. Nonetheless, the mechanism of leading to oocytes dysmaturity in endometriosis is not well understood.
Follicular fluid (FF) is secreted by the ovarian granulosa cells and contains components that allow for the growth and development of oocytes. There are studies to show that FF in endometriosis women is abnormal. For example, the level of oxidative stress in endometriosis-FF is elevated and that the protein component of endometriosis-FF allowed for the response that drives oxidative stress.
The article by Li et al. from The First Affiliated Hospital of Guizhou University of Traditional Chinese Medicine, China, hypothesized that the increase of reactive oxygen species in the endometriosis-FF leads to poor quality oocytes. In this study, the authors aimed (i) to identify specific protein levels that are significantly changed in endometriosis-FF; and (ii) to investigate the effect of these altered proteins on mouse oocytes maturation in vitro. The article was recently published in "Frontiers in Endocrinology".
FF samples were collected from 25 patients, which consisted of 15 women with endometriosis and 10 women in the control group. To identify differentially expressed proteins in the FF, the authors applied a mass spectrometry-based technique using iTRAQ labeling. Furthermore, the contents of ferric ion and TRF in FFs were examined using ELISA. The effects of FF in mouse oocytes maturation were also analyzed.
The study showed a significant reduction of transferrin concentration in the endometriosis-FF as compared to the control-FF. Transferrin is a glycoprotein that binds to and regulates the transport of iron atoms in the blood. Concomitantly, the level of ferric iron was increased in endometriosis-FF as compared to control-FF. Functional studies revealed that the endometriosis-FF significantly decreased oocytes maturation in vitro, although the supplementation of transferrin was able to improve oocytes maturation.
Therefore, this study suggests that reactive oxygen species present in the endometriosis-FF is related to ferric iron and their inadequate sequestration by transferrin molecule. Excess of iron is believed to increase oxidative stress in tissues because of the generation of oxygen radical intermediates. Hence, this study highlights that transferrin and iron overload in FF are important indicators that can significantly affect oocytes, thus the fertility of women with endometriosis. The finding may help knowledge into the treatment of infertility for women with endometriosis.
---
---
infertility
IVF
DISCLAIMER
EndoNews highlights the latest peer-reviewed scientific research and medical literature that focuses on endometriosis. We are unbiased in our summaries of recently-published endometriosis research. EndoNews does not provide medical advice or opinions on the best form of treatment. We highly stress the importance of not using EndoNews as a substitute for seeking an experienced physician.
<< Previous Article

Next Article >>