Investigational drugs for the treatment of endometriosis
May 16, 2018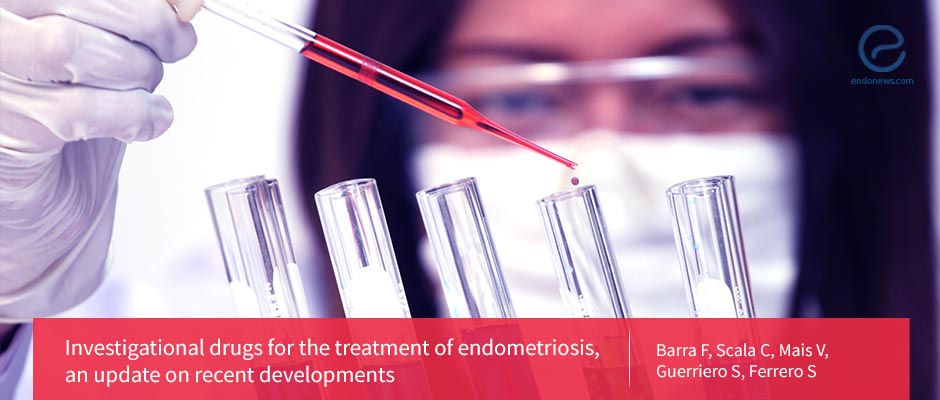 Update on recent drug developments for endometriosis
Key Points
Highlight:
This review discusses new drugs which are under clinical and preclinical investigations for the treatment of endometriosis.
Importance:
Current drugs treatment can be used for endometriosis-related pain, although some women experience partial or no improvement; thus are not optimal.
Moreover, recurrence is expected after discontinuation of the therapies.
What's done here:
New investigational drugs and early molecular targets for endometriosis treatment are overviewed.
Pre-clinical and clinical developmental agents are described.
Data:
Late clinical trials on gonadotropin-releasing hormone antagonists (GnRH-ant) showed promising results for the treatment of endometriosis.
Aromatase inhibitors (AIs) are efficacious in treating endometriosis-related pain symptoms. The use of AIs, however, is limited by adverse effects associated with long-term use.
A number of new targets in treating endometriosis have been identified through laboratory and early clinical studies. Efforts to elucidate their clinical efficacy and safety will be essential for further development.
Lay Summary
Endometriosis treatment involves surgery and medical therapies. Surgery can improve the associated pain, quality of life and sexual function, even though it is technically challenging with potential risks of complications. Medical therapy is often aimed to ameliorate pain symptoms and prevent post-surgical disease recurrence. The choice is based on several factors such as age, intensity, and characteristics of pain, other comorbidities (e.g., migraine) and desire to conceive. The challenges with endometriosis treatment include the need of a tolerable chronic regimen, partial relief of symptom and the recurrence of pain after hormonal treatment discontinuation. This article by Barra et al. published in Expert Opinion on Investigational Drugs from Academic Unit of Obstetrics and Gynecology, Ospedale Policlinico San Martino, Genoa, Italy discussed drug development and targets under investigation for the treatment of endometriosis.
Combined oral contraceptives have been traditionally the first-line treatment for patients with endometriosis. Progestins monotherapy is also efficacious and well tolerated for long-period treatment. Hormonal compounds can control symptoms in about two-thirds of women. Second-line therapy includes gonadotropin-releasing hormone agonists (GnRH-a`s) but has less favorable tolerability profile including adverse effects such as alteration of lipid profile, depression, flushes, urogenital atrophying and loss of bone mineral density. Other drugs for endometriosis include nonsteroidal anti-inflammatory drugs (NSAIDs), although there is less evidence to support their efficacy in managing endometriosis.
Investigational drugs for endometriosis that have been studied in clinical trials include first gonadotropin-releasing hormone antagonists (GnRH-ant) which suppress gonadotropin production. It has the advantage over GnRH-as due to the immediate onset of action and does not cause flare-up effect. Examples include Cetrorelix (CET) and Elagolix. Currently, two ongoing phase III trials are evaluating the safety and efficacy of Elagolix alone or combined with other drugs for management of moderate to severe pain in premenopausal women with endometriosis (NCT03343067 and NCT03213457). Second drug class is the aromatase inhibitors. Aromatase P450 is a critical enzyme for many reactions in steroidogenesis. Administration of two AIs, anastrozole and letrozole, was shown to be effective in reducing the severity of endometriosis-related pain symptoms, although usefulness was limited by adverse effects.
Investigative new drugs in preclinical developments include (i) selective estrogen receptor modulators (SERMs) e.g., Bazedoxifene and Raloxifene. These agents directly bind to estrogen receptor (ER)-α and/or ER-β to exert estrogen- or anti-estrogen-like actions. Study on Raloxifene was prematurely interrupted because patients experienced pain worsening. Other investigative drugs are (ii) selective progesterone receptor modulators; (iii) anti-angiogenetic drugs (including tyrosine kinase inhibitors, bevacizumab); (iii) inhibition of inflammation (cyclooxygenase inhibitors); (iv) immunomodulation; (v) antioxidants agents and (vi) epigenetic inhibitors.
The use of these newer agents are still in question and will require future clinical studies to elucidate their safety and efficacy.
---
---
treatment
drug
DISCLAIMER
EndoNews highlights the latest peer-reviewed scientific research and medical literature that focuses on endometriosis. We are unbiased in our summaries of recently-published endometriosis research. EndoNews does not provide medical advice or opinions on the best form of treatment. We highly stress the importance of not using EndoNews as a substitute for seeking an experienced physician.
<< Previous Article

Next Article >>