Impact of hemostatic techniques used in endometrioma surgery on ovarian function
Aug 26, 2019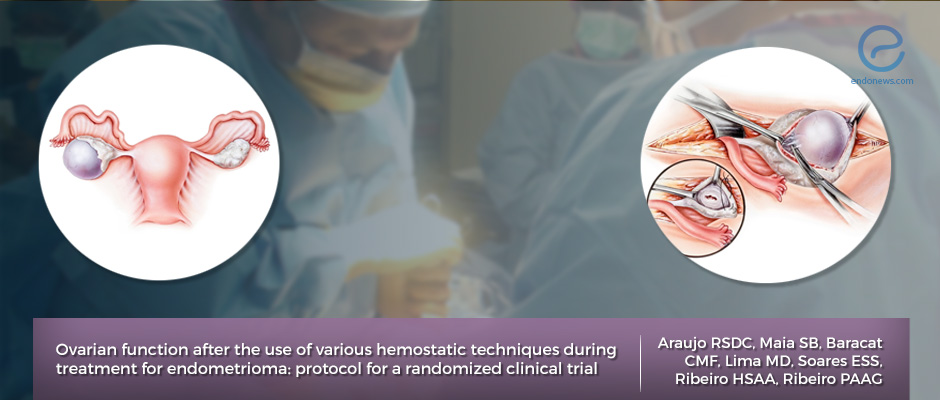 The methods used to stop bleeding during laparoscopic surgery for ovarian endometrioma may cause reduction in ovarian reserves
Key Points
Highlights:
A randomized clinical trial will be performed to compare three hemostatic techniques (bipolar coagulation, laparoscopic suture, and hemostatic matrix) commonly used in laparoscopic surgery of ovarian endometrioma to evaluate their effect on ovarian follicular reserve.
Importance:
Findings from this study may assist surgeons in choosing the hemostatic method that would cause less damage to ovarian function
If there are no significant differences between the hemostatic methods evaluated in this study, surgeons can choose the most convenient method available.
What's done here?
Comparison of the effects of different hemostatic methods on the ovarian function of women subjected to laparoscopic surgery for ovarian endometrioma.
Key results:
The trial discussed here is currently ongoing and will conclude in 2020.
Limitations of the study:
Planned sample size (23 with a possibility to increase to 28) per treatment arm may not provide sufficient power to make solid conclusions.
Lay Summary
This publication reports on an ongoing clinical trial that aims to assess whether the hemostatic techniques (methods to stop bleeding) used in ovarian endometrioma surgery have damaging effects on ovarian function. The clinical trial stemmed from a multitude of inconclusive studies suggesting some hemostatic methods may result in reduced ovarian reserves; while other studies suggest the damage to ovarian reserves are a natural result of having the disease itself.
Given the laparoscopic surgery is the gold standard for the treatment of ovarian endometrioma, it is important to completely understand the risks associated with the procedure that may result in impaired ovarian function.
The trial has begun in March 2018, with 32 patients have enrolled to date (April 2019). This randomized clinical trial will compare the impact of three different hemostatic techniques (bipolar coagulation versus laparoscopic suture versus hemostatic agents) during laparoscopic surgery for an ovarian endometrioma on the ovarian follicular reserve.
The majority of investigators agree that the use of bipolar coagulation is responsible for a decrease in ovarian function when compared with the other two methods – hemostasis with suture or hemostatic agents. Nevertheless, the available evidence is largely inconclusive, since some studies have failed to find any significant decrease in ovarian function. Bipolar coagulation is the method where forceps with high frequency electric current is used to cauterize the tissue. The authors believe that the use of bipolar energy may interfere with ovarian function but its skillful use may be associated with less damage. This trial will perform a detailed assessment of bipolar coagulation with hopes to provide supporting evidence to clarify this issue.
Even though this individual trial alone will not be sufficient to fully resolve this controversial subject, the findings will contribute significantly to the understanding of differences, if any, between hemostatic methods despite the rational use of bipolar energy or whether the procedure itself explains the ovarian damage irrespective of the hemostatic technique used.
---
---
ovarian endometrioma
laparoscopic surgery
hemostatic techniques
bipolar coagulation
DISCLAIMER
EndoNews highlights the latest peer-reviewed scientific research and medical literature that focuses on endometriosis. We are unbiased in our summaries of recently-published endometriosis research. EndoNews does not provide medical advice or opinions on the best form of treatment. We highly stress the importance of not using EndoNews as a substitute for seeking an experienced physician.
<< Previous Article

Next Article >>