How to cope with the probable complications of Laparoscopic Hysterectomy
Apr 18, 2023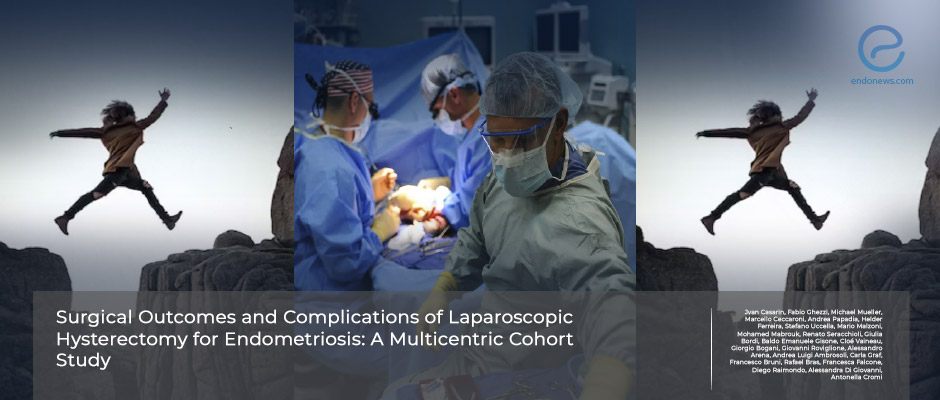 Medical treatment at the time of surgery may have a protective effect.
Key Points
Highlights:
Laparoscopic hysterectomy may be associated with major complications.
Medical therapy may reduce the risk of complications.
Importance:
Factors associated with higher risks of complications may help risk stratification and could guide clinicians during preoperative counseling.
What's done here:
This multicentric cohort study evaluates the data from almost 1000 women who underwent laparoscopic hysterectomy to treat their endometriosis and/or adenomyosis.
All patients had pathologically confirmed endometriosis and/or adenomyosis, none had concomitant urological and/or gastroenterological procedures.
Key results:
Most patients had simple (87.5%) and some had radical (12.5%) laparoscopic hysterectomies with 1.4% conversion to open abdominal surgery.
The multivariate analysis confirmed an inverse correlation with age.
There was a direct correlation between previous endometriosis surgery and the occurrence of complications during surgery
The use of medical treatment at the time of surgery had a protective effect against complications.
Limitations:
The retrospective nature of the study is a limitation.
All patients were treated in a tertiary minimally invasive gynecology referral center, which reflects a reduction in the generalizability of findings.
Furthermore, the lack of different-hospital readmission data may lead to an underestimation of postoperative complications.
Lay Summary
Laparoscopic hysterectomy to treat endometriosis and adenomyosis can lead to complications, which are "non-negligible", according to a new study published in the Journal of Minimally Invasive Gynecology.
It is, therefore, of great importance to know the factors that are associated with a higher risk of complications so that clinicians can provide the right counseling to their patients before the operation.
In order to investigate the complications that may arise following a laparoscopic hysterectomy to treat endometriosis and/or adenomyosis, a team of researchers led by Dr. Antonella Cromi from the Obstetrics and Gynecology Department of the University of Insubria, in Varese, Italy conducted a retrospective cohort study using data from 995 patients who were treated in eight minimally invasive referral centers in Europe between January 2010 and December 2020.
All patients had endometriosis and/or adenomyosis confirmed by pathology and all of them underwent total laparoscopic hysterectomy with no other urological or gastroenterological procedures. Half of the patients (505) were being treated with estro-progestins, progestin, or GnRh-analogs at the time of the operation.
Three percent of patients experienced intraoperative complications while 93 patients (9.3% of all patients) had major complications after the operation. The researchers found an inverse correlation between the occurrence of major complications and age.
They also found that previous surgery for endometriosis and the occurrence of complications during surgery were predictors of major events.
Finally, the use of medical treatment at the time of surgery had a protective effect, they reported.
"The administration of estro-progestin or progesterone preoperatively might reduce the risks of postoperative complications following surgery," the researchers concluded.
---
---
adenomysosis
hysterectomy
complications
DISCLAIMER
EndoNews highlights the latest peer-reviewed scientific research and medical literature that focuses on endometriosis. We are unbiased in our summaries of recently-published endometriosis research. EndoNews does not provide medical advice or opinions on the best form of treatment. We highly stress the importance of not using EndoNews as a substitute for seeking an experienced physician.