Gestrinone May Be Safe and Effective in Treating Endometriosis Symptoms
Jan 5, 2023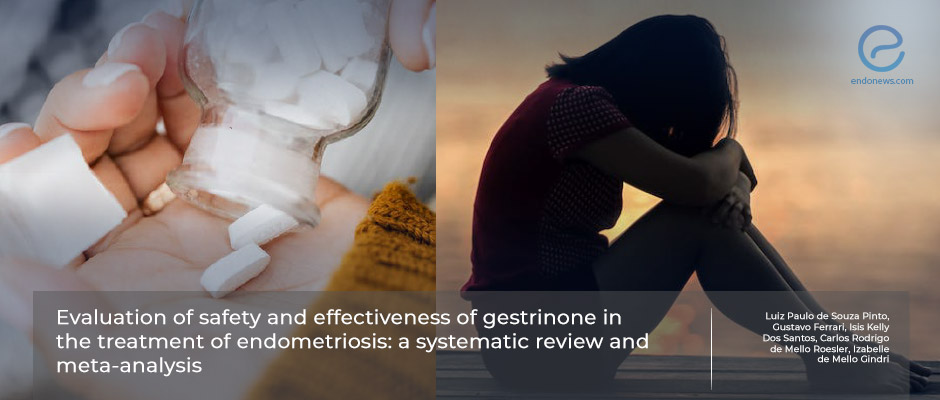 Gestrinone may be better than other drugs in treating the symptoms of endometriosis but more evidence is necessary.
Key Points
Highlights:
Gestrinone may be more effective than other drug treatments in relieving symptoms of endometriosis.
Importance:
Though more research is needed, this finding could help informed decision-making among patients and doctors.
What's done here:
A literature review was conducted to compare the safety and efficacy of gestrinone to that of other drugs including danazol, leuprolide acetate, Quyu Jiedu Recipe Chinese Medicine as well as placebo in treating endometriosis.
Key results:
Gestrinone relieved dysmenorrhea, pelvic pain, and morphologic response in the ovary.
The rate of pregnancy increased in women treated with gestrinone.
Gestrinone had the same side effects as the other treatments.
Limitation:
The number of studies that were analyzed is limited.
There was limited information in the studies included.
The randomized clinical trials were poorly updated.
The risk of bias was unclear in most studies.
It was also not possible to conduct a meta-analysis on endometriosis symptoms or gestrinone use compared to other treatments.
Lay Summary
Gestrinone seems to be safe for the treatment of endometriosis, according to a new study published in the scientific journal Archives of Gynecology and Obstetrics. It also may be more effective than danazol and other medical treatments.
However, these findings are based on limited evidence and "should be interpreted with caution," according to the authors of the study, who also said that "the quality of the evidence provided is generally very low or unclear".
In order to evaluate the safety and efficacy of the antiestrogen gestrinone in treating endometriosis, a team of researchers led by Dr. Izabelle de Mello Gindri from Bio Meds Pharmaceutica LTDA in Brazil conducted a review of the literature using 6 electronic databases.
The team screened a total of 3,269 research articles and included 16 in their analysis. These 16 articles included a total of 1,286 women with endometriosis and/or polycystic ovary syndrome, and compared gestrinone to other medical treatments.
The results showed that gestrinone relieves period pain, pelvic pain, and morphologic response in the ovary.
The pregnancy rate among women treated with gestrinone was also higher compared to those treated with other drugs.
Side effects such as the increased risk of acne and seborrhea, a common skin problem characterized by a red, itchy rash and white scales, were similar between women treated with gestrinone and other drugs.
However, the authors noted that the efficacy of gestrinone compared to other treatments "remains unclear due to insufficient data".
Gestrinone is an androgen derivative of 19-nortestosterone that suppresses the release of luteinizing hormone and follicle-stimulating hormone thereby reducing the production of estrogen. It is used for the treatment of endometriosis symptoms in Europe, Australia, and Latin America, but not in the US.
---
---
Medical treatment
endometriosis symptoms
pregnancy
gestrinone
danazol
leuprolide acetate
Quyu Jiedu Recipe Chinese Medicine
DISCLAIMER
EndoNews highlights the latest peer-reviewed scientific research and medical literature that focuses on endometriosis. We are unbiased in our summaries of recently-published endometriosis research. EndoNews does not provide medical advice or opinions on the best form of treatment. We highly stress the importance of not using EndoNews as a substitute for seeking an experienced physician.
<< Previous Article

Next Article >>