Genetic Predisposition to Endometriosis
Jun 16, 2021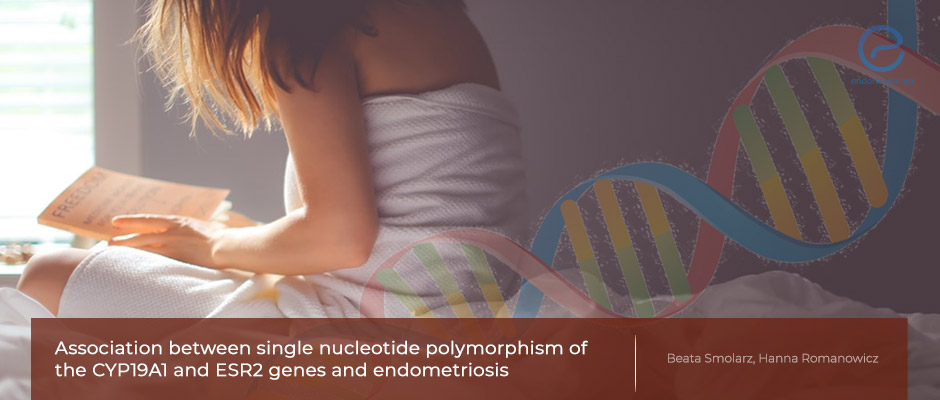 Researchers identify new genetic factors that could make women more susceptible to endometriosis.
Key Points
Highlights:
Certain single nucleotide polymorphisms (SNPs) in genes that play a role in estrogen biosynthesis are more prevalent among women with endometriosis.
Importance:
A better understanding of the genetic factors associated with endometriosis could help scientists to develop new therapies for the disease.
What's done here:
Researchers analyzed genetic polymorphisms in the DNA of women with endometriosis and those without the disease.
Key results:
TT homozygosity was significantly more prevalent in rs2899470 of the CYP19A1 gene in women with endometriosis.
GG homozygosity and AG-AA genotypes were significantly more prevalent in rs17179740 of the ESR2 gene in women with endometriosis.
Limitations:
The sample size in this study was quite small and the results should be checked in a larger group of patients and controls.
Lay Summary
Certain genetic polymorphisms, called SNPs, in the ESR2 and CYP19A1 genes, were more prevalent among patients with endometriosis compared to women without the disease according to a study by researchers in Poland.
A better understanding of the genetic mechanisms underlying the disease, could pave the way to the development of new therapies in the future and improve outcomes in endometriosis.
Previous research has shown that two genes, estrogen receptor 2 (ESR2) and cytochrome P450 family 19 subfamily A member 1 (CYP19A1) may play a role in the risk of endometriosis-associated infertility. The present study aimed to evaluate the association between single nucleotide polymorphisms in the ESR2 and CYP19A1 genes and the incidence of endometriosis.
The researchers collected blood samples from 200 women with endometriosis and 200 women of the same age without the disease. They then used a technique called high-resolution melter to identify genetic polymorphisms.
They found that TT homozygotes in the single nucleotide polymorphism rs2899470 of the CYP19A1 gene were more prevalent among women with endometriosis compared to those without. Similarly, GG homozygotes, as well as AG-AA genotypes in the single nucleotide polymorphism rs17179740 of the ESR2 were also more prevalent in patients with endometriosis.
CYP19A1 and ESR2 genes both participate in the biosynthesis of estrogens, which plays a role in endometriosis.
Single nucleotide polymorphisms are the most common form of genetic variation among people. Researchers think that they play a role in many diseases and how an individual responds to medical treatments, for example.
---
---
single nucleotide polymorphism
genetics
estrogen biosynthesis
DISCLAIMER
EndoNews highlights the latest peer-reviewed scientific research and medical literature that focuses on endometriosis. We are unbiased in our summaries of recently-published endometriosis research. EndoNews does not provide medical advice or opinions on the best form of treatment. We highly stress the importance of not using EndoNews as a substitute for seeking an experienced physician.
<< Previous Article

Next Article >>