Gastrointestinal symptoms in colorectal deep endometriosis
Jan 19, 2023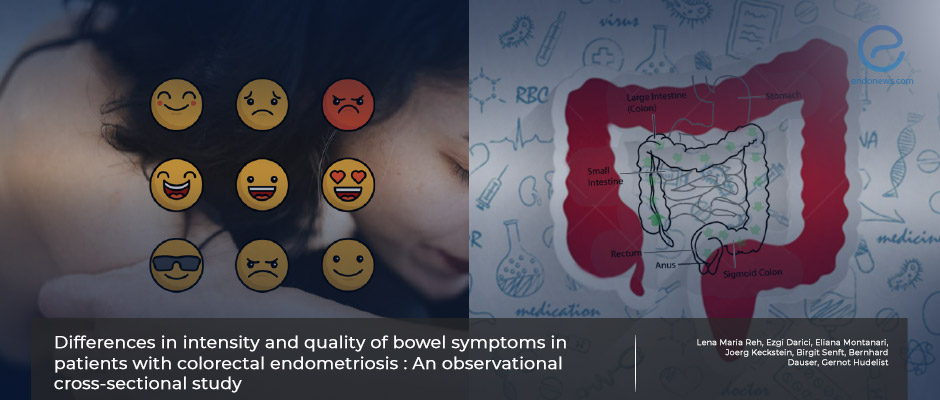 Patients with colorectal deep endometriosis suffer from bowel symptoms significantly, study shows
Key Points
Highlight
Importance
What's done here
Key results
Lay Summary
The colon, particularly the recto-sigmoid is the most commonly involved area in deep endometriosis. These patients suffer from gastrointestinal symptoms almost as much as pelvic pain symptoms the most common being reported as frequent and painful defecation. Gastrointestinal symptoms may be seen in endometriosis patients without deep endometriosis as well owing to various mechanisms such as local irritation, anatomical impairments, inflammatory environment, and coexistence of irritable bowel syndrome.
Researchers from Austria and Belgium performed a prospective questionnaire-based study with colorectal deep endometriosis patients. They aimed to evaluate the prevalence of pre-surgical gastrointestinal symptoms of these patients using two questionnaires: gastrointestinal quality of life index and low anterior resection syndrome score (LARS). The study was published in the November 2022 issue of the journal "Wiener klinische Wochenschrift"
Ninety-seven women with histologically confirmed bowel deep endometriosis and 96 patients without endometriosis were included in the study. They were asked to participate by answering the questions for the questionnaires prior to their surgeries. The gastrointestinal quality of life index assesses 5 domains (core symptoms, physical function, social function, emotional function, and trouble with treatment). The LARS normally evaluates bowel function after colorectal surgery.
The results of the gastrointestinal quality of life index questionnaire showed significantly lower quality of life in bowel deep endometriosis patients compared to controls. The most common gastrointestinal complaints reported by these patients were abdominal pain (92.8%) and bloating (84.5%) along with other significant symptoms such as epigastric fullness, flatus, belching, bowel frequency, abdominal noises, restricted eating, loss of enjoyment while eating, and fatigue. Other complaints that were seen at a significantly higher rate in bowel deep endometriosis patients included change in appearance, feeling unfit, loss of endurance, loss of strength, sexual problems, and restrictions in daily life. Around 60% of endometriosis patients stated they were experiencing problems with medical treatments. The biggest difference between the patient and the control groups in this questionnaire was seen in the emotional domain with a majority of patients experiencing high levels of anxiety, frustration, and unhappiness.
The evaluation of pre-surgical LARS scores revealed that 18.5% of colorectal deep endometriosis patients exhibited major LARS-like complaints and 27.8% had minor LARS-like complaints. It was also seen that LARS-like symptoms were seen in 11% of the healthy population. Therefore, the authors state that the assessment of bowel function after colorectal surgery should be approached carefully by taking into account the possibility of the complaints being present pre-surgically. They add that the use of LARS questionnaires should be performed with caution after surgery and pre-surgical scores might be helpful in the correct interpretation of the scores.
---
---
deep endometriosis
colorectal
gastrointestinal symptoms
LARS
GIQLI
DISCLAIMER
EndoNews highlights the latest peer-reviewed scientific research and medical literature that focuses on endometriosis. We are unbiased in our summaries of recently-published endometriosis research. EndoNews does not provide medical advice or opinions on the best form of treatment. We highly stress the importance of not using EndoNews as a substitute for seeking an experienced physician.