Four cases of endometrioid borderline ovarian tumour: case reports and literature review
Nov 26, 2018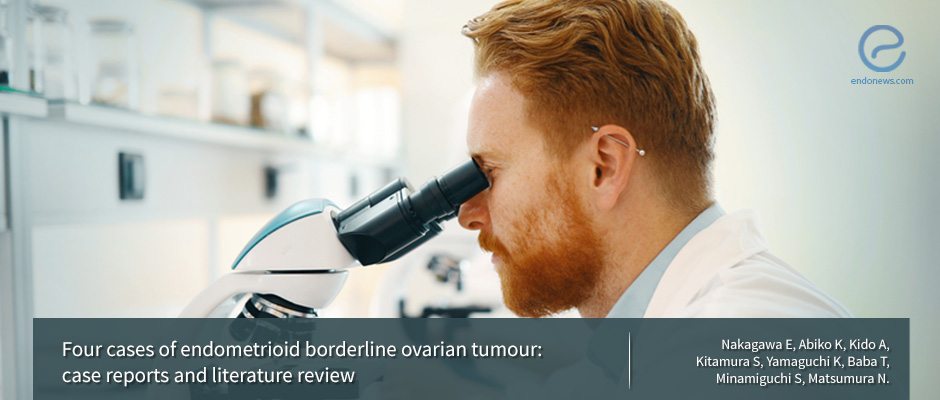 Low grade malignancy related to endometriotic lesions: endometrial borderline tumors
Key Points
Highlights:
Endometrioid borderline tumors (EBTs) of the ovary are frequently associated with endometriosis, they are not completely benign but interestingly do not behave as cancers.
Importance:
The incidence of EBTs is very low, comprising up to 0.2% of all epithelial ovarian tumors, and are often diagnosed at an early stage with a good prognosis so reaching a correct diagnosis is of utmost importance to avoid overtreatment.
What's done here:
Four patients with EBTs of the ovary are presented in detail with clinical, radiological and pathological features highlighting the correct diagnosis of this rare entity.
Key Results:
EBT cases are accompanied with endometriosis and some arise in endometriotic cysts.
Besides, concurrent endometrial lesions, especially endometrial cancer, are frequently encountered.
Magnetic Resonance Imaging (MRI) examination of EBTs of the ovary demonstrated heterogeneous tumors with solid and cystic components, solid components demonstrate enhancement and water restriction, making them difficult to distinguish from malignant tumors.
Intraoperative pathology consultation (rapid frozen tissue section analysis) may greatly help in determining the correct diagnosis.
Lay Summary
Physicians from Kyoto University Graduate School of Medicine, Kyoto, Japan, report four cases of ovarian EBTs and a review literature in a recently published manuscript at British Medical Journal, case reports.
Endometrioid borderline tumors (EBTs) of the ovary are uncommon tumors of low malignancy, consisting of atypical endometrioid cells lacking destructive stromal invasion like cancer tissue. As the prognosis of EBT is excellent, overtreatment has to be avoided and correct definitive diagnosis is extremely important.
Here the average patient age of the reported cases was 52 years. They presented with abdominal discomfort or abnormal vaginal bleeding. The final histopathologic diagnoses for all four cases were EBT Stage IA, along with endometriosis. Histopathologically, one case had "adenofibromatous" features i.e. rich in fibrous tissue, and three cases were intracystic type tumors, originating from an endometriotic cyst. Besides, two patients had concurrent endometrial cancer emphasizing the frequent association of these tumors.
MRI of the tumors showed enhanced solid components, the intracystic type tumors presenting a dendritic structure in the cyst; fine papillary branches surrounded a low-signal trunk that results in confusion in regard to differential diagnosis. Positron emission tomography (PET) demonstrated marked fluorodeoxyglucose uptake in the solid component.
EBT is difficult to distinguish from malignant ovarian tumors with clinical and radiological features preoperatively and intraoperative pathology consultation (rapid frozen tissue section analysis) may greatly help in determining the correct diagnosis. Prognoses are excellent, however existing concurrent endometrial cancer has to be ruled out precisely.
---
---
endometrioid borderline tumor
frozen section
intraoperative pathologic consultation
DISCLAIMER
EndoNews highlights the latest peer-reviewed scientific research and medical literature that focuses on endometriosis. We are unbiased in our summaries of recently-published endometriosis research. EndoNews does not provide medical advice or opinions on the best form of treatment. We highly stress the importance of not using EndoNews as a substitute for seeking an experienced physician.
<< Previous Article

Next Article >>