Fluorescence Guided Surgery: a New Technique to Treat Deep Infiltrating Endometriosis
By:
Özge Özkaya
- Aug 15, 2018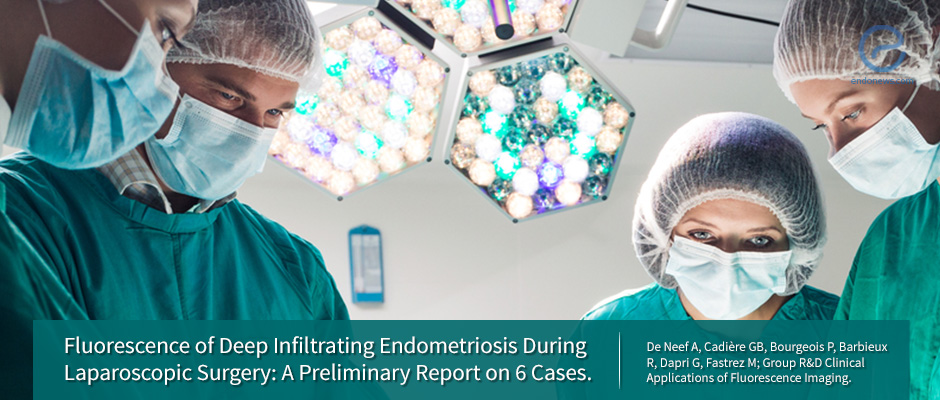 The technique could reduce the risk of rectal perforations.
Key Points
Highlights:
Fluorescence-guided surgery could offer a less invasive alternative to safely remove recto-vaginal deep infiltrating endometriosis nodules
Importance:
Once the efficacy of the technique has been confirmed, it could be used in the clinic to reduce the risk of rectal perforations, a complication often encountered while removing recto-vaginal deep infiltrating endometriosis nodules.
What's done here:
Researchers used the technique to visualize recto-vaginal deep infiltrating endometriosis nodules in six patients scheduled for laparoscopic surgery. They used indocyanine green dye that becomes fluorescent once exposed to near-infrared light and can help visualize the blood vessels around the nodules.
Key results:
Recto-vaginal deep infiltrating endometriosis nodules were successfully visualized and removed in all six patients.
In one patient, an additional area still appeared fluorescent once the main lesion was removed, and was also removed, suggesting that the technique may be able to visualize lesions that may have been otherwise left undetected.
No rectal perforation occurred during the operations, no fistula formation occurred following the operation.
Limitations:
This was a preliminary study in a small number of patients who were followed up for a relatively short period of time after surgery. Larger clinical trials with long-term follow up are needed to confirm the clinical efficacy of fluorescence-guided surgery.
The technique should be compared to present dye methods currently used.
Lay Summary
Fluorescence-guided surgery could help differentiate recto-vaginal deep infiltrating endometriosis nodules (RVDIEN) from healthy rectal tissue and remove them successfully without perforating the rectum, according to a study published in the scientific journal Surgical Innovation.
The method could offer a better, less invasive alternative to treating deep infiltrating endometriosis.
Deep infiltrating endometriosis of the recto-vaginal septum, the thin structure separating the vagina and the rectum, is a chronic disease associated with pelvic pain and severe pain during intercourse. It can also cause constipation, bleeding of the rectum, and difficult and painful defecation and therefore negatively impact patients' quality of life.
Most patients with the condition are treated by removing the RVDIENs. However, there is a risk of rectal perforation during the procedure.
In order to evaluate whether fluorescence-guided surgery can improve the removal of RVDIENs and help avoid rectal perforation, a team of researchers led by Dr. Maxime Fastrez at Université Libre de Bruxelles in Belgium conducted a small study in six patients.
Because RVDIENs have new blood vessels surrounding them, a fluorescent dye called indocyanine green that binds to the vascular system can be used to visualize their location. The dye becomes fluorescent once exposed to near-infrared light.
The study showed that the technique was successful in visualizing RVDIENs in all six patients and that in one patient, it was even able to identify an additional area that needed to be removed following the removal of the main lesion. None of the patients had rectal perforations during the surgery. Patients stayed in the hospital for only two days following the operation and no abnormal connection between the rectum and the vagina were formed following surgery.
The researchers concluded that the technique could improve the removal of RVDIEN with laparoscopy reducing the risk of rectal perforations. They added, however, that more research is needed to confirm the effectiveness of this approach.
---
---
Deep infiltrating endometriosis
Fluorescence-guided laparoscopy
recto-vaginal septum
rectal perforation
DISCLAIMER
Endonews is designed to strictly highlight the most recently published scientific research that focuses on endometriosis. It is not designed to provide medical advice or an opinion on the best form of treatment. We highly stress the importance of not using this site as a substitute for seeking an experienced physician, which is highly recommended if you have any questions or concerns regarding your endometriosis needs. We believe in the consciousness of our reader to discriminate that research is different than "standard of care," and trust that they can keep in mind that here at Endonews, we summarize the newest peer-reviewed scientific medical literature, without bias.
<< Previous Article

Next Article >>