Expert discussion on mechanisms of endometriosis development and progression
By:
Yu Yu
- Jul 9, 2018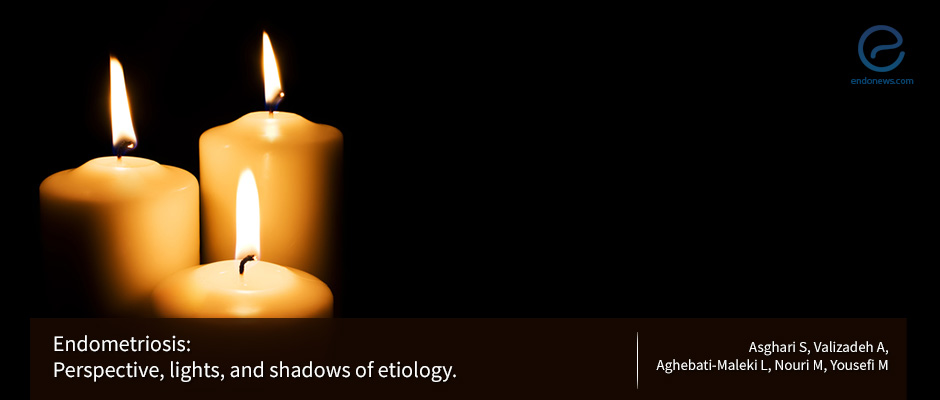 A multifactorial facet of endometriosis pathogenesis
Key Points
Highlight:
Endometriosis affects about 10–15% of female in reproductive age. This review article discusses the multiple factors involved in endometriosis initiation and progression.
For this multifactorial disorder, the importance of each of the contributing factors such as genes, hormones, inflammation, and immune status requires careful assessment.
Importance:
The exact mechanism causing endometriosis is complicated and potentially multifactorial.
What's done here:
Discussion on the current knowledge about the role of oxidative stress, inflammation and genetic factors involved in endometriosis etiology and progression.
Data:
Several factors were associated with endometriosis initiation and progression:
Oxidative stress in the form of reactive oxygen species (ROS) and reactive nitrogen species (RNS).
Inflammatory factors and cytokines, including TNF-α, IL-1β, IL-6, IL-8, and IL-14
The steroid hormones, estrogen, and progesterone.
Genetic variations in inflammatory responses, hormone receptors, and oxidative stress-related genes.
Lay Summary
Several mechanisms have been proposed to explain the occurrence and worsening of endometriosis. Classically, it is believed that retrograde menstruation causes endometriosis. However, the presence of endometriosis in newly menarcheal or pre-menarcheal girls cannot fully explain this early onset endometriosis. With the increasing number of studies, other mechanisms have also been introduced. Particularly, three prominent aspects of the pathogenesis of endometriosis are:
(i) numerous genes are differentially expressed in the ectopic endometrium compared with those in the eutopic and normal endometrium suggesting the roles of these genes in endometriosis development;
(ii) the elevated local estrogen levels in ectopic endometrial tissue which affects surrounding endothelial stromal cells leading to endometriosis growth; and
(iii) altered immunological homeostasis leading to the development and progression of the disorder.
In this review article published in Biomedicine & Pharmacotherapy journal by Asghari et al. from Department of Immunology, Tabriz University of Medical Sciences, Iran, the authors examined multiple factors that are involved in the initiation and progression of endometriosis. These factors include the role of oxidative stress, reactive oxygen species (ROS), antioxidants, inflammatory molecules and genetic.
Endometriosis can be initiated and accelerated by oxidative stress induced through inflammatory responses within the peritoneal fluid. Excessive production of ROS/RNS, imbalanced with reduced antioxidant enzymes can promote the progression of this disease. In particular, iron overload, a well-known culprit of ROS generation, has been found in the peritoneal cavity, peritoneal fluid, endometriotic lesions, peritoneum, and the macrophages of endometriosis. Other RNS may also be involved as endometriosis can increase the nitrite concentrations in the peritoneal fluid. Nitric oxide concentration was found to be higher in the peritoneal fluid of endometriosis patients. The increased in nitric oxide levels is believed to play a role in endometriosis angiogenesis. Coupling increase ROS/RNS with the reduced of antioxidant enzymes for protection against oxidative stress in the endometrium, the imbalanced in the peritoneal cavity and in or adjacent to the endometriotic lesions may have led to severe endometriosis. Endometriosis-related oxidative stress can cause DNA damage and infertility. As a result, patients with endometriosis showed higher DNA adducts, 8-hydroxy-2-deoxyguanosine (8-OHdG).
Chronic local inflammation and alterations in the immune system are also involved. Particularly, the increased release of inflammatory cytokines and chemokines including TNF-α, IL-1β, IL-6, IL-8, and IL-14 is a major part of the immunologic response and thus, play an important role in endometriosis beginning and progression.
The genetic aspect of endometriosis suggests that variations in the genes involved in inflammatory responses, hormone receptors, and oxidative stress are risk factors. These abnormalities act via different mutations including single nucleotide polymorphism or due to chromosomal abnormalities may contribute to endometriosis development. Therefore, this review suggests that endometriosis is a multifactorial disorder, the importance of each contributing factor in the worsening progression of endometriosis require careful assessment.
---
---
genetic
oxidative stress
inflammation
DISCLAIMER
EndoNews highlights the latest peer-reviewed scientific research and medical literature that focuses on endometriosis. We are unbiased in our summaries of recently-published endometriosis research. EndoNews does not provide medical advice or opinions on the best form of treatment. We highly stress the importance of not using EndoNews as a substitute for seeking an experienced physician.
<< Previous Article

Next Article >>