Evaluation of daily diary for endometriosis-related pain.
Mar 11, 2022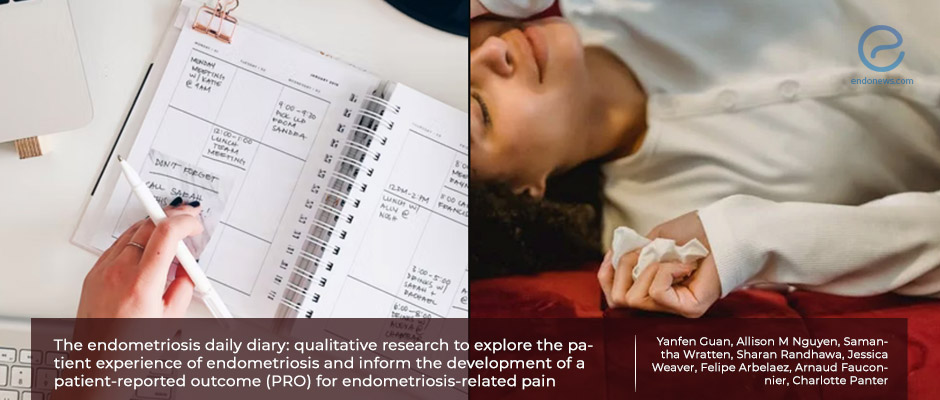 A newly formed instrument named Endometriosis Daily Diary that measures endometriosis related pain is presented.
Key Points
Importance:
To treat endometriosis-related pain properly, there is a need for a fit-for-purpose instrument to be used in clinical development programs.
Highlights:
A modified "Dysmenorrhea Daily Diary" was developed for the daily assessment of endometriosis-related pain symptoms and impacts for both adults and adolescents with endometriosis.
What's done here:
A prospective qualitative study that includes a total of 70 participants with endometriosis-related pain was conducted to form the endometriosis daily diary.
The authors followed three key steps to collect data for patient-reported outcomes and analyzed them by software.
20 adults and 10 adolescents took place in the first and second steps which measured concept elicitation and cognitive debriefing.
In the third step of the study, only 15 adults who completed pilot testing were subjects of usability/feasibility of administrating the Endometriosis Daily Diary on an electronic handheld device.
Key Results:
Almost half of the participants were white, and nearly 1/3 were black/African Americans. There were variations about the education, current work, current hormonal and medical treatments.
While over half of the participants (58,6) experienced only cyclic pain, others complained of both cyclic and non-cyclic pain.
Forty % rated their cyclic pain in the past month as severe, 38,7 % rated non-cyclic pain as moderate
The majority of participants suffered pain and heavy menstrual bleeding during the concept elicitation interviews. Urinary symptoms and swelling were spontaneously reported for the first time although neither of them was considered a typical symptom for endometriosis in published literature.
Lay Summary
Some endometriosis patient-reported outcomes elements have been previously developed in accordance with regulatory and best practice guidelines including Endometriosis Pain Daily Diary, the Endometriosis Symptom Diary, and Endometriosis Impact Scale. The aim of this study was to develop another content-valid instrument by modifying Dysmenorhea Daily Diary to form the Endometriosis Daily Diary.
Guan et al. from Merck Research Laboratories, NJ, USA worked together with primary care physicians or gynecologists based in three US cities: Chicago, Baltimore, and Pittsburg. Eligible adult participants admitted to this study were up to 49 ages and had a surgical diagnosis of endometriosis whereas eligible adolescents were at least two years post-menarche with either surgically diagnosed or clinically suspected endometriosis.
During the first and second steps of the study, 60 minutes of face-to-face interviews were being conducted with ERP patients to explore their pain symptoms and the associated impacts. The dysmenorrhea daily diary is a patient-reported outcome measure that has been developed to regulatory standards and is been used here through qualitative concept elicitation interviews and cognitive debriefing interviews with endometriosis-related pain patients.
Besides the core symptoms of endometriosis, proximal impacts as physical functioning, sleep, sexual functioning, distal impacts as activities of daily living, social life, and relationships, emotional wellbeing, school, work, and financial properties were asked during Cognitive debriefing interviews.
For the third and final step, 15 adult participants were trained to use an electronic handheld device and completed the daily Endometriosis Daily Diary on their device at home for 7-14 days.
The newly formed instrument named "Endometriosis Daily Diary-EDD" was announced at the end of this study that was recently published in the "Journal of Patient-Reported Outcomes" in order to facilitate the clinical approach to endometriosis-related pains and their impacts.
---
---
patient-reported outcomes
qualitative
content validity
developement
cognitive debriefing
daily diary
endometriosis-related pain..
DISCLAIMER
EndoNews highlights the latest peer-reviewed scientific research and medical literature that focuses on endometriosis. We are unbiased in our summaries of recently-published endometriosis research. EndoNews does not provide medical advice or opinions on the best form of treatment. We highly stress the importance of not using EndoNews as a substitute for seeking an experienced physician.
<< Previous Article

Next Article >>