Endometriosis as an epigenetically regulated disease
By:
Dr. Youngran Park
- Oct 17, 2019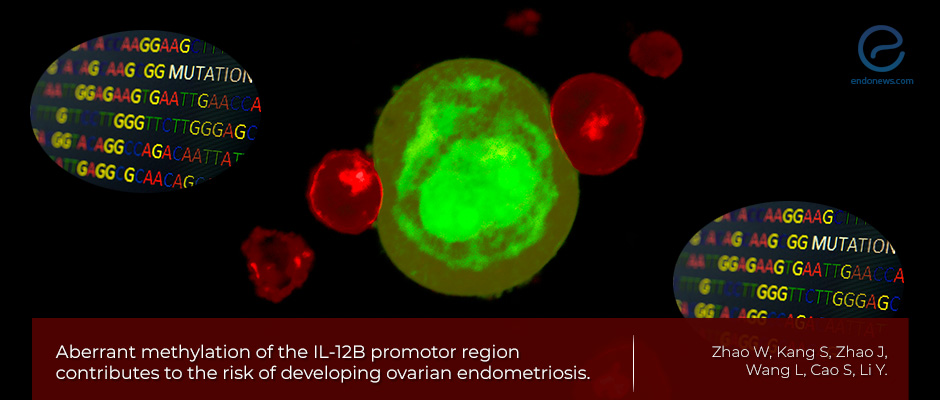 Aberrant methylation of the IL‐12B promotor region contributes to the risk of developing ovarian endometriosis
Key Points
Highlight:
Background:
Key points:
Conclusions and Limitations:
Lay Summary
Endometriosis is defined as the abnormal growth of endometrial tissue outside of the uterus. It affects about 10% of reproductive age women resulting in severe pain and infertility. Among various theories of endometriosis pathogenesis, not a single one has successfully elucidated the mechanism of endometriosis. In recent years, many studies focus on the epigenetic signature of endometrial cells to understand endometriosis pathogenesis.
Epigenetic change does not involve alteration of the DNA sequence but has significant effects on gene expression. DNA methylation is one of the well-known epigenetic factors. Accumulating evidence shows that endometriosis harbors aberrant DNA methylation. Especially, their aberrant methylation happens in genes which are playing critical roles in endometriosis such as progesterone receptor-B, homeobox A10, estrogen receptor-b, E‐cadherin, steroidogenic factor 1, and cyclooxygenase‐2.
Very recently, this group performed a small‐scale genomic analysis of DNA methylation in the eutopic and ectopic endometrium of patients with ovarian endometriosis. Compared to the healthy group, they found that endometriosis patients had a significantly lower level of methylation in the interleukin‐12B (IL‐12B) promoter region.
IL‐12B encodes the IL‐12p40 protein and has a broad array of biological activities. It is a subunit of bioactive IL‐12 and IL‐23 and acts as an IL-12 inhibitor by competitively binding to the IL‐12 receptor. It also plays an important role in activating T and natural killer (NK) cells. Importantly, it has been reported that endometriosis development is diminished by IL-12 mediated NK cell activation. However, the role of IL-12B on endometriosis development is controversial, because another group has published a conflicting result. According to their findings, IL-12B may inhibit NK cell activity by downregulating IL-12R expression on the surface of NK cells in endometriosis.
So far, the role of IL-12B on endometriosis is not clearly understood. In this paper, Dr. Li from China investigated the methylation status and expression level of IL-12B in endometriosis patients. And they examined the relationship between IL‐12B expression and the development of endometriosis. This study recently published in the journal of "Molecular Reproduction and Development".
For this case‐control study, 68 patients with ovarian endometriosis and 55 healthy women without endometriosis have participated. They performed pyrosequencing on multiple CpG sites of IL-12B promoter regions to figure out the methylation status. Among multiple CpG sites (2-9), they found that the methylation level of CpG site 1 was significantly lower in patients with ovarian endometriosis compared to the control.
To verify the impact of methylation status on the gene expression, they measured the correlation between IL-12B mRNA expression level and methylation level. The mRNA level of IL-12B on endometriosis samples was significantly increased compared to those in healthy samples. Correlation analysis presented a negative correlation and this result suggests that endometriosis development may be associated with aberrant methylation of the IL-12B promoter.
Further studies are required to confirm if the hypomethylation of the IL‐12B promoter does affect its protein expression. Also, more factors such as cervical intraepithelial neoplasia, menarche age, menstrual cycle, and parity should be carefully considered.
---
---
IL‐12B
Methylation
mRNA expression
Ovarian endometriosis
DISCLAIMER
EndoNews highlights the latest peer-reviewed scientific research and medical literature that focuses on endometriosis. We are unbiased in our summaries of recently-published endometriosis research. EndoNews does not provide medical advice or opinions on the best form of treatment. We highly stress the importance of not using EndoNews as a substitute for seeking an experienced physician.
<< Previous Article