Does the Severity of Endometriosis Increase the Risk of Complications Following Surgery?
By:
Özge Özkaya
- Dec 20, 2019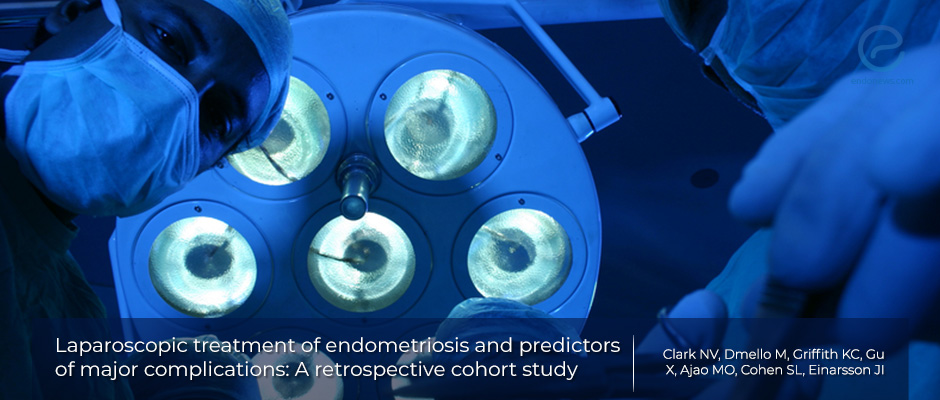 Women with advanced endometriosis are thought to have an increased risk of complications after laparoscopy, but is that really so?
Key Points
Highlights:
The type and the total number of procedures, rather than the disease severity may be predictive of the risk of complications following laparoscopic surgery to treat endometriosis.
Importance:
Knowing what factors increase the risk of complications can help better plan the surgery and counsel patients about the operation.
What's done here:
Researchers conducted a retrospective that included 397 women who have undergone endometriosis surgery at Brigham and Women's Hospital in Boston, between 2009 and 2016.
Key results:
18 of the 398 women (4.5%) had a major complication following endometriosis surgery within two months.
Patient characteristics and imaging findings before surgery were similar between women who have had complications and those who have not.
Eighty-nine percent of women who had, and 52.5% of women who have not had a complication underwent adhesiolysis.
Sixty-one percent of women with a complication and 28.8% of women without a complication underwent ureterolysis.
The number of procedures was more than four on average for women who had a complication versus 3.2 for women who did not have a complication.
Limitations:
This is a retrospective study and there were inconsistencies in surgeon reporting of disease stage, tissue penetration, and organ involvement.
Certain patient or procedure characteristics may have not been captured in the data retrieved from patient records.
Women who were analyzed in this study might have had complications not reported to the surgeon.
The study includes a diverse group of patients, procedures, and complications, which may make it difficult to find associations between patient and procedure characteristics and the occurrence of complications.
Some of the women included in the study may actually not have had endometriosis, which may make the risk related to the disease less detectable.
Major complications were defined broadly in this study; certain complications may actually have unique predictors that may not have been picked up with this approach.
The findings are based on patients operated by a small group of surgeons and it may not be possible to generalize them to all patients undergoing endometriosis surgery.
Only a small percentage of women analyzed in this study developed complications following surgery limiting the statistical power of the findings.
Similarly, certain procedures were only performed on a small number of patients making it impossible to detect a difference in complication rate.
Lay Summary
The severity of endometriosis cannot predict the risk of complications after laparoscopy. Instead, the complexity of the surgical procedure itself may increase the risk of complications. This is according to a study published in the journal "Acta Obstetricia et Gynecologica Scandinavica".
Identifying factors affecting the risk of complications following surgery in women with endometriosis is important because it can help better plan the surgery as well as counsel patients about the operation.
In order to determine whether any patient or procedure characteristics can predict major complications following endometriosis surgery, a team of researchers at Brigham and Women's Hospital in Boston, Massachusetts led by Dr. Jon Einarsson conducted a retrospective study of women who were laparoscopically treated for suspected endometriosis between 2009 and 2016. They compared the characteristics of women who have had major complications during or after the operation to those who have had no complications.
A total of 397 patients underwent laparoscopy during the seven years covered by the study. This included excision of superficial endometriosis, excision of deep infiltrating endometriosis, fulguration of endometriosis (where heat from an electric current is used to destroy endometrial lesions), hysterectomy (removal of the uterus), ovarian cystectomy (where ovarian cysts are removed), salpingectomy (removal of the fallopian tubes or tubes that connect the ovaries to the uterus), oophorectomy (removal of the ovaries), and bowel resection.
The women were followed for two months following the operation. During this period of time, 18 women had a major complication related to their operation.
There were no major differences in patient characteristics and imaging findings before surgery, between women who had complications and those who did not.
Women who have had adhesiolysis, a surgery that is performed to remove or divide adhesions; or ureterolysis, a procedure where the ureter is exposed to free it from external pressure, were more likely to have a complication compared to women who did not undergo these procedures.
Women who have undergone a greater number of procedures were also more likely to have a surgery-related complication.
The type of procedure performed and the total number of procedures, not the severity of the disease are more likely to be predictive of the risk of complications related to endometriosis surgery, the authors concluded.
---
---
Endometriosis surgery
laparoscopy
complication
disease severity
risk factor
DISCLAIMER
Endonews is designed to strictly highlight the most recently published scientific research that focuses on endometriosis. It is not designed to provide medical advice or an opinion on the best form of treatment. We highly stress the importance of not using this site as a substitute for seeking an experienced physician, which is highly recommended if you have any questions or concerns regarding your endometriosis needs. We believe in the consciousness of our reader to discriminate that research is different than "standard of care," and trust that they can keep in mind that here at Endonews, we summarize the newest peer-reviewed scientific medical literature, without bias.
<< Previous Article

Next Article >>